Playing It Up
Jakks lines up trading cards, TV show to launch toy franchise.
Monday, August 15, 2011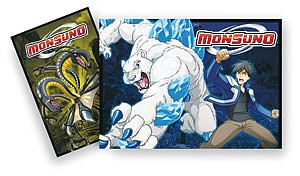 Malibu's Jakks Pacific Inc. has long had success as a niche toymaker licensing well-loved characters such as Pokemon, SpongeBob SquarePants and Hannah Montana.
Now, the company is more than playing around with a new strategy.
Jakks is developing its first major homegrown entertainment franchise called Monsuno, featuring a group of kids battling evil forces bent on destruction of the Earth. The company is set to launch Monsuno in spring with a Nickelodeon cartoon, trading cards – and, of course, toys. The goal is to make Monsuno a multimillion-dollar worldwide hit.
It's a major shift for Jakks, which generates the majority of its revenue not only from licensed toys but also established brands purchased from smaller toy companies. While the company has been developing some its own brands, including Girl Gourmet and SpyNet, those haven't been packaged with a TV show and trading cards.
"They have yet to have one stick and become the next Barbie or Hot Wheels or Nerf, and maybe this could be it," said Gerrick Johnson, a research analyst at New York financial services firm BMO Capital Markets who follows Jakks.
In preparing to launch Monsuno, the toymaker is not going alone. It has partnered with some high-profile companies: Japanese media conglomerate Dentsu Inc., "American Idol" producer FremantleMedia Enterprises and trading card maker Topps Co. Inc. all made significant investments in Monsuno through a joint venture. Last month, Jakks announced a deal with children's network Nickelodeon for the worldwide broadcast rights to Monsuno.
"Monsuno could be a game changer," said Stephen Berman, Jakks co-founder and chief executive, in a phone interview last week from Italy where he's meeting with the European distributor of Monsuno merchandise.
Multimedia toys
The company's Monsuno strategy was dictated by the changing relationship between media and toys.
New lines are designed with a variety of products in mind, not just action figures or dolls, but also movies, cartoons, Internet games and trading cards. Mattel Inc.'s Monster High line and Hasbro Inc.'s Transformers are two such lines.
There's a reason for that: Today's kids don't just play with toys, they see them on the Web, interact with them through social media, and follow them on TV and in the movie theaters, said Chris Byrne, director of content at online toy industry publication Time to Play in New York.
"They are not just picking up pieces of plastic and smacking them together," Byrne said.
What's more, toy companies are looking to control a larger portion of the revenue stream.
Prev Next
For reprint and licensing requests for this article, CLICK HERE.