Restaurant Chain Wants Extra Helping of Change
Parent pins sales recovery on new menu, improved service at IHOP.
Monday, August 8, 2011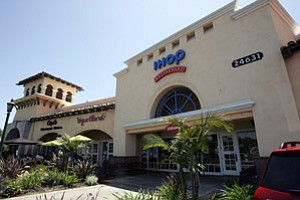 Faced with slumping sales, DineEquity Inc. is serving up a full plate of changes at its IHOP chain.
The Glendale company, which owns IHOP and Applebee's Neighborhood Grill & Bar restaurants, is developing a plan to better promote IHOP's low-cost fare, improve the chain's menu offerings, and make sure diners get their food and bill faster.
IHOP last week reported a 2.9 percent decline in same-restaurant sales for the second quarter ended June 30. The sales would have dropped 3.4 percent for the quarter excluding a spike during the Easter holiday. It's the second consecutive quarter same-restaurant sales have slipped. That reverses the momentum the company had built in the third and fourth quarters of last year, when sales were climbing.
DineEquity's stock was one of last week's biggest losers on the LABJ Stock Index, falling 9.7 percent to $46.86 for the week ended Aug. 3. (See page 20.)
A series of missteps have contributed to IHOP's sales decline, including an "All You Can Eat Pancakes" campaign that didn't bring in enough customers and a media strategy that didn't get results, said Destin Tompkins, a senior vice president at Memphis, Tenn., investment banking firm Morgan Keegan & Co. Inc. who follows DineEquity.
"The media strategy they employed in 2011 was different than what they used in the past," Tompkins said. "And judging by the sales results, they felt like it took them in the wrong direction and they are going back to the way they've done in past years."
The company didn't disclose the new approach it took to buying advertising, citing competitive reasons.
Meanwhile, it hasn't helped that IHOP has been faced with more competition from other family-dining establishments, and that its key customers, families, are dealing with rising gas and food prices, Tompkins said.
"We've seen more aggressive promotional activity," he said. "And consumers are under a lot of pressure, especially lower-end consumers."
IHOP's main competition comes from regionally based family-dining chains such as Cracker Barrel and Bob Evans, and national chain Denny's, which launched a value menu with $2, $4, $6, and $8 items last year.
IHOP's weak sales come as the chain announced plans in June to open 40 franchise restaurants in nine Middle Eastern countries, its first major expansion outside of North America. It currently operates 1,512 locations worldwide.
Strategy change
Before this setback, the chain increased its market share in the family-dining segment from 9 percent to 18 percent since the early part of the last decade, said IHOP spokesman Patrick Lenow.
To shape its plans, DineEquity will use information from a 90-day market research study the company commissioned earlier this year.
"It's one of the most extensive we've ever done," Lenow said. "We feel we've got more information about our guests and a better understanding of what's important to them. And we are using it to inform how we make decisions."
IHOP has decided to retire its eight-year slogan, "Come hungry, leave happy," and replace it with "Make it an IHOP day." This month, the chain also announced that it hired Coca-Cola Co. and Burger King veteran Natalia Franco to serve as senior vice president of marketing.
"They needed to freshen up the concept's image," Tompkins said. "And they needed a new slogan to cut through what had run its course and what consumers weren't responding to in a way they had hoped."
The company is planning to promote more current menu offerings with advertising that highlights its low-price fare.
Analysts also expect IHOP to develop more value-oriented promotions. Currently, the chain gives kids a free meal from 4 to 10 p.m.
Christopher O'Cull, an equity analyst at Atlanta corporate and investment banking firm SunTrust Robinson Humphrey, said the "Kids Eat Free" campaign is a smart move because it drives traffic during one of IHOP's slowest time of the day: dinner.
"You'll probably see a higher ticket average because mom and dad feel like they can spend more because kids eat free," O'Cull said.
IHOP is also making some operational changes so customers get their food faster, especially during busy times such as breakfast. At about half of IHOP's locations, guests no longer have to pay at the cashier, a server will take the payment and bring back change or the credit card receipt.
During a conference call with analysts last week, DineEquity Chief Executive Julia Stewart said the company is in the midst of updating its menu with a "culinary strategy that will drive innovation." She didn't cite specifics.
Analysts said Stewart, who has turned around Applebee's with restaurant renovations and a menu overhaul, is up to the task of bringing back sales at IHOP.
"She's got an excellent track record and credibility turning brands around and growing brands," O'Cull said. "She has the ability to fix this. And I expect we will see an improving trend at IHOP sooner rather than later."
For reprint and licensing requests for this article, CLICK HERE.