Scoring Credit
LENDING: ZestCash.com hopes to offer low-cost alternative to payday lenders with its Google-inspired data analysis.
Monday, August 1, 2011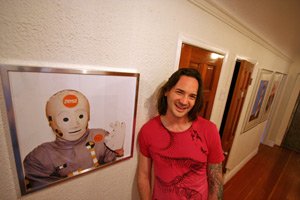 When Doug Merrill's sister asked him to lend her a few hundred dollars for new tires, it inspired him to start a company.
Merrill, a former chief information officer at Google Inc., felt sure his sister would pay him back. And he figured if he didn't loan her the money, her only alternative was expensive payday loans or a pawn shop.
In 2009, Merrill launched ZestCash, an online petty cash lender headquartered in Hollywood. The company made its first loan in October and now has a loan portfolio worth more than $1 million.
Last month, the company announced a $19 million round of investment. A total of $11 million came from three venture capital firms including GRP Partners in Los Angeles to fund hiring and expansion of ZestCash into new states beyond the four where it now operates. In addition, an $8 million line of debt financing will get loaned out to customers.
ZestCash offers lower charges and interest rates – about half the cost in certain cases – in order to take business away from payday loan stores, which serve about 19 million customers annually in the United States, according to the Community Financial Services Association of America, a Washington, D.C.-based trade group for payday lenders.
"Our mission is to save billions of dollars for the country's underbanked," Merrill said. "We're taking an entirely different approach to underwriting that combines Google-style machine learning techniques, large-scale data analysis and traditional credit scoring. The result is better loan decisions and more credit availability for the people who need it most."
An applicant begins by going to ZestCash.com and choosing the amount of the loan – it can be for up to $800 – and pay-back time, which can be up to eight months. Applicants provide their name, address and other personal data, including Social Security number.
ZestCash's computers then obtain additional credit information, such as an applicant's bill payment history.
Within a few minutes, a representative from ZestCash calls the applicant, confirms information and may ask for additional data. By the end of the conversation, the loan is approved or denied.
If it's a go, ZestCash wires the money to the borrower's checking account within 24 hours. The company then automatically deducts payments from the same account every 14 days until the loan is paid off. If there's no money in the account, a ZestCash rep will try to contact the borrower.
Prev Next
For reprint and licensing requests for this article, CLICK HERE.