Scoring Credit
LENDING: ZestCash.com hopes to offer low-cost alternative to payday lenders with its Google-inspired data analysis.
Monday, August 1, 2011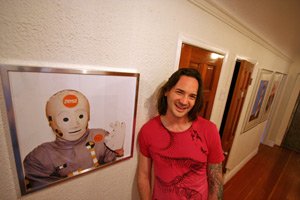 When Doug Merrill's sister asked him to lend her a few hundred dollars for new tires, it inspired him to start a company.
Merrill, a former chief information officer at Google Inc., felt sure his sister would pay him back. And he figured if he didn't loan her the money, her only alternative was expensive payday loans or a pawn shop.
In 2009, Merrill launched ZestCash, an online petty cash lender headquartered in Hollywood. The company made its first loan in October and now has a loan portfolio worth more than $1 million.
Last month, the company announced a $19 million round of investment. A total of $11 million came from three venture capital firms including GRP Partners in Los Angeles to fund hiring and expansion of ZestCash into new states beyond the four where it now operates. In addition, an $8 million line of debt financing will get loaned out to customers.
ZestCash offers lower charges and interest rates – about half the cost in certain cases – in order to take business away from payday loan stores, which serve about 19 million customers annually in the United States, according to the Community Financial Services Association of America, a Washington, D.C.-based trade group for payday lenders.
"Our mission is to save billions of dollars for the country's underbanked," Merrill said. "We're taking an entirely different approach to underwriting that combines Google-style machine learning techniques, large-scale data analysis and traditional credit scoring. The result is better loan decisions and more credit availability for the people who need it most."
An applicant begins by going to ZestCash.com and choosing the amount of the loan – it can be for up to $800 – and pay-back time, which can be up to eight months. Applicants provide their name, address and other personal data, including Social Security number.
ZestCash's computers then obtain additional credit information, such as an applicant's bill payment history.
Within a few minutes, a representative from ZestCash calls the applicant, confirms information and may ask for additional data. By the end of the conversation, the loan is approved or denied.
If it's a go, ZestCash wires the money to the borrower's checking account within 24 hours. The company then automatically deducts payments from the same account every 14 days until the loan is paid off. If there's no money in the account, a ZestCash rep will try to contact the borrower.
Merrill said that a $500 loan for five months at a payday loan store costs about $900, compared with about $424 on his website.
The traditional payday lender charges a $45 to $60 fee plus about $17 in interest for each $100 on a 14-day loan. But because most borrowers can't pay it back completely in two weeks, the unpaid portion of the loan and its interest rolls over. The average payday loan is rolled over seven to 10 times before being paid off. By the end of five months, the total in fees and interest adds up to more than $900, plus the original $500 in principal.
"In the end, you will have paid a total of $1,400 for the privilege of borrowing $500 for five months," Merrill said.
In contrast, when ZestCash makes a loan for five months, the borrower makes 11 payments of $84 each, deducted from the bank account every two weeks. The total amount is $924.
High interest
Merrill said the main reason his company can charge lower fees is because of better underwriting data. People who use payday stores usually have thin credit files. The lack of data results in high interest rates because the lender is taking an unknown risk.
ZestCash has contracts with companies that have access to an applicant's rent payments and cell phone credit history. Merrill said his software helps determine creditworthiness, and his system results in lower default rates so ZestCash can charge less for its loans.
But the rates are still high, and the payday lending storefronts do offer a personal touch, one analyst noted. So ZestCash might face some market resistance.
Paul Leonard, director for California at the Center for Responsible Lending in Oakland, said the ZestCash site does a good job of making costs clear to the borrower, but those costs are still very high compared with alternatives such as credit cards.
For example, the ZestCash site states its average interest rate is 180 percent.
"Even a credit card at 30 percent is a much better option," Leonard noted.
Also, Leonard said payday stores have a reputation for excellent customer service, a potential marketing advantage over an online lender such as ZestCash.
"Payday lenders have stores in low-income areas where people of color are concentrated and they hire people from the area who customers feel comfortable with," he said. "They are good at providing friendly service to sell these incredibly predatory loans."
Merrill said ZestCash's procedure includes a phone conversation with a service representative to provide a human connection as well as deal with any issues over the life of the loan.
Steven Schlein, a spokesman for the payday lender trade group Community Financial Services Association of America, said the industry welcomes online competitors such as ZestCash because consumers get the option of choosing either the personalized service of a storefront or online convenience.
"While we always welcome competition, it's hard to comment on this company's business model," he said, referring to ZestCash. "This company is an installment lender, not a payday lender. It makes longer-term loans that are generally a higher dollar amount than a traditional payday loan, which on average is $350 and has a two-week term."
State strategy
Online finance companies can operate either as partners with a federally chartered bank or as an independent company registered in specific states. Because state regulations are simpler, ZestCash has followed a state-by-state growth strategy. Currently, the company operates only in Missouri, South Dakota, Utah and Idaho – states with simpler regulatory environments.
The $11 million in venture capital will fund expansion in other states. Merrill declined to estimate when the company would enter the California market.
Also, the money will fund a larger payroll. The company has 40 employees but expects to reach 60 by the end of the year. Merrill estimates the company will reach breakeven by early 2012.
Merrill wants ZestCash to have a quirky corporate culture like Google. Couches sit between the cubicles, toys sit on desks and posters of crash-test dummies decorate the walls. Merrill doesn't have an office, just a desk in a corner; he selected his location because a nearby window displays the Hollywood sign.
Although Merrill believes his credit algorithms can accurately predict whether a borrower will pay back a loan, it's a hypothesis he never had to try with his first customer – the sister in Spokane, Wash., who needed new tires.
"I'm sure she would have paid me back," he asserted, "but I ended up giving her that money."
For reprint and licensing requests for this article, CLICK HERE.