More Hotels Weigh Downtown Check-In
Chains hopeful area will field a football stadium.
Monday, April 25, 2011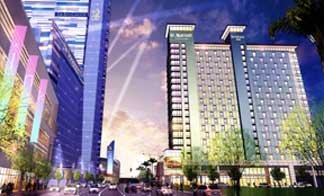 Last week's news that Marriott International Inc. will open two more hotels near L.A. Live looks to be just the opening act for other marquee chains seeking to plant a flag near the growing sports and entertainment district.
The operators of the Hard Rock Hotel and W Hotel have been scouting locations in anticipation that a proposed National Football League stadium has a solid chance of being built there, sources told the Business Journal.
"The interest in the market is exactly what we thought would happen when the stadium plan was announced," said Carol Schatz, chief executive of local booster Downtown Center Business Improvement District.
Hard Rock International Inc., based in Orlando, Fla., and owned by that state's Seminole Indian tribe, is known for huge, hip and flashy luxury hotels and casinos. It doesn't operate an L.A. facility aside from franchised restaurants in Hollywood and Universal City. A source told the Business Journal the chain is "kicking the tires" downtown as it assesses the market.
Meanwhile, White Plains, N.Y.-based Starwood Hotels & Resorts Worldwide Inc., one of the world's largest hotel operators, would like to put in a W Hotel, a luxury boutique concept the chain started in 1999. Currently, there are W hotels in Hollywood and Westwood, and the company operates the Westin Bonaventure Hotel & Suites on South Figueroa Street.
If the two chains were successful in opening facilities, they would be some of the most high-profile additions to the downtown hotel market since L.A. Live developer Anschutz Entertainment Group, a unit of Denver's Anschutz Co., opened a 54-story tower last year with 1,001 rooms and 100 condos. The tower contains separate JW Marriott and Ritz-Carlton hotels, both operated by Marriott International.
Since then, AEG has announced its intention to build a 64,000-seat football stadium at the site of the L.A. Convention Center's West Wing, which would be razed. The stadium would have a retractable roof so it could double as convention space. The proposal is being reviewed by the city and there is no guarantee the stadium will be built, especially since AEG would not do so unless it can first attract an NFL team.
Still, the proposal has drawn the attention of hotel operators. AEG Chief Executive Tim Leiweke has publicly stated his intent to have 4,000 hotel rooms added to downtown's current stock of 6,000. He has estimated a total of 10,000 rooms are needed to support the stadium and make a larger Convention Center a success.
Last week, Marriott International appeared to respond to that request, doubling down on its L.A. Live investment, announcing it would operate a 22-story hotel tower to be built across from L.A. Live on Olympic Boulevard. The tower would contain 377 rooms under two more moderately priced flags: Residence Inn by Marriott and Courtyard by Marriott. The tower would be built by Williams/Dame & Associates, a Portland, Ore., developer.
Also, Korean Air and downtown L.A.-based Thomas Properties Group Inc. got city approval last month to build two high-rises with 260 hotel rooms as well as luxury condos. However, the project, north of L.A. Live, would decrease the number of rooms downtown since it would replace the existing Wilshire Grand that contains 900.
AEG spokesman Michael Roth declined to comment on the news that Starwood and Hard Rock are scoping out the area. However, hospitality analysts said that a W and Hard Rock would add some needed diversity to downtown's hospitality market. Currently, the trendiest downtown hotel is the 207-room Standard, which has been popular since it opened in 2008 on South Flower Street. It is operated by New York's Andre Balazs Properties.
"I think it's very nice and very good to have Marriott, and they fill and important part of the spectrum, but I think there's some expectation when you come to L.A. that you'll see and experience higher marquee hotels," said John Fransen, chief executive of Newport Beach-based planning consultancy the Fransen Co.
Flashy properties
Hard Rock has been looking to expand since it was acquired by the Seminoles in 2007. The Financial Times recently reported that the chain is looking to open a location in London's West End theater and tourist district.
The company operates 15 hotels and casinos worldwide, and 134 restaurants. Its closest hotel to Los Angeles is in San Diego, and the property features a spa, rooftop pool with floating bar and several restaurants. Hard Rock also has a prominent casino in Las Vegas that is franchised.
Company spokeswoman Kristen Hauser would not confirm that the chain is looking for an L.A. location, but she did say it is very interested.
"L.A. is a strategic market for the brand, and we are always on the lookout for opportunities in the area," Hauser said.
The company has two restaurants in Los Angeles: one at Universal City Walk and the other at the Hollywood & Highland center in Hollywood. Whether a Hard Rock Café goes in downtown has yet to be determined, sources said.
Meanwhile, the Business Journal learned that Starwood was close to announcing it would open a W Hotel in downtown, but the deal fell through when the developer failed to receive financing. Starwood doesn't build its own hotels, but flags them and often operates them itself after construction.
Starwood has been steadily expanding the W chain, which has 37 locations worldwide. Starwood recently announced it would be opening a location in Mumbai, India, as well as Mexico City. And it is close to completion on several other international locations including Paris and Milan, Italy. Starwood did not return telephone calls for comment.
Although sources said both Hard Rock and Starwood may only go forward if the NFL plan progresses, the stadium is not the only reason the companies like downtown.
Broker Mark Tarczynski, executive vice president of Seattle-based Colliers International, said he is working with developers who would like to build hotels downtown and are impressed by the success of the Standard, which has become a hangout for young professionals.
"The success of the Standard is indicative of the kind of success that the W Hotel and a Hard Rock Hotel would have," Tarczynski said.
For reprint and licensing requests for this article, CLICK HERE.