More Hotels Weigh Downtown Check-In
Chains hopeful area will field a football stadium.
Monday, April 25, 2011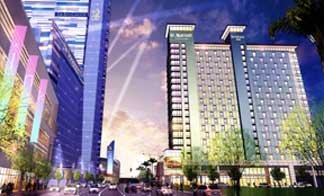 Last week's news that Marriott International Inc. will open two more hotels near L.A. Live looks to be just the opening act for other marquee chains seeking to plant a flag near the growing sports and entertainment district.
The operators of the Hard Rock Hotel and W Hotel have been scouting locations in anticipation that a proposed National Football League stadium has a solid chance of being built there, sources told the Business Journal.
"The interest in the market is exactly what we thought would happen when the stadium plan was announced," said Carol Schatz, chief executive of local booster Downtown Center Business Improvement District.
Hard Rock International Inc., based in Orlando, Fla., and owned by that state's Seminole Indian tribe, is known for huge, hip and flashy luxury hotels and casinos. It doesn't operate an L.A. facility aside from franchised restaurants in Hollywood and Universal City. A source told the Business Journal the chain is "kicking the tires" downtown as it assesses the market.
Meanwhile, White Plains, N.Y.-based Starwood Hotels & Resorts Worldwide Inc., one of the world's largest hotel operators, would like to put in a W Hotel, a luxury boutique concept the chain started in 1999. Currently, there are W hotels in Hollywood and Westwood, and the company operates the Westin Bonaventure Hotel & Suites on South Figueroa Street.
If the two chains were successful in opening facilities, they would be some of the most high-profile additions to the downtown hotel market since L.A. Live developer Anschutz Entertainment Group, a unit of Denver's Anschutz Co., opened a 54-story tower last year with 1,001 rooms and 100 condos. The tower contains separate JW Marriott and Ritz-Carlton hotels, both operated by Marriott International.
Since then, AEG has announced its intention to build a 64,000-seat football stadium at the site of the L.A. Convention Center's West Wing, which would be razed. The stadium would have a retractable roof so it could double as convention space. The proposal is being reviewed by the city and there is no guarantee the stadium will be built, especially since AEG would not do so unless it can first attract an NFL team.
Still, the proposal has drawn the attention of hotel operators. AEG Chief Executive Tim Leiweke has publicly stated his intent to have 4,000 hotel rooms added to downtown's current stock of 6,000. He has estimated a total of 10,000 rooms are needed to support the stadium and make a larger Convention Center a success.
Prev Next
For reprint and licensing requests for this article, CLICK HERE.