L.A. Live to Get Two More Hotels
Tuesday, April 19, 2011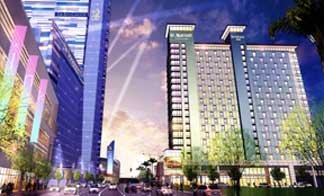 Marriott International will be adding two more hotels at the L.A. Live complex as part of a plan by AEG to increase the number of rooms downtown as it seeks to expand the Los Angeles Convention Center and build an NFL stadium.
A 180-room Courtyard by Marriott, targeting business travelers, and a 197-room extended-stay Residence Inn by Marriott, will share a 22-story high-rise slated for the northwest corner of Olympic Boulevard and Francisco Street.
The hotels will provide more affordable alternatives to the JW Marriott and Ritz-Carlton hotels across the street.
"From AEG's standpoint, the highest priority for Los Angeles has to be creating more hotels in and around our convention center," said AEG Chief Executive Tim Leiweke in a statement. "If we can fix our convention center and, in turn, find other hotels like this, we can singlehandedly put tens of thousands of people back to work and change the dynamics of our city forever."
Construction on the 300,000-square-foot building is expected to begin next March, with the grand opening planned for March 2014. The limited partnership financing and building the project is led by Williams/Dame and Associates of Portland, Ore., a key player in residential towers built in the South Park district.
Equity funding will be provided through the EB-5 Investor Green Card Program. The EB-5 visa is a U.S. immigration program that makes it easier for foreign nationals who invest money for jobs creation in the United States to obtain a green card. Individuals must invest at least $500,000 in projects that create at least 10 jobs.
Other partners in the hotel project are American Life Inc., a Seattle investment firm that specializes in EB-5 equity funding; and Regional Center Management Los Angeles, an approved U.S. citizenship and immigration service center that processes and invests EB-5 money in local projects. Commercial real estate firm Nomad Ventures LLC of Atlanta, Ga. also is part of the partnership.
"I believe there is no place in Los Angeles with as much excitement and energy as L.A. Live, and we are thrilled to be a part of the expansion of this vision with these two new hotels," said Tony Capuano, executive vice president of development for Marriott International, in a statement.
AEG, a Los Angeles–based unit of Anschutz Co., is currently seeking city approval to tear down the West Hall of the Convention Center and replace it with a retractable roof stadium that would host NFL games and conventions. The company built the Staples Center and L.A. Live.
For reprint and licensing requests for this article, CLICK HERE.