Building A Crowd
Big Air seeks a leading role in Hollywood by connecting small movies with audiences.
Monday, April 18, 2011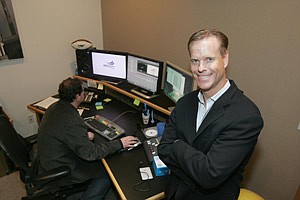 For every "Precious," "Winter's Bone" or "Kids Are All Right" that come out of Sundance and other film festivals, there are thousands of other independent movies that never get to the multiplexes.
But Michael Arrieta and his partners at Big Air Studios think there is an audience for many of these low-profile films, and they claim to have a way to get them to audiences in any format and on any device.
For an upfront fee and a cut of the sales, the new Santa Monica-based company is offering distribution and marketing services to moviemakers who lack the resources and connections to get their films before the masses, or even a niche audience.
"A lot of these films are really, really amazing with so much creative passion put into them," said Arrieta, a former executive at Sony Pictures. "We wanted to create a system that could take advantage of emerging outlets for distribution."
Arrieta, 42, has teamed with film and TV executive Marc Sternberg and marketing specialist Bill Patterson to launch Big Air. After working for more than a year setting up the company, they let everyone know they were in business with a party at last month's South by Southwest Film Festival in Austin, Texas.
The company was backed by financial contributions from the partners as well as investors whom Arrieta declined to identify. Big Air has nine employees, and is headquartered in an office park filled with other entertainment and technology companies. The company is located just a block away from the Yahoo and the Universal Music Group buildings.
Big Air has ambitions to become Hollywood's newest mini-major, which pursue the same kind of deals as the major studios but on a smaller scale. It will produce at least four of its own films each year and acquire an additional eight to 10 for distribution, including this summer's release "My Suicide," which has won more than a dozen festival prizes.
What sets the company apart from the competition is its Independent Distribution System, a form of self-publishing for filmmakers who lack connections or expertise in the business part of moviemaking.
Depending on the level of services needed, the upfront cost to a filmmaker can range from $5,000 to $25,000. For that money, Big Air provides trailers, postproduction work, websites, and social and interactive marketing campaigns. It has teamed with San Jose-based Cisco Eos to build interactive online and mobile features to connect with fans.
The company said it has the capability to handle thousands of films a year. Big Air vets the films for quality – and to make sure they're not pornographic or have any music rights issues.
Any film released under the Big Air banner or through its Independent Distribution System may go the traditional route into theaters or to DVD. But the company also plans to focus on game consoles, hand-held devices and the Internet.
Big Air has agreements for sales of DVDs and video on demand through Amazon.com, Sony's PlayStation 3, Apple's iTunes and Microsoft's Xbox, among others.
Intriguing approach
The concept has some in the independent film industry intrigued. Among them is Ted Hope, producer of such films as "21 Grams," "American Splendor" and "In the Bedroom," who welcomes innovative ways to bring movies to an audience.
"It's often said the U.S. market can consume about 600 titles per year and 125 of those are studios releases," Hope said. "With better marketing, that number of 600 can go up substantially. The studios have to market to the largest number of people, which limits the kinds of films that they can take."
But Kevin J. Lindenmuth, the maker of several independent horror films including "Addicted to Murder," thinks some of Big Air's potential clientele will be hard-pressed to afford the upfront fees.
"In a lot of these cases, that's what it costs to make their movie," said Lindenmuth, author of three books on independent filmmaking. "You can make a really nice-looking high-definition movie for $10,000 and a lot of the indie filmmakers are funding these things themselves. I don't know a lot of them who are really doing well. They all do other things to supplement their income."
Still, he does see potential.
"There definitely is a need," he said. "It sounds like a great idea and hopefully it will work. Until you have examples of people who are successful for them, it's hard to say."
Jeff Steele, owner of entertainment consulting firm Film Closings Inc., with offices in Los Angeles and Chicago, said that while there are other movie self-publishing services that cost far less or are even free, such as Distribber and Amazon's CreateSpace, they typically do not provide a studio level website or an online social marketing campaign to create word-of-mouth buzz around a film.
"Social marketing is very taxing," said Steele, who also produced "Who Killed the Electric Car?" "If these guys are charging and doing all that legwork, then it's a fine model and money well-spent. Social marketing is your most powerful tool."
Arrieta said there have been some IDS submissions that are in the early stages of being vetted. He expects many more to follow.
"We want niche films to find their niche audience," he said. "An independent filmmaker gets access to consumers, but consumers also get access to films that they've never gotten access to before."
For reprint and licensing requests for this article, CLICK HERE.