3-D Projections
RealD sets sights on big summer flicks
Monday, April 11, 2011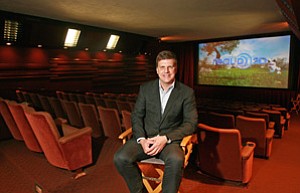 These are heady days for RealD Inc., which recently announced that more than 15,000 of its 3-D cinema systems are installed in theaters worldwide.
The Beverly Hills company passed the milestone as the major movie studios are getting ready to launch a flock of projected summer blockbusters in 3-D, including the latest entries in the "Transformers," "Pirates of the Caribbean" and 'Harry Potter" franchises. That should be great news for RealD, which receives a royalty fee of 50 cents a ticket.
But RealD, which has 85 percent of the domestic 3-D movie projection market, has a few reasons not to be overconfident, including the fact that its success is tied to how well the films go over with the public. A spate of 3-D box office flops, including "The Clash of the Titans" and "Piranha 3-D," pushed its stock price down last year.
Then there are the growing number of rivals that want a piece of its business and are developing sometimes competing technologies.
For all its success, RealD has its projectors set up to play on only about 10 percent of the world's 150,000-plus screens worldwide. Its competitors have smaller portions, but the playing field remains big enough for all players to grab more market share.
RealD founder and Chief Executive Michael Lewis isn't unaware of the challenges, even as he boasts the company has superior technology.
"Three-D is the only area we focus on, and you have to reinvent yourself," Lewis said. "Every morning you have to wake up and essentially beat yourself."
The company got a huge head start on its rivals by being first to market with contemporary 3-D projection technology in 2005. It has 8,600 3-D systems installed in the United States and Canada, and 6,500 internationally.
RealD leads the field thanks to agreements with major U.S. chains AMC, Cinemark and Regal. Its international installations are in theaters owned by the top 15 exhibition groups in the world.
The installations were fueled by big deals with the chains, some of which have gone from having one 3-D theater per multiplex to five or six in anticipation of the 37 films in 3-D being released by Hollywood this year.
The company said it hopes to maintain a pace of installing at least 2,000 systems a quarter, but Martin Pyykkonen, an analyst with Wedge Partners Corp., said that RealD may be hard-pressed to continue such a torrid pace, even aside from rivals and the box office performance of 3-D films.
By the start of the summer, the analyst expects some chains will be 40 percent 3-D capable.
"My feeling is (the theaters) won't go beyond that; they will pause there awhile before going another step up," Pyykkonen said. "Until studios are releasing 75 percent of their product in 3-D, we will still have a decent amount of 2-D output."
Competitors
RealD is a lean operation. It has just 74 total employees, who work at its corporate headquarters on Wilshire Boulevard; an R&D facility in Boulder, Colo.; and offices in London, Shanghai, Hong Kong and Tokyo.
But it's facing competition from some bigger rivals, including Dolby Laboratories Inc. and Imax Corp. Another competitor is MasterImage, a Hollywood company with strong South Korean ties that has 3-D projections systems installed in 3,000 theaters worldwide. (See related article.)
San Francisco-based Dolby has long been the dominant force in theater audio and is angling to play more than a supporting role in theatrical 3-D. It has shipped 7,700 of its 3-D digital cinema systems, making it the No. 2 player worldwide.
Toronto-based Imax, which is known for its big-screen theaters using larger film stock, has made inroads in one of the world's largest and fastest-growing theater markets, China. Imax sealed a deal with the country's biggest movie theater operator to build 75 theaters by 2014.
In addition, Eastman Kodak Co. joined the mix last fall. The Rochester, N.Y., company announced that its laser projection technology can deliver both 2-D and 3-D images in crystal-clear digital cinema.
James Marsh, an analyst with Minneapolis-based Piper Jaffray & Co., said that there is no doubt RealD has competition on its hands. He's particularly impressed with MasterImage, which has a technology similar to RealD that works with disposable glasses and existing 2-D screens, as long as they are silver.
"My sense is the market is narrowing," said Marsh. "It's really a horse race between RealD and MasterImage."
In addition, he called Dolby a player because of its great brand recognition, but noted that so far exhibitors haven't taken a liking to the technology, which works on virtually any existing screen but requires more expensive glasses.
"They have a technology that exhibitors aren't really embracing," Marsh said.
Meanwhile, MasterImage and Japanese electronics giant Toshiba are working on developing glasses-free technology. MasterImage is starting out small with cell phone screens, while Toshiba just announced that it expects to launch glasses-free technology for 3-D TV sets 40 inches or bigger within the next 12 months.
Lewis declined to address any rival technology specifically. But he likes to boast that RealD projectors deliver twice the amount of light to the screen as other systems, and the company has developed technology designed for big-screen auditoriums with stadium seating. It also is investing in glasses-free 3-D technology, which RealD sees as being at least five to 10 years away from becoming mainstream.
Box office
Meanwhile, domestic box office grosses are down 20 percent year to date compared with 2010, and moviegoers have demonstrated that they are not willing to shell out the extra $3 or $4 cost for a 3-D ticket to a movie with poor buzz.
RealD felt the sting of this last fall shortly after its launch as a public company, when shares traded above $19. The company's stock fell as low as $15.63 in late September, after "Clash of the Titans," "Piranha" and "The Last Airbender" all bombed. So far this year, 3-D films "Mars Needs Moms" and "Drive Angry 3D" have also been flops. Nevertheless, shares were trading at about $28 last week, perhaps in investor anticipation of summer hits.
"It's a content issue," Lewis said."The last couple quarters there have been a number of films that haven't connected with the audience. We are very realistic about this. We make a movie better, we don't correct stories that people don't want to see. As long as the filmmakers do good 3-D, then I think this is a real terrific business."
The established franchise films coming out this summer, plus hotly anticipated titles such as "Green Lantern," "Thor" and "Captain America," could provide a real boost to RealD's bottom line. Indeed, the phenomenal success of "Avatar" followed by last year's hits "Alice in Wonderland" and "Toy Story 3" show the audience will show up for the right kind of movies.
"From a moviegoer perspective, it's not the reason people go to a movie," said Paul Dergarabedian, box office analyst for movie industry website Hollywood.com. "But if it's there, they will generally choose to see the movie in 3-D – especially family films and genre films where it enhances the visuals."
For reprint and licensing requests for this article, CLICK HERE.