Super Sized
Local restaurateurs serve up a slate of large spaces
Monday, April 4, 2011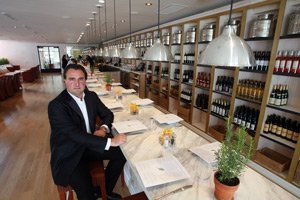 One of Laurent Halasz's New York restaurants seats 60. But when he opened Fig & Olive last month in West Hollywood, he created a decidedly different ambiance.
He went big. Fig & Olive has 8,000 square feet and seats 300 – comparable to a Cheesecake Factory or maybe a cafeteria.
Halasz is one of several L.A. restaurateurs who has suddenly decided bigger is better. Mas Malo downtown and Café Entourage and Rolling Stone Los Angeles in Hollywood have recently opened, while Lexington Social House in Hollywood is set to debut later this month. Each is 7,000 to 10,000 square feet.
Industry analysts said the spate of such whopping restaurants, which are at least double the size of a typical L.A. eatery, might be a fluke as the recession has resulted in cheaper rents and has left such large spaces available for the taking.
While it may be a good time to snag a deal, and people are starting to eat out again as they feel the recession is waning, insiders point out that it's difficult to make a huge restaurant survive.
For one thing, as Halasz acknowledged, most people don't want to experience fine dining in a cavernous space. So he separated his restaurant into four sections. The spaces-within-a-space concept means the restaurant doesn't feel cold and empty to guests.
"When you sit, you are in your own dining room and you only have 30 to 40 seats around so you feel comfortable," he said. "I'm against those informal huge spaces."
Even so, big restaurants can look and feel particularly empty if they aren't packed with diners, which in turn gives potential customers a reason to question the quality of the food and establishment overall. And, of course, payroll and other overhead costs are significantly higher for 300 seats compared with 50, for example.
"If you walk into a restaurant and there's no buzz, you tend to say I'm not coming back," said Michael Dubin, principal at Santa Monica restaurant consultancy Michael Dubin and Associates Inc. "But if I walk in and there's a wait and it's loud, there's a great buzz and something's going on."
Then there's the challenge of recouping the initial investment made on a restaurant.
Owners typically spend $200 to $300 per square foot on items such as furniture and equipment. So a 10,000-square-foot space, for example, is likely to cost upward of $2 million before the doors even open. Recovering such an investment within the industry standard of three to five years is difficult since restaurants are low-margin businesses.
"It's a pennies game," said Jeremiah Higgins, partner at Santa Barbara restaurant consultancy HJL Group Restaurant Advisors. "Typically it's 10 to 12 cents on the dollar that you make if you are running it well."
But Halasz, and the owners of Mas Malo, Café Entourage and Lexington Social House are confident that they can make it work.
Brother-and-sister team Jeremy and Junella Chin are behind Lexington, a 60-employee, 10,000-square-foot restaurant and lounge near Hollywood Boulevard and Vine Street, across the street from Sam Nazarian's Redbury Hotel.
The Chins are looking to serve 20-somethings out for a Friday night or theatergoers looking to grab a bite to eat before seeing a show at the nearby Pantages Theatre.
"The challenge of a big space is, of course, overhead," Junella Chin said. "But with the versatility of the venue and the team that we have put together, we can really create a machine that generates great revenue."
It's likely going to be easier for larger restaurants in downtown or Hollywood to draw big crowds because both have high population densities thanks to an influx of high-rise condo and apartment buildings.
"If you are going to be able to do it, downtown is the place you can do it," said Jerry Prendergast, principal consultant at Culver City restaurant consultancy Prendergast & Associates. "You've got thousands of people living on a block."
Novice operators
Café Entourage, which opened last month in the new mixed-use development at 1600 Vine St. just a block south of Lexington, was conceived by first-time restaurateurs. It's a 300-seat, 7,200-square-foot restaurant that includes a sidewalk dining area, main dining room, second-level patio, two bars and 20-foot projection screen.
The restaurant serves breakfast, lunch and dinner, and stays open 24 hours Thursday through Saturday, which partner Nazareth Abovian hopes will draw nearby residents, office workers and the after-hours club crowd.
"Your average person that just came out of the club at 2 a.m., they have few choices," Abovian said. "We want to accommodate every client possible."
He acknowledges that it won't be easy in the beginning.
"The first couple of months, of course, it's going to be a challenge," he said. "But once people get to know about us, once they see where we are, who we are and what we are, we will be busy."
Abovian and his three other Café Entourage partners are real estate developers-turned-restaurateurs. Abovian said he's always wanted to open a restaurant, but his only preparation for the new venue was some restaurant management courses at Glendale Community College.
He and his partners didn't get a break on the lease rate, but they did receive several months of free rent.
Lexington is also the first restaurant for Jeremy and Junella Chin, a real estate developer and doctor, respectively. They brought in L.A. hospitality consultants Choice Hospitality Group and designer Thomas Shoos to get the project off the ground, and hired Wolfgang Puck protégé Mette Williams to serve as executive chef.
Jeremy Chin said they looked at several spaces but settled on the Lexington location partly because of the large patio, which offers views of the Capitol Records building and the W Hotel. The siblings worked with Shoos to create a space that didn't feel too large.
"We didn't want to be a huge open space like Bottega Louie," he said, referring to the popular downtown Italian eatery. "Every room has its own different feel."
Meanwhile, Halasz had long been planning to open a restaurant in Los Angeles – the area reminds him of his former home in the southeastern French village Mougins, near Cannes. So he started scoping out locations for an L.A. outpost several years ago and eventually found the current site, which has been vacant since 2008.
Halasz, who runs four Fig & Olive eateries in New York that range in size from 60 to 200 seats, said he's got enough experience to make a restaurant as large as his West Hollywood location work.
"It's not like opening a new concept and unproven menu," Halasz said. "We know how to run restaurants. And because we concentrate on what we know and what works, we are getting better all the time."
Mas Malo's Mitchell Frank is also sticking with a tried-and-true concept. Frank is a partner in Silver Lake Mexican restaurant and bar Malo, which has been a popular hangout among hipsters since opening in 2003. He wanted to open another Malo outpost, and found Mas Malo's location in downtown along Seventh Street's restaurant row several years ago.
The 9,500-square-foot Mas Malo, which has almost 100 more seats than Malo, is separated into a main floor that includes a dining room, bar and tequila tasting room, a mezzanine-level bar and lounge area, and a basement cantina. There's also sidewalk dining. The restaurant, which seats 307 and employs about 120, is so sprawling it has two kitchens.
Frank, who invested more than $2 million in Mas Malo with business partner Jeff Ellermeyer, said the restaurant has been a hit with people who work and live downtown since it opened in January.
But he acknowledged that he's got to sell a lot of tacos and tequila shots.
"It becomes more difficult to make it more profitable because you have to fill it," Frank said. "So it's a matter of getting the staff trained, the people in there, getting them to have great customer service and having the food be excellent."
For reprint and licensing requests for this article, CLICK HERE.