Super Sized
Local restaurateurs serve up a slate of large spaces
Monday, April 4, 2011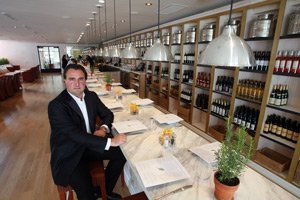 One of Laurent Halasz's New York restaurants seats 60. But when he opened Fig & Olive last month in West Hollywood, he created a decidedly different ambiance.
He went big. Fig & Olive has 8,000 square feet and seats 300 – comparable to a Cheesecake Factory or maybe a cafeteria.
Halasz is one of several L.A. restaurateurs who has suddenly decided bigger is better. Mas Malo downtown and Café Entourage and Rolling Stone Los Angeles in Hollywood have recently opened, while Lexington Social House in Hollywood is set to debut later this month. Each is 7,000 to 10,000 square feet.
Industry analysts said the spate of such whopping restaurants, which are at least double the size of a typical L.A. eatery, might be a fluke as the recession has resulted in cheaper rents and has left such large spaces available for the taking.
While it may be a good time to snag a deal, and people are starting to eat out again as they feel the recession is waning, insiders point out that it's difficult to make a huge restaurant survive.
For one thing, as Halasz acknowledged, most people don't want to experience fine dining in a cavernous space. So he separated his restaurant into four sections. The spaces-within-a-space concept means the restaurant doesn't feel cold and empty to guests.
"When you sit, you are in your own dining room and you only have 30 to 40 seats around so you feel comfortable," he said. "I'm against those informal huge spaces."
Even so, big restaurants can look and feel particularly empty if they aren't packed with diners, which in turn gives potential customers a reason to question the quality of the food and establishment overall. And, of course, payroll and other overhead costs are significantly higher for 300 seats compared with 50, for example.
"If you walk into a restaurant and there's no buzz, you tend to say I'm not coming back," said Michael Dubin, principal at Santa Monica restaurant consultancy Michael Dubin and Associates Inc. "But if I walk in and there's a wait and it's loud, there's a great buzz and something's going on."
Then there's the challenge of recouping the initial investment made on a restaurant.
Owners typically spend $200 to $300 per square foot on items such as furniture and equipment. So a 10,000-square-foot space, for example, is likely to cost upward of $2 million before the doors even open. Recovering such an investment within the industry standard of three to five years is difficult since restaurants are low-margin businesses.
Prev Next
For reprint and licensing requests for this article, CLICK HERE.