Clock Runs Out On 12-to-2 Plan
L.A. kills permit streamlining proposal.
Monday, September 27, 2010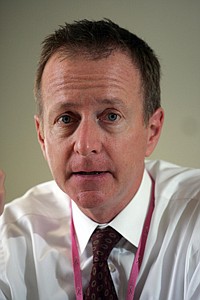 In a setback to the city of L.A.'s efforts to become more business-friendly, the Villaraigosa administration has jettisoned a highly touted initiative to streamline permits after two years of frustration.
Initially, the so-called 12-to-2 plan wasn't enacted because of resistance from City Hall bureaucrats. Finally, as the process dragged on, First Deputy Mayor Austin Beutner decided the streamlining plan didn't go far enough. Instead, the city has decided to scrap the plan and hire a consultant to recommend ways to overhaul the permit process.
"We weren't making the progress we needed to make," Beutner told the Business Journal last week. He said Los Angeles needs to do permitting as quickly and efficiently as other cities.
"If you were to talk to any major developer or project builder about how long it takes to do something in San Antonio, New York or Philadelphia, they say it takes twice as long here," he said.
Mayor Antonio Villaraigosa, City Council President Eric Garcetti and other top officials launched this streamlining effort two years ago, dubbing it "12-to-2" because it would reduce the number of city departments needed to grant project approvals from a dozen to a pair.
The plan came in response to mounting frustration from businesses, business leaders and developers over the time it takes to get permits. In some cases, it took more than two years to get standard permits for a convenience store or construction of a small apartment building.
But resistance from some city department heads, a lack of leadership and the sheer complexity of dealing with so many departments and getting so many development approvals doomed the initiative.
Over the summer, Beutner quietly decided to pull the plug on the effort and bring in a consultant to recommend alternatives. Calls for bids were issued in August and are due in this week, with a selection expected early next month.
In Beutner's assessment, deep-seated changes were necessary to cut red tape and speed project approvals.
"It's not just about getting city departments to cooperate, though that's part of it," he said. "We have to change the way they actually do things."
Beutner may have brought his approach from his former world of private equity to the challenge.
"He never went into a company to tweak it; he always looked to make significant changes," one knowledgeable source said on condition of anonymity.
During a radio interview last week, Beutner said his goal was to build a system that would allow city officials, applicants and citizens to follow the approval process online. That way, decisions on projects could be reached more quickly.
"Transparency is the ultimate measure," he said. "It will allow those in favor of something to weigh in and those not in favor of something to weigh in during real time. This will facilitate development that should happen, while development proposals that shouldn't happen or the community doesn't wish to happen will die quicker deaths."
Beutner said a key task for the consultant will be to find ways of upgrading the city's computer systems to make it possible to post a project's plan and status online in a way that would enable instantaneous access by all city departments and interested parties.
Some business leaders were dismayed by the move to dump the 12-to-2 plan.
"Obviously we're disappointed that it didn't work," said Carol Schatz, chief executive of the Central City Association, which represents downtown business interests. "It seemed a very basic idea: oversight and cooperation among the departments so that projects could move more quickly through the system."
Slow going
City Hall insiders didn't act on the plan after it was announced.
"From the best we can assess, there was a lack of internal will amongst the department heads to make it work," said Gary Toebben, chief executive of the Los Angeles Area Chamber of Commerce.
Several sources said former Building & Safety chief Andrew Adelman did not direct his staff to follow through. Adelman left Building & Safety last year amid allegations of sexual assault, though no charges were filed. Attempts to reach Adelman through his former attorney were not successful.
Other departments were also cited as resisting changes necessary for 12-to-2.
After an initial press conference, Villaraigosa left implementation of the plan up to his department heads, and most did little if anything.
Last year local business leaders vented their frustrations in meetings with Villaraigosa, who then made 12-to-2 one of his top priorities to improve the city's business climate. The mayor appointed his economic development deputy, Bud Ovrom, to run Building & Safety and brought Beutner on board as his jobs czar. His marching orders to both men and to then-Planning Director Gail Goldberg: implement 12-to-2 immediately. Again, progress was glacial if not nonexistent.
"The bureaucracy in L.A. is very deep-seated," said Ovrom. "Twelve-to-2 is a good sound bite, but incredibly hard to do."
Some people believe the 12-to-2 initiative was doomed from the start by challenges of development in Los Angeles. They cited complex planning and building codes, conflicting requirements of multiple departments and outmoded computer equipment that didn't allow interdepartmental coordination.
"Twelve-to-2 was destined to fail because Planning and Building & Safety do not have the requisite expertise to clear and approve all aspects of development without relying on other departments," said Benjamin Reznik, a land-use attorney who represents developers as a partner at Century City law firm Jeffer Mangels Butler & Mitchell LLP.
"The intention behind this initiative was good," Reznick said. "But as with many well-intentioned rules and regulations, they don't always work."
Shrinking the permitting process was a daunting task considering ordinances and codes require project reviews by as many as 17 city agencies. The plan called for appointing case managers to shepherd projects through the labyrinth.
"In the Planning Department, everything was in its own little silo divided by function," said Goldberg, the former planning director. "We needed to do a full reorganization to create a structure that supported one person taking a project from the beginning to the end."
For reprint and licensing requests for this article, CLICK HERE.