A New Bank Order
Special Report: BANKING & FINANCE QUARTERLY
Monday, September 20, 2010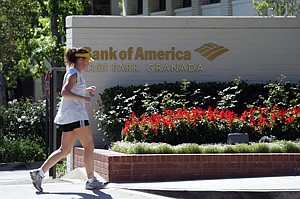 Not long ago, homebuyers in Los Angeles could walk into a branch of IndyMac Bancorp, Countrywide Financial or any number of other locally based lenders when seeking a mortgage loan.
Today, the options look very different.
The mortgage industry shakeout that followed the housing bust has dramatically reshaped L.A.'s lending community, once one of the country's hotspots for independent nonbank lenders.
"The landscape has certainly changed," said Mark Mozilo, a principal with new lender and real estate advisory firm Calcap Advisors in Pasadena, and the son of Countrywide founder Angelo Mozilo. "I don't think it will ever be the same."
Indeed, over the past few years, two national banks – Bank of America Corp. and Wells Fargo & Co. – have taken advantage of the dislocation and acquisition opportunities to establish dominant positions in the local market, together handling nearly one-third of all Los Angeles County mortgages. The top five local lenders, which only a few years ago included several independents, now consists entirely of national banks.
But new locally based players are beginning to emerge.
Besides Calcap, Private National Mortgage Acceptance Co. in Calabasas, founded by a handful of Countrywide refugees, is getting into mortgage origination. Pasadena's OneWest Bank, started just last year, is making a name for itself throughout Southern California. In addition, Prospect Mortgage in Sherman Oaks, which got its start just as the housing market started to crumble, has become a force in the local industry since buying IndyMac's retail mortgage franchise.
There are even some lenders still active in the subprime space.
By and large, though, nonbank lenders have been squeezed out of the local market. With restrictive new regulations making it more difficult for small lenders to compete, some wonder whether independent institutions will ever be able to stand toe to toe with big banks again.
"There are a lot of companies that have gone out of business in the last couple of years. One of the things that there's a lot of worry about now is that there will be a small number of lenders going forward and that they will have market power," said Richard Green, director of the USC Lusk Center for Real Estate. "I think we could see a very concentrated lending industry."
Lender shakeout
Prior to the collapse of the housing market, independent nonbank lenders played a major role in the local and national mortgage industry.
In 2006, Countrywide was the largest lender in the county, originating roughly 12 percent of all the area's home loans, according to publicly reported data compiled by mortgage tracking firm CBMI and provided to the Business Journal.
IndyMac was the fourth largest lender. New Century Mortgage, an Irvine company specializing in subprime loans, came in at No. 8. Fremont General Corp., a Brea subprime lender, was No. 15. Each of the institutions, along with scores of other independent lenders, fell victim to the housing bust.
"They were certainly brutalized over the last three years," said Franco Terango, a divisional sales executive for Bank of America Home Loans, a Calabasas-based mortgage division created after the bank's acquisition of Countrywide.
In the process, big banks have seized the opportunity to pick up beleaguered lenders and grab market share here.
Bank of America is now the largest lender in the county after its acquisition of Countrywide. (See profile page 27.) It's followed closely by Wells Fargo, which bought Wachovia, and JPMorgan Chase, which purchased Washington Mutual. Citibank, Union Bank and U.S. Bank rank in the top 10, too.
Larry Garcia, area sales manager in Los Angeles for Wells Fargo Home Mortgage, said the institution had a strategy of "controlled growth" as it saw the market contracting.
"When other lenders were pulling back, Wells Fargo continued to hold our position in the market," said Garcia, adding that the bank has hired about 100 new home loan sales people in Los Angeles over the past year. "It's a great opportunity."
Wells Fargo ranked among the largest local lenders prior to the market collapse, but trailed far behind market leaders Countrywide and Washington Mutual. In 2008, the bank acquired struggling Wachovia, which had previously bought savings and loan giant World Savings Bank.
Though Wells Fargo was closing up its subprime division and tightening loan standards, the deal immediately beefed up its mortgage operations. World Savings Bank had been the sixth largest lender in Los Angeles prior to the bust, while Wachovia ranked 64th. As a result, Wells Fargo is on pace this year to match its 2006 L.A. origination total of nearly $8 billion.
Garcia said that while there are still independent mortgage lenders in Los Angeles, there are no longer any capable of soon zooming to the top of the market share chart.
"They were (competitors) a few years ago," he said. "Now, we're pretty much the market leaders."
New players
Despite the recent dominance of large banks, a handful of new firms are emerging in the local market.
Prospect Mortgage, for one, is staking its claim as one of the largest independent mortgage lenders locally and nationwide. The Sherman Oaks company ranks as the ninth largest lender in Los Angeles this year, originating $276 million in mortgage loans. What's more, its Metrocities Mortgage subsidiary handled an additional $240 million. Together they would rank fifth, according to CBMI data.
Prospect got its start in 2006 with financial backing from Sterling Partners, a Baltimore private equity firm. In 2007, it bought both Metrocities and the lending unit of Opteum Financial Services.
In 2008, just days before IndyMac was closed by regulators, Prospect made its biggest splash with the acquisition of IndyMac's retail mortgage operation. Through the deal, Prospect gained 60 branches and 750 employees, including Ron Bergum, IndyMac's co-chief executive of retail lending, who has since been named Prospect's chief executive. Bergum was not available for comment.
The IndyMac assets that were not sold to Prospect ultimately were bought and turned into OneWest Bank. The Pasadena savings and loan, which has since acquired failed L.A. lender FirstFed Financial Corp., originated $57 million of conventional mortgages in Los Angeles in the first six months of 2010. OneWest also is expanding its jumbo loan activities, bolstered by billboards across town, print advertisements and television commercials.
Though Countrywide and IndyMac no longer exist, their influence is still felt. Like Bergum, many former executives at the defunct lenders have found homes at new local mortgage firms. Calcap's Mark Mozilo, for instance, was an executive with IndyMac before joining the newly created company.
Calcap, which has offices in Pasadena and San Diego, specializes in hard-money lending and is acquiring distressed condominium properties at discounts. Though its mortgage lending today is limited primarily to professional investors in residential housing, Mozilo said he would "love to get back into the business of doing it for the regular homeowners."
It's not surprising to many in the industry that so many displaced mortgage professionals are in prominent roles at new organizations.
Stanford Kurland, chief executive of Private National Mortgage Acceptance Co., better known as PennyMac, said L.A.'s traditional concentration of large mortgage lenders has created an abundance of well-trained professionals in the area. Kurland, himself a former Countrywide executive, has been hiring dozens of employees lately as PennyMac launches its loan origination division. (See profile page 26.)
"There's great talent in Southern California," he said, "probably the best mortgage talent in the country."
Subprime decline
Due to the historically low affordability of area homes, Southern California has long held a reputation as a center for new and exotic loan products to help buyers get into properties.
"One thing about California is it's always been innovative, not always to its advantage," said Green, of the Lusk Center for Real Estate.
With so many local lenders disappearing, though, the area may not emerge as a major mortgage center when the market recovers. "It may be that California doesn't have its leading role anymore and really that's not such a bad thing," he said.
Subprime lending has been the largest casualty of the housing bust, even aside from Countrywide's demise.
For example, Value Home Loan Inc., a prominent hard-money lender in Woodland Hills, has stopped lending to regular homeowners, though it still considers applications from investors wanting to buy residential property.
Certain elements of the financial reform act passed by Congress due to go into effect next month will require lenders to verify borrowers' ability to repay loans. It's designed to reduce predatory lending, but Greg Nierenberg, who handles residential lending for Value Home Loan, said the regulations increase the liability for lenders.
"Unless the consumer has a very strong ability to repay, it's a risky business," he said.
Nierenberg estimated that more than 90 percent of small lenders have abandoned the market for nonprime residential mortgages, and he does not expect many to return.
Still, a small number of companies are looking to grab market share now that big banks and many independent lenders have left. RC Temme Corp. in Woodland Hills, for one, is increasing its efforts in so-called high-cost mortgage loans. (See profile page 28.)
Tracey Seslen, a USC finance professor and subprime lending analyst, said despite the bad reputation that subprime mortgages have received, they are not necessarily bad loans when borrowers are not pushed into excessively risky loans.
For that reason, Seslen said she would not be surprised if the subprime market does rebound in Los Angeles, which could help the region reestablish its reputation as a leader in the mortgage industry.
"I think Southern California is going to come back," she said.
For reprint and licensing requests for this article, CLICK HERE.