Louis Perry: Building Security
INTERVIEW: His acting jobs never made him enough money, but Louis Perry made it big in the guard business.
Monday, September 13, 2010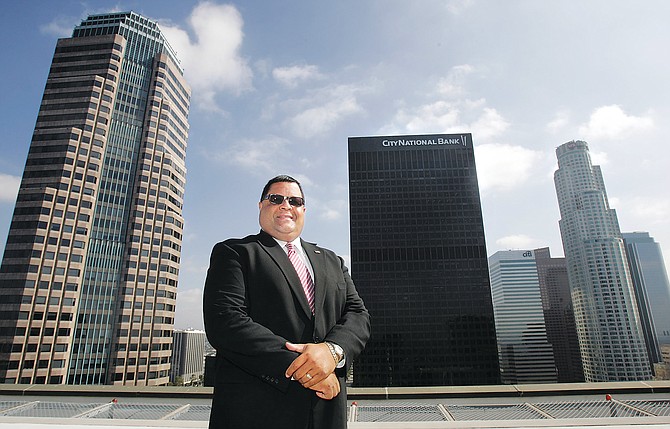 Louis Perry may drive a Silver Spur Rolls-Royce, but he wasn't born with a silver spoon in his mouth. He was born and raised in Brooklyn by his Dominican immigrant single mother, and spent his childhood dreaming of being an actor. With that goal, Perry at 19 took his life savings of $200 and moved to Los Angeles. He landed small roles on TV shows including "Cagney & Lacey" and many others – and loved it. So even though he wasn't making enough to live on, he kept at it while starting a career in security. He worked as a guard in Westside office buildings, and believes the people skills his mother taught him helped build relationships with many of the executives whose companies had space there. Soon he was bringing in big bucks providing security at ritzy private parties they threw. After working at other security companies while he continued the party work, Perry launched his own company, Kadima Security Services, in 2008, and now has about 60 clients and 180 employees. Perry – 6 feet, 2 inches and 310 pounds – sat down with the Business Journal recently in his 18th-floor downtown L.A. office, which is decorated with pictures that show him meeting former Vice President Al Gore, boxing champ Manny Pacquiao and members of the Saudi royal family, to discuss his childhood, his show biz career and the challenges of balancing family life with launching a business.
Question: Is running your own company a dream come true?
Answer: People have always pushed me and told me, "You should have your own company." I didn't play too much into that, and it's not about me saying that I'm the owner and the president, even though I am. It's more about being able to say that there are 180 employees that are able to go home every day and take care of their families. And that's really the greatest, knowing that we are doing well and that 180 employees can put food on the table and buy clothes. That's the greatest reward; that's when it really feels good.
Have you or your guards had any dangerous situations in your security career?
There have been situations that were boiling over. One time, I had to talk to a guy and defuse the situation by saying, "You know what, it's not worth it." I had to get into his head and reverse his thoughts. People can defuse things by getting into a person's mind versus adding negative energy to the fire.
Is that what you train your guards to do?
People who work with me know how I think. I talk to my guys and explain to them how they should do things and what they should have done if their decision was not appropriate. Judgment is very important in this business.
How did you go from acting to security work?
I moved to Los Angeles when I was 19 years old because I wanted to get into the entertainment industry. I wanted to be an actor. I was called for "Star Trek: The Next Generation." They called me to be a scene extra, but then I had a job offer to do security on buildings on Wilshire. "Star Trek" never called me back and I proceeded in the security business. I started working my way up and meeting people of influence in the Los Angeles area, and I just connected myself with some very influential people.
So you developed relationships with L.A.'s wealthier business people. How did that help your career?
Everybody wanted me to work their special events and private parties. They wanted me to work and greet people as they arrived at their house and do security. I would charge $100 per hour back then and people would pay it. So I realized, "Hey, wait, maybe I'm on to something. These people are paying me $100 like it's nothing." So I decided to branch out. I hired four guys and I would charge $100 for each guy and pay the guy $30, take $70. I would end up making $400 or $500 per hour and it just started from there. Eventually, I worked at Guard Systems Inc. for five years and I worked my way up to district manager. Then I left and started this company.
While you were getting started in security, you kept acting.
I did the Richard Simmons show, I did "Cagney & Lacey." I used to be a regular on "Hunter"; I did "Penitentiary 2." I did print work, I did Essence magazine as a model. I enjoyed it, but my mind was not focused: I was young, I was good-looking, I was in great shape. I think more important at that time was the partying, the hanging out and meeting women.
Tell me about your childhood.
I had a very interesting childhood. I'm half-African-American and half-Latin, but I was raised in a 99.9 percent white community in Brooklyn. So being called a mutt was routine, and other names that I won't get into. But I've been privy to a lot of wonderful things from a lot of different cultures. When you are raised that way, it sort of gives you the edge. I get along with all different kinds of people.
What did your parents do?
My dad was in the military, in World War II and the Korean War. My mother was a cook. She cooked for the day care that I attended. One of the perks of having your mother be a cook is that I got to see her all day long.
What was your relationship with your mother like?
My mother was an incredible mother. She taught me a lot of values and a lot of very important things about being a man and being the best at what you do, even if you are mopping floors. I always remembered my mother's words in saying, "Treat everybody equal and have relationships with all kinds of people."
You still miss her.
One of my biggest regrets is that I'm not able to let her see all of her efforts and what she's done to enable me to be where I am today. I would have liked to spoil my mother, taken her out and spend some quality time with her watching the waves and just telling her how much I love her.
Your parents were separated when you were 10, so she raised you as a single mom. What about your father?
He was always traveling and because of that, I didn't really know him. When I was 13, he died. I don't have any recollection of my dad, to be quite honest with you.
How did your father die?
My mother picked me up from school early and said that he was murdered. The person or persons were never caught.
How did his death shape you?
I know what I missed by not having a dad there. I didn't have someone to go to the park with me, to play baseball. I didn't have all of those things. So I went with other people's families and oftentimes I found myself being sad and I would ask my mom, "Why don't I have a dad?" But what it has done, it has made me try to be the best dad I can be, and be a great provider for my kids, give them the world and most importantly give them the love. Because he was not there, I didn't have the love.
What about your brother and sister?
They were older, we weren't that close. My sister, who is 19 years older, is a major in the Air Force and my brother, who is three years older, is a retired NYPD policeman.
How did you meet your wife?
It was love at first sight. I did everything to keep her, opposite of what I've done to lose women back in the day. I didn't call. I wasn't aggressive, possessive or overbearing. Everything was toned down completely.
So what happened?
I said, "Would you like to have breakfast tomorrow?" And she was like, "I don't know. I'll have to get back to you." A week went by. When she finally called, I said let's go to a park, get some ice cream and talk a walk. And we did that and from there, we were never apart. My wife taught me a lot about family. My wife is the glue that holds my family together. She's an incredible mother. I married up.
How long have you been married?
18 years.
Tell me about your children.
We have Justin, who is 14, and Adam, who is 10. And I have a daughter named Mirage who's 18 years old and a granddaughter named Jade. I'm a grandfather at the age of 49.
How did you feel about your daughter having a child so young?
I was not OK with it. I told her that in life there are enough challenges and the more you are prepared for the challenges before you, the better off you are. And you should see the world first before having a baby. Having a baby is a very big responsibility and I had to explain that to my daughter and explain to her what those responsibilities are, and what I would help her with and what I would not help her with. I just like to keep things real. She had the baby and I blessed her and I stand by her. She's happy and doing well, but the baby is only 4 months. The challenges are ahead. Being a single parent isn't an easy thing.
Tell me about getting Kadima started.
Every one of the 60 customers was signed by me, including Michael Bloomberg, the mayor of New York. I pursued every single one of them.
When you started the company, how did you balance work with your personal life?
I was working so crazily that I forgot about my wife. I forgot to tell her "You look beautiful." I forgot to hold her hand. I forgot to spend time with her. I forgot to do a lot of things with her that a person should do. I was a workaholic. I was dead tired and all I wanted to do was sleep. It affected my marriage a little bit. My wife and I, we sat down and she told me that she wanted me to make some adjustments or she was going to be out of the game. I made all of the adjustments because I realized that the most important things in my life are my wife and my kids.
Was learning how to cut back on work your biggest challenging?
I think it was a challenge and I'm better now. But my biggest challenge is sometimes I doubt myself. I'm always wondering if it's supposed to be this way. You just have to stay focused and on it.
Do you have retirement plans?
I'm not going to do this past 65, so I've got 15 more years of good, hard effort to build this company up. Then I'd like to retire and enjoy life.
Does 15 years feel like it's not enough time?
Yes, because time flies. Time goes by very fast, and because of that it's sometimes overwhelming.
Do you feel as if you've had a successful career so far?
I have a Rolls-Royce; I have a Hummer. But I think success is based on if I can give my kids the edge going into the future of their lives. If I can give my kids the ability to go to a good college, get a good education and become good citizens, then I think I will be successful.
Why did you get a Rolls-Royce?
I brought it in Palm Springs about five or six years ago. It's a beautiful car. It's a Silver Spur in mint condition. I don't drive it every day. I drive it maybe once every two months. I just take it out for special things.
Your office walls are covered with news articles about you and photos of yourself with some sports stars, politicians and other dignitaries.
We did security for the Saudi royal family when they visited Los Angeles; we do security for the Indonesian Consulate. I did security for Al Gore personally after he served his terms as vice president and he would come to functions.
Are you star struck?
The funniest thing happened when I met Bush senior. I thought that he would shake my hand, take the picture and move on. But what blew my head is that he actually asked me who I was, and I got to talk to him for a minute and explain. I thought that was kind of neat. We are all human beings – rich, poor, fat, skinny. So I don't get star struck that much.
Looking back, what have been some of the stranger requests that you've received from clients?
There was an Orthodox Jewish family that came to Beverly Hills and they didn't want their kid to be in a car on Friday night. So at 10 o'clock, I had to meet this kid at the Beverly Hilton and walk him down San Vicente about a mile or two to another hotel. And then we had to go up the stairs, and I had to turn on the lights for him. Another one, there were these father-son attorneys and the son was stealing from the father. The father hired the company to put a security guard outside his house and protect him from his own son. That was pretty sad.
Tell me about your daily routine.
I have a very serious process. I wake up and I kiss my wife good morning, I brush my teeth and then I got downstairs and the kids are at the breakfast table and we pray, we pray on every meal that we eat together. And then I always tell my kids before they go to school to do good, work hard, make the right decisions and focus on their teachers' lesson. And I love to relax by shaving, so I have an electric shaver and I'll shave and watch the news. Then I'll jump in my car and start making my way to the office. I go to a lot of lunches and meetings. And sometimes I will just jump in my car and look for opportunities at buildings.
You have a personal website that displays photos of yourself and letters that you wrote to your wife, children and mother. Why did you write the letters?
Too many people die without saying what they felt. I don't want that to be the case with me. If I die, I want my family to have something that I wrote to them letting them know how much I love them.
Louis Perry
TITLE: Founder and president
COMPANY: Kadima Security Services
BORN: Brooklyn, N.Y.; 1961
EDUCATION: Los Angeles Pierce College, Los Angeles Valley College
CAREER TURNING POINTS: In the 1990s, when he started getting a lot of calls from people to work private events. "I realized that I could accomplish things."
MOST INFLUENTIAL PEOPLE: Mother and wife.
PERSONAL: Lives in Stevenson Ranch with wife Paulina, sons Adam and Justin; daughter Mirage, from previous relationship.
ACTIVITIES: Watching boxing, spending time with family and friends.
For reprint and licensing requests for this article, CLICK HERE.