Sticker Shock?
Electric car maker's jobs to cost L.A. millions
Monday, September 6, 2010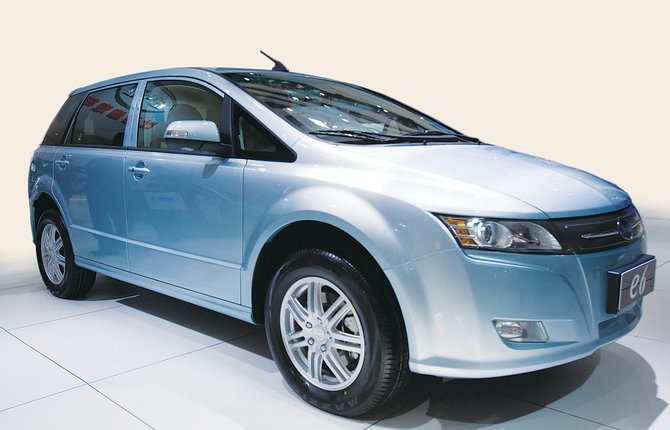 When electric car maker BYD said earlier this year that it would build its North American headquarters in Los Angeles, the announcement was hailed as a coup for a city that wants to be the home of the emerging green auto industry.
But the 150 office and research-and-development jobs that the Chinese company promised by next year – a figure that has since been reduced to 102 and delayed until 2013 – are not coming cheap.
The incentive package extended to BYD will amount to some $5 million over five years, according to a Business Journal estimate, and could cost even more if the company experiences financial difficulties and the city is forced to assume BYD's lease obligations as it has pledged.
That means even if the company creates 102 jobs, each one will cost taxpayers more than $50,000 – at the same time city businesses grapple with some of the highest municipal taxes in the country. The city hopes that the company will eventually locate a manufacturing plant here, but there is no promise that will happen.
"The city may be throwing more money than it would under normal circumstances, but the fact is L.A. needs BYD more than BYD needs L.A.," said economist Kevin Klowden, director of the California Center at the Milken Institute in Santa Monica.
Already the fourth largest vehicle maker in China, BYD Co. Ltd. is one of many companies trying to become a major player in the electric vehicle industry. BYD has some advantages: It is one of the world's largest manufacturers of rechargeable batteries and makes solar panels.
It also has had one of the highest profiles since attracting the attention of L.A. billionaire and Berkshire Hathaway Vice Chairman Charlie Munger. He convinced Berkshire Chairman Warren Buffett to make a $230 million investment in the company two years ago now said to be worth more than $1 billion. BYD plans to start selling its electric and hybrid vehicles in the United States next year.
The incentive package is made up of grants, agreements that the city will buy BYD products, lease guarantees, a tariff reduction, and Department of Water and Power rebates and subsidies. The city also has agreed to display BYD cars at Los Angeles International Airport and to expedite approvals for homes that want to install electric car charging stations.
The package was negotiated by First Deputy Mayor Austin Beutner, a former investment banker who was tapped by Mayor Antonio Villaraigosa earlier this year to be his "jobs czar" and shake things up at City Hall. He is running the Department of Water and Power on an interim basis.
Beutner argued that the price is a bargain compared with packages that some cities have been known to offer, which can amount to $150,000 per job. He also stressed that a $1.6 million grant for the headquarters renovation was the only direct cost of the incentive package, as other parts were either available to other businesses or should generate an economic return.
"We're pretty dramatically short of jobs in Los Angeles," Beutner said. "We've got to be creative and make solutions."
The deal
BYD America Vice President Micheal Austin said he was impressed by Beutner's resolve to change the reputation of Los Angeles as a city that has trouble retaining or attracting corporate headquarters.
"His mind-set was, 'OK, we have a bad rap and maybe some of it's true, but let's look forward to what we can do to align city resources to really make this attractive to BYD,' " Austin recalled.
Grants make up the costliest slice of the package, at least for those parts that have a price tag.
The City Council has approved, in principle, $2 million in Community Development Block Grants for BYD. The grants are distributed to cities by the federal government and can be used for everything from affordable housing to infrastructure.
Some $1.6 million of the money would go to renovating a two-story building at 1800 Figueroa St. that will serve as BYD's headquarters, with an additional $400,000 slated for renovations of public rights of way near the facility.
Also costly are the city's agreements to purchase BYD products. Prices have not been negotiated, but the purchases could end up costing more than $3 million. That's because the city agreed to buy 10 of BYD's e6 electric cars and lease 20. City officials also intend to start a pilot program running five of the company's electric buses. BYD sells the e6 for about $32,000 and its electric buses to government agencies in China for $400,000 to $500,000.
Details of the pilot program have not been fleshed out, but a decade ago the DWP bought electric buses that it leased out to other agencies, including the Los Angeles Metropolitan Transportation Authority.
In addition, the city has promised to buy solar panel structures to be placed over 20 parking spaces, which could potentially be used to power anything from street lights to vehicles. The cost for that would be $195,000, according to Austin.
The city developed another incentive for BYD that would be available to other electric car makers. A 15 percent reduced tariff offered at the Port of Los Angeles would be applied to all zero-emission vehicles. The current rate is $26.46 per car, which values the reduction at about $4 per vehicle. If BYD imports 15,000 vehicles annually over the next five years – a figure auto industry experts said is reasonable – the incentive would total about $60,000.
Another part of the package is a 35 percent DWP power rate subsidy that declines over five years. That benefit is available to any new company like BYD in a state enterprise zone, where the company's headquarters would be located. BYD also qualifies for state and federal tax breaks for the same reason.
The electric bill for 30,000 square feet of office space in downtown Los Angeles, the size of BYD's headquarters, is about $60,000 a year. Plans to cover one-third of the roof with solar panels could lower BYD's electric costs by 20 percent. Taking that into account, the sliding DWP subsidy could total about $60,000 over five years.
Moreover, the company can apply for additional DWP rebates and subsidies, for features such as energy-efficient windows and lights that are widely available to other businesses. Department officials said they are working on other incentives specifically for BYD but declined to discuss them. Cost-negligible parts of the package include an agreement to display two BYD cars at LAX and to expedite approval for home installation of electric vehicle charging stations.
The incentives add up to about $5.2 million over five years, or close to $51,000 per job.
But the package could be far more if BYD defaults on its lease. The city has approved up to $2.4 million in lease guarantees to the site's property owner if BYD breaks its lease agreement in the next 10 years. If the company were to default, the city would have to pay up to that amount, but could potentially be off the hook for other incentives such as the product purchases.
Also, according to a city report, BYD would have to reimburse the city as much as the full $2.4 million should it default. However, it's unclear if the company were financially ailing, how it could repay the guarantees.
Beutner argued that the city is getting something back for most of the incentives offered. For example, the tariff reduction will generate revenue as it establishes Los Angeles as a de facto port for electric cars. He also called the package "a great bargain to the city.
"The incentives themselves are relatively modest to attract a company like this," he said.
It's true that the city's incentives pale next to some other recent examples. In 2005, Tennessee offered Nissan an incentive package worth $197 million to move its North American headquarters from Gardena. The move initially created about 1,300 jobs – about $150,000 per job. Last year, South Carolina offered a reported $450 million in incentives to bring a Boeing plant and 3,800 jobs to Charleston – about $118,000 a job. Boeing also received $41 million in incentives to move its headquarters, and 500 jobs, from Seattle to Chicago in 2001, for $82,000 a job.
Moving target
However, the exact job creation figures of BYD's establishment in Los Angeles have been changing.
When the company's move was announced in April, a press release issued by the city said that BYD expected to create "150 jobs throughout 2010 and 2011." A June staff report by the Mayor's Office also projected 150 to 200 jobs by the end of 2011. But recently that number has been pared down: A July 22 report by the Community Development Department projected at least 46 new full-time jobs by the end of 2011, and approximately 102 by 2013.
Beutner denied that the jobs projections had changed, calling them "imprecise by nature," and said that he expects BYD to exceed 102 jobs. He also said BYD's presence would create 700 to 800 other jobs in the marketplace, including suppliers, service technicians, and installers of solar panels or charging stations.
Klowden was skeptical of the city's multiplier claims.
"Honestly, 700 to 800 jobs as a multiplier – that doesn't shake out as making a lot of sense," he said. "But in the end you've got to figure that for those 100 jobs there are a significant number of support jobs. The real test is when they create those 100 jobs, do they stick around?"
The package has drawn support from the Los Angeles Area Chamber of Commerce, the city's most influential business group. Chamber Chief Executive Gary Toebben said it's unrealistic to expect the city could attract such a business courted by other areas without some incentives.
"Some people in Los Angeles may use the term 'generous,' but anyone who is critical of this incentive package probably has not seen the kind of incentives and the red carpet rolled out in other states and cities," Toebben said.
Still, some question whether the city should be paying to attract private investment at all. Tim Cavanaugh, an editor at Reason magazine, published by libertarian think tank the Reason Foundation, said any deal involving incentive packages to a single business is a bad one for the city.
"This deal is a loser. It is unfair to other businesses, it's unfair to taxpayers and it is unnecessary to create jobs for local people," Cavanaugh said. "There's no way it'll pay off, because you could have gotten a better result by just leaving people alone and easing up regulations and easing up the taxes that the city is taking."
That was a tactic tried by nearby Glendale, which hoped to attract the company simply based on its reputation as a very good place to do business. Businesses there don't have to pay a gross receipts tax, a business license fee or a tax on long-distance telephone calls. But it wasn't enough.
"We felt that we were competitive, but they chose L.A.," said Glendale Economic Development Manager Ken Hitts, who declined comment on the incentives offered by Los Angeles.
Austin said the company ultimately chose Los Angeles over other dozens of other cities even though its incentive package was not the largest offered. He said he was impressed by the cooperation of various city departments.
"They were able to align their resources with an understanding of the BYD business model, and that made it a good fit," he said.
What's not clear is what role, if any, Munger had to play in convincing the company to locate its headquarters in his own city of residence. His secretary said he was out of town and unavailable for comment.
Future success?
The long-term measure of the package's merits will be determined by whether it leads to the establishment of a manufacturing plant, and, perhaps, ultimately, becomes the spark that makes Los Angeles a new green auto center.
"The key aspect is whether this project will position L.A. to capture additional investments in the future," said Bob Price, director of Atlanta-based Herron Consulting, which helps businesses negotiate incentive packages.
Already, BYD wouldn't be the electric car industry's only local presence. Coda Automotive Inc., a Santa Monica start up, is hoping to turn out an all-electric sedan next year, and may open an assembly plant in Los Angeles County. Palo Alto-based electric car maker Tesla Motors Inc. made news in May by announcing it would put an assembly plant in Northern California despite lengthy negotiations with officials in Downey. Nevertheless, the company keeps a design studio in Hawthorne.
Larry Kosmont, an L.A.-based based economic development consultant who reviewed the incentive package for the Business Journal, categorized it as "middle of the road," but a "bit of a gamble" on the city's part.
"I have to believe that there's a longer-term perspective in this kind of investment," he said. "There are times when you need to kick-start an industry and get a leader that may put down roots here and, if successful, could change the complexion of the local economy to the good."
Phil Gott, director for automotive consulting at Lexington, Mass.-based IHS Global Insight, said a company such as BYD, even though it is a major player in China, will have a difficult time competing against more established brands such as Nissan and Ford, which are introducing electric cars within the next year.
"I think their chances are low," said Gott. "What they do have is the current enthusiasm, but that's not going to carry them more than a couple of years. If they don't do a good job of the basics, of blocking and tackling, in two years, they're done for."
BYD officials are more optimistic.
Austin said the company plans to begin selling the all-electric e6 and plug-in hybrid F3DM to government agencies first, and then roll them out to the consumer market by 2013. The e6 will initially retail for around $40,000 and BYD hopes to lure in customers by pushing down costs through volume selling. Building up infrastructure for the electric car market in the L.A. area marks a big first step toward its goals.
"I think BYD has a better chance than a lot of companies have," Austin said. "There are 320 million families in China that have yet to buy a car. That's the volume driver that will create lower-cost affordable electric vehicles that will compete well in the U.S. market."
For reprint and licensing requests for this article, CLICK HERE.