Port Drivers Will Keep On Truckin'
Independents look to maintain L.A. access.
Monday, September 6, 2010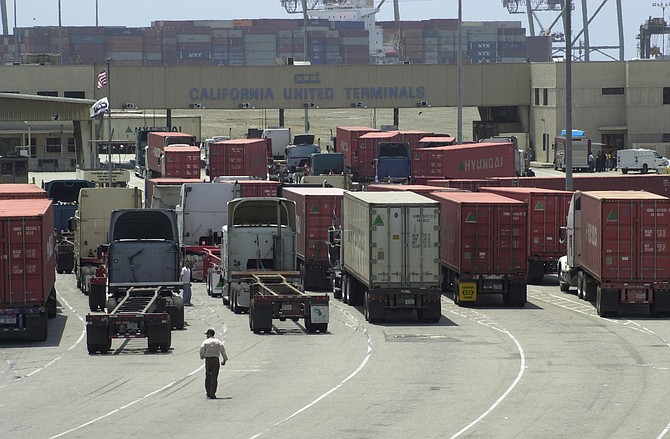 Independent truckers haven't hit a dead end despite a court decision that could halt their right to service the Port of Los Angeles.
A federal court judge recently upheld a controversial provision of the port's Clean Truck Program that requires truckers to be employees of carriers with concession agreements, not independent truckers who own and operate their own rigs. But several trucking companies said they don't plan to make any changes in their operations.
Instead, the companies, which hire independent truckers on contract to carry goods, are relying on a legal appeal by the industry's main trade group – which could take years to resolve.
"I don't think there is anything that any of us will have to change," said Mike Fox, owner of Fox Transportation Inc., a Rancho Cucamonga trucking company that uses 80 trucks operated by independent drivers. "I think it will go to perhaps the U.S. Supreme Court."
On Aug. 26, U.S. District Court Judge Christina Snyder ruled against the American Trucking Association, which argued that the program, requiring big rigs to meet 2007 federal emissions standards by 2012, interfered with interstate commerce by demanding concessions and employee drivers.
The ATA, which filed suit in 2008, has not only vowed to appeal the decision, but also plans to ask Snyder to keep in place an injunction against the employee-driver rule while the appeal makes its way through the courts.
Even aside from the employee-driver rule, small truck companies have been hit hard by the program, which has required them to buy expensive new trucks to meet the emission standards. Hundreds of independent truckers and small trucking companies have already left the business. The Port of Long Beach also adopted the clean truck program, but without the employee-driver provision.
But the prospect of a prolonged legal battle has energized supporters of the program – including organized labor, which sought the employee provision – to pass a bill in Congress that would explicitly give ports nationwide the power to require concession agreements with stricter environmental and labor rules.
"You have several other ports that want to enact similar programs and they are being hit with threats of litigation. It makes it really critical that Congress steps in and makes it clear that ports possess the authority to implement these kinds of programs," said TJ Michels, spokeswoman for Change to Win, a coalition of labor, environment, community and consumer groups.
The coalition counts as a member the Teamsters, which has made clear its intentions to organize drivers once the employee rules go into effect.
The Los Angeles Times has reported that Change to Win contributed $500,000 to a voter-approved telephone tax measure supported by Villaraigosa in 2008 aimed at raising city revenue. That contribution was made just months before the concession agreements were approved by the harbor commission, which has mayoral appointees.
After the judge's decision, Villaraigosa released a statement saying the ruling represented "real progress on growing and greening our port."
The fight
The Clean Ports Act of 2010, introduced by Rep. Jerrold Nadler (D-N.Y.) in late July, would amend the Federal Motor Carrier Act to allow ports to enact labor and environmental rules that differ from federal requirements. Among the ports it would affect are those in Los Angeles; Oakland; New York; Newark, N.J.; and Seattle.
It has drawn the support of the California Democratic delegation, including local Reps. Howard Berman, Judy Chu, Jane Harman, Grace Napolitano, Adam Schiff and Brad Sherman. Change to Win is working on getting a companion bill introduced in the Senate.
After the judge ruled, Harman (D-Venice) praised the decision. "This ruling protects the health of port employees and neighbors, as well as the health and safety of truck drivers," she said in a statement.
Some trucking companies believe that legislation could backfire in Los Angeles if higher labor and thus transportation costs push more and more shipping to the Port of Long Beach.
"It would triple my rates for any containers that come into L.A.," said Ron Guss, president of Intermodal West Inc., whose Pico Rivera company uses 67 trucks operated by independent drivers. "Would it be where L.A. loses all of its business? No, there is no way. But could 10 or 15 percent of the business switch over? I would think Long Beach would be more than happy to have that business."
Still, Guss said that his independent drivers are not worrying about all the legal and legislative machinations.
"These guys kind of don't think much past next week and how many loads they are going to get next week," he said.
The head of a regional trade group representing truckers who serve the ports of Los Angeles and Long Beach agreed that it was business as usual at the Port of Los Angeles.
"Everybody I've talked to has said the same thing and our members have said the same thing: they plan on continuing business as usual until the ATA has exhausted all avenues of appeal," said Harbor Trucking Association President Fred Johring, who owns Golden State Express, a Rancho Dominguez trucking company.
For reprint and licensing requests for this article, CLICK HERE.