Downtown L.A. Festival In Ring With Big Sponsors
SPORTS BUSINESS: Event links with Mexican Independence Day to lure Latino audience.
Monday, September 6, 2010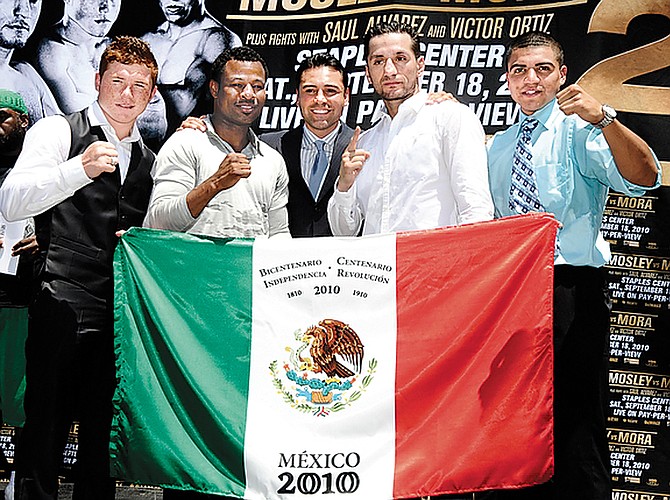 Oscar de la Hoya's Golden Boy Promotions has some punch with corporate marketers seeking to reach the Latino market.
The boxer's downtown L.A.-based promotion business is staging a big Sept. 18 junior middleweight showdown at Staples Center between former champions Shane Mosley and Sergio Mora. Leading up to it will be a four-day festival that has attracted Fortune 500 companies as sponsors.
The festival, starting Friday, Sept. 17 in the arena's parking lot, will celebrate the Mexican Bicentennial. It also will feature concerts by popular Mexican bands, as well as plenty of food and drink.
Boxing is highly popular in the Mexican-American community and tens of thousands are expected to attend the festival, which is being sponsored by, among others, AT&T; Coca-Cola; Southwest Airlines; Tecate; and Dewalt Tools, a unit of Stanley Black & Decker.
Dewalt will not only have a display of tools but is bringing contractors to the event to show their use. Hector Vallejo, Dewalt's multicultural marketing manager, said such a display would be difficult in Las Vegas, where most big fights are held.
"You can't do it in Las Vegas because of the casino and security aspects," Vallejo said.
Richard Schaefer, chief executive of Golden Boy and de la Hoya's business partner, said he thought up the idea for the festival after attending Fiesta Broadway, a large downtown L.A. festival geared around Cinco de Mayo. The boxing festival will cost about $1 million to produce, and Schaefer hopes to at least break even from sponsor revenue and admission fees. Tickets are $10 for adults and free for children younger than 12.
"We are making a substantial financial investment in the concept," Schaefer said. "If we are successful, Oscar and I have already discussed making it an annual event."
As for the fight, Schaefer expects it to generate tens of millions of dollars in pay-per-view buys. Besides Mora, who grew up in East Los Angeles and won the first season of boxing reality show "The Contender." The undercard will feature Victor Ortiz and Saul Alvarez, a promising Mexican boxer.
Alvarez, who recently signed with Golden Boy, is a red-headed, freckle-faced welterweight making his American debut at Staples Center. He is undefeated and his fights have drawn television audiences in Mexico that are only comparable with the Mexican national soccer team.
Tri Hard
A triathlon seems like enough of a challenge, but organizers of the Nautica Malibu Triathlon hope that racers can fundraise $1 million for the second consecutive year. The bulk of the fundraising will come from corporate participants, who had raised $700,000 with three weeks left until race day.
Prev Next
For reprint and licensing requests for this article, CLICK HERE.