Downtown L.A. Festival In Ring With Big Sponsors
SPORTS BUSINESS: Event links with Mexican Independence Day to lure Latino audience.
Monday, September 6, 2010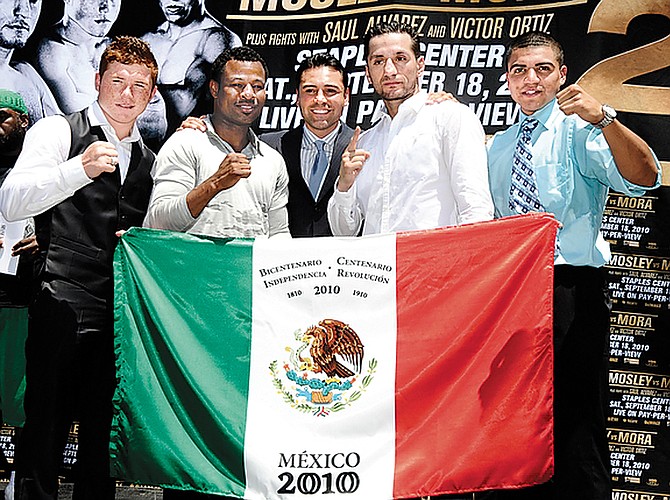 Oscar de la Hoya's Golden Boy Promotions has some punch with corporate marketers seeking to reach the Latino market.
The boxer's downtown L.A.-based promotion business is staging a big Sept. 18 junior middleweight showdown at Staples Center between former champions Shane Mosley and Sergio Mora. Leading up to it will be a four-day festival that has attracted Fortune 500 companies as sponsors.
The festival, starting Friday, Sept. 17 in the arena's parking lot, will celebrate the Mexican Bicentennial. It also will feature concerts by popular Mexican bands, as well as plenty of food and drink.
Boxing is highly popular in the Mexican-American community and tens of thousands are expected to attend the festival, which is being sponsored by, among others, AT&T; Coca-Cola; Southwest Airlines; Tecate; and Dewalt Tools, a unit of Stanley Black & Decker.
Dewalt will not only have a display of tools but is bringing contractors to the event to show their use. Hector Vallejo, Dewalt's multicultural marketing manager, said such a display would be difficult in Las Vegas, where most big fights are held.
"You can't do it in Las Vegas because of the casino and security aspects," Vallejo said.
Richard Schaefer, chief executive of Golden Boy and de la Hoya's business partner, said he thought up the idea for the festival after attending Fiesta Broadway, a large downtown L.A. festival geared around Cinco de Mayo. The boxing festival will cost about $1 million to produce, and Schaefer hopes to at least break even from sponsor revenue and admission fees. Tickets are $10 for adults and free for children younger than 12.
"We are making a substantial financial investment in the concept," Schaefer said. "If we are successful, Oscar and I have already discussed making it an annual event."
As for the fight, Schaefer expects it to generate tens of millions of dollars in pay-per-view buys. Besides Mora, who grew up in East Los Angeles and won the first season of boxing reality show "The Contender." The undercard will feature Victor Ortiz and Saul Alvarez, a promising Mexican boxer.
Alvarez, who recently signed with Golden Boy, is a red-headed, freckle-faced welterweight making his American debut at Staples Center. He is undefeated and his fights have drawn television audiences in Mexico that are only comparable with the Mexican national soccer team.
Tri Hard
A triathlon seems like enough of a challenge, but organizers of the Nautica Malibu Triathlon hope that racers can fundraise $1 million for the second consecutive year. The bulk of the fundraising will come from corporate participants, who had raised $700,000 with three weeks left until race day.
"Last year, we hit a landmark with raising a million dollars for Childrens Hospital Los Angeles," said Michael Epstein, president of event producer Michael Epstein Sports Productions. "It took us 13 years to get there. In this economy, the challenge is to maintain that level of giving."
In order to help reach this year's goal, the number of spots for corporate fundraisers was increased from 1,000 to 1,200. Studios fielding teams include Walt Disney Co., DreamWorks SKG, Lions Gate, Paramount, Fox and Universal. The corporate division features teams from Amgen Inc., Johnson & Johnson, Nestle USA and Netflix.
The Malibu triathlon is the premier event organized by the Agoura Hills-based sports production firm. The race, scheduled for Sept. 12, is in its 24th year and is limited to 3,200 entrants despite high demand. Registration closed in just four hours in March.
Two years ago, Epstein added a distance race sponsored by nutritional and diet supplement distributor Herbalife Ltd. on the Saturday prior to the race. It allows an additional 1,800 competitors to swim, bike and run at Zuma Beach. His company also launched a triathlon in South Beach, Miami. Epstein said that he would like to add one more event, but it's difficult finding elite cities to make it work.
"South Beach isn't Malibu, but it is a classy, beautiful place," he said.
3-D Tennis
The finals of this week's U.S. Open will look a little more lifelike for subscribers of El Segundo-based DirecTV.
The satellite television provider is working with CBS Sports, the U.S. Tennis Association and Panasonic to produce a 3-D version of U.S. Open tennis matches on finals weekend. The broadcasts were also available for matches held at Arthur Ashe Stadium at UCLA during Labor Day weekend.
DirecTV launched three dedicated 3-D channels in January, and is working with studios and networks to provide additional content. In addition to a movie channel, there is a 3-D ESPN channel, which does not have the U.S. Open broadcast rights. The matches will be shown on the third 3-D channel, which features a variety of programming, including sports, music, nature and the arts. In order to view the programming, subscribers must have a 3-D-capable TV and special glasses.
Staff reporter David Nusbaum can be reached at dnusbaum@labusinessjournal.com or at (323) 549-5225, ext. 236.
For reprint and licensing requests for this article, CLICK HERE.