Dirty Trucks Crash Port Loophole
Some old tractors not covered by clean air plan.
Monday, October 25, 2010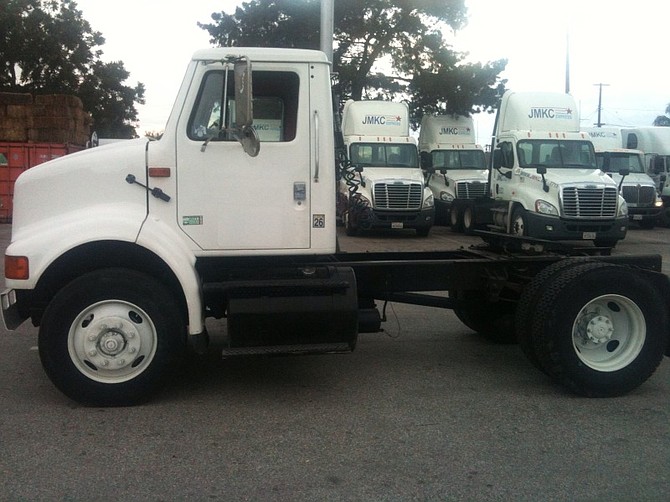 A growing number of freight carriers have found a loophole in the Southern California ports' Clean Truck Program big enough to … well, drive a truck through.
In fact, hundreds of them.
Old, fume-spewing diesel trucks are ferrying empty shipping containers back to the ports of Los Angeles and Long Beach, skirting stringent clean-air emissions standards imposed in 2008.
The carriers have seized on a loophole in the program that closely regulates the common three-axle, so-called Class 8 tractors that carry up to 80,000 pounds – or a fully loaded shipping container – but failed to regulate smaller Class 7 two-axle tractors capable of hauling empty or lightly filled containers.
So, more truckers are using the old small trucks, but only to return empty containers. The practice saves the companies money, but port officials and environmentalists say it violates the spirit of the rules. It even angers competitors who have spent millions upgrading fleets.
"I'm not a happy camper," said Robert Curry, president of California Cartage Co. LLC, a Long Beach-based freight carrier that operates hundreds of trucks in both ports and recently spent $40 million overhauling its fleet. "Why do we have a clean air program if we're going to allow something like this? It's hypocritical. You may as well let everyone do it and forget about clean air."
The numbers tell the story.
Since January, the number of Class 7 trucks registered to work at the Port of Los Angeles has jumped from just 28 to more than 500. The numbers are comparable for the Port of Long Beach – 28 to 480 – at which many of the same trucks call. While the unregulated lighter trucks are still responsible for only about 2.5 percent of gate calls at the ports, that's a fivefold increase since the beginning of the year.
"The number of offenders is growing," said Chris Cannon, director of the environmental management division at the Port of Los Angeles.
In any given month, more than 500,000 containers pass through both ports, most of them filled with imports from China. Some of them are relatively lightweight. And many, after being unloaded of their contents at warehouses throughout the region, are returned empty for a trip back to Asia.
Neither port plans to immediately amend its Clean Air Program. Instead they are waiting for action by the California Air Resources Board, which is set to discuss the matter Dec. 16. The board will consider a staff recommendation that state emission standards be amended to include Class 7 trucks.
For reprint and licensing requests for this article, CLICK HERE.
Prev Next