Upward Curve for Flats
Special Report: REAL ESTATE QUARTERLY
Monday, October 18, 2010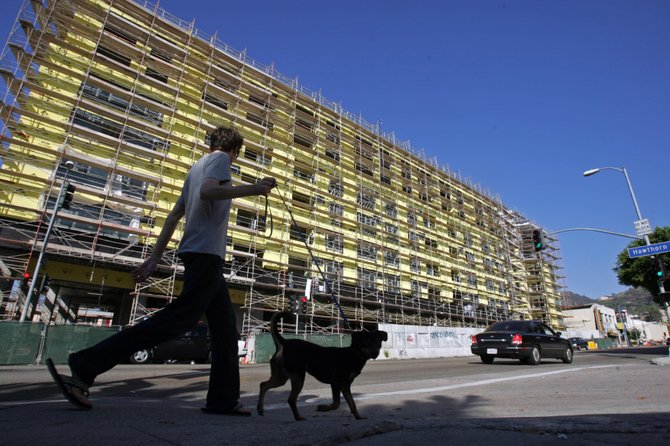 Near Hollywood Boulevard and La Brea Avenue, a seven-story unfinished building served most of this year as a reminder of tough times in the local housing market.
The blocklong project sat half-finished, surrounded by scaffolding – its dry wall exposed for months after the original developer went bankrupt.
Then in June, construction workers suddenly reappeared.
New owner Resmark Equity Partners restarted work on the 180-unit project, originally slated to be a condominium complex called Madrone. But the Westwood real estate investment firm figured it had a better idea: finish it as apartments and call it the Avenue.
The twists and turns taken by the 1619 N. La Brea Ave. project say a lot about the state of the housing market: single-family homes and condos are out – still victims of falling prices and tough financing – and apartments are in. People have to live somewhere.
"I am optimistic that the most difficult days in the multifamily market are behind us now, and we expect it to stay that way for a very long time," said Robert Goodman, president of Resmark.
That belief seems prevalent.
Public companies such as BRE Properties Inc. are gearing up to build locally, while homegrown developers such as billionaires Alan Casden and Rick Caruso are preparing new developments. Then there's the slate of high-profile apartments opened in the last year, from Legacy Partners' large development at Hollywood Boulevard and Vine Street to Casden's Empire Landing in Burbank.
All in all, some 2,670 units in projects of 10 units or more were delivered in the county by the end of September. That's about 1,000 more than were delivered all of last year, according to multifamily brokerage Hendricks & Partners.
That's only half of it. In addition to new construction, the investment sales side of the business is building up, according to brokers and owners. While many transactions are the result of distress, others are being driven by record-low interest rates.
In fact, LeFrak Organization Inc., a New York family-run apartment investor, has seized the opportunity by forming a venture this year with Beverly Hills-based Kennedy Wilson. The plan is to buy apartments in the Western U.S.
Jamie LeFrak, managing director for the family firm, said that the Federal Reserve's decision to keep interest rates extremely low has distorted the market, making apartment buildings profitable investments even at a time of low lease rates.
"The federal government (has) created a very low cost of financing for income-producing multifamily properties. At these metrics, you don't even have to assume rent growth," he said.
'Running pretty full'
Of course, with the economy still soft and unemployment rates high, the apartment market hasn't fully escaped the troubles that have afflicted homes and condos.
For example, it takes longer for landlords to rent apartments, and tenants looking for any job they can get are staying for shorter periods of time. That means owners must spend more refurbishing units that often turn over more than once a year. Some landlords are even feeling the pinch when it comes to utilities, as tenants double up with friends and family.
"Occupancy has shot up in units – the doubling-up effect," said Brent Sprenkle, an associate partner at Phoenix-based Hendricks & Partners. "Expenses for landlords go through the roof."
Tracey Seslen, a senior research associate and multifamily expert for the USC Casden Real Estate Economics Forecast, said that slow single-family home sales also have hurt the apartment market.
For the last few years, some homeowners have opted to rent out properties that haven't sold. It's a segment of the housing market termed the "shadow market." Such properties poach renters from traditional apartments, though foreclosures have thinned out the inventory.
"The shadow market is still there because the rate on single-family home transactions is so low," Seslen said.
Here's how the numbers add up.
The occupancy rate for apartment projects of 10 units or more in Los Angeles County was 93.9 percent in the second quarter, the latest data available from Hendricks & Partners. That's a half-point improvement over the same period last year and slightly better than the national rate. However, it's still below the 96 percent to 97 percent occupancy rate landlords consider healthy.
What's more, asking rents have fallen 1 percent to 3 percent, depending on unit type. For example, the average monthly asking rents for two-bedroom units in the county fell to $1,867 in the second quarter from $1,898 a year earlier. But that's not necessarily a bad thing, according to Seslen.
"For L.A. County, our forecast is showing a decline in rents through the next two years. But vacancy is going to be declining as well," Seslen said. "You've got more units coming on line and more people occupying the units because they are becoming more affordable."
Much of that new inventory is due to the opening of several high-profile projects in and around Hollywood, and other urban and upscale markets.
For example, Legacy's Hollywood project at 1600 Vine St. includes 375 units atop a Trader Joe's grocery story and a Wells Fargo branch (see sidebar page 30). There's the 180-unit NoHo 14 development, which Kennedy Wilson purchased in June. The project was originally opened in January by Bank of America, which had foreclosed on the developer. The upscale apartments are now 90 percent leased.
Bob Hart, president of Kennedy Wilson Multifamily, said that low interest rates and a market that has already taken its lumps have made deals such as the purchase of NoHo 14 attractive.
"I think we see rents having bottomed out finally in all the major metro markets from San Diego to Seattle," he said. "Delinquencies are down, concessions have burnt off. It is good timing."
Billionaire developers Casden and Caruso are seeing positive signs, too.
Take Casden and his Empire Landing complex in Burbank. The longtime apartment developer opened it in August and the 276-unit project is already 40 percent leased. He believes the development – upscale for Burbank, with rents topping out at about $3,400 monthly– will be fully leased in eight months.
"Everybody is running pretty full," said Casden, who has two other large infill mixed-use projects on his plate. One in West Los Angeles would be adjacent to an Expo Line stop and is going through environmental review. The other, in West Hollywood, is approved.
"It was a matter of adjusting rents and meeting pricing. With the lack of available new for-sale product in the city, people are going to have to rent," he said.
Meanwhile Caruso, who is known for his iconic Grove mall in the Fairfax district, is trying his hand at an upscale apartment project at the edge of Beverly Hills. The 88-unit development at 8500 Burton Way is slated to break ground in the first quarter next year and open in 2013.
"I think the apartment market, unlike any of the other sectors, has roared back beyond anybody's wildest expectation," said Caruso, who heads Caruso Affiliated in Los Angeles.
It isn't Caruso's first stab at apartments. Americana at Brand, his mixed-use project in Glendale, includes 238 apartments. He said the apartments at the development, which opened in May 2008, are nearly 99 percent leased.
"It's remarkable out there," he said. "That's proven to be incredibly successful for us."
Both Caruso and Casden said they are considering acquiring some apartment buildings as investments, though neither has made a recent acquisition. Many other investors are looking, too, spurred on by low interest rates – and they are driving hard bargains.
"They want immediate upside, and they want to pay half of what it was worth a few years ago," Sprenkle said.
It's not just about getting the best deal. In some cases, without a bargain it's hard to even make the deal. Some smaller investors are finding that though interest rates may be low, wary bankers are unwilling to give them a loan.
Melika Jahangiri, a multifamily broker with Keller Williams Commercial, said that while the investment sales market has picked up, financing is still a problem for some of her clients. Instead, the deals she is able to close – mostly for B and C quality buildings as small as four units – often involve real green.
"These people are all-cash people," said Jahangiri, who has closed 16 transactions since April. "I think a lot of these people have been waiting on the sidelines."
They can't afford to wait too long. With developers and owners reporting strong interest, especially in new buildings, prices will eventually have to go up. But that's OK with Goodman. With the opening of the 180-unit project in Hollywood less than a year away, the Resmark executive feels confident.
"I am not bullish that rents and occupancies are going to go sky high, (but) I'm optimistic that we are going to have a very stable apartment market," he said.
For reprint and licensing requests for this article, CLICK HERE.