Upward Curve for Flats
Special Report: REAL ESTATE QUARTERLY
Monday, October 18, 2010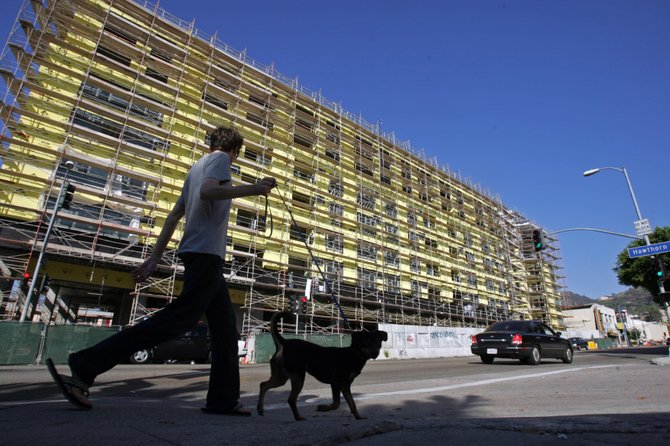 Near Hollywood Boulevard and La Brea Avenue, a seven-story unfinished building served most of this year as a reminder of tough times in the local housing market.
The blocklong project sat half-finished, surrounded by scaffolding – its dry wall exposed for months after the original developer went bankrupt.
Then in June, construction workers suddenly reappeared.
New owner Resmark Equity Partners restarted work on the 180-unit project, originally slated to be a condominium complex called Madrone. But the Westwood real estate investment firm figured it had a better idea: finish it as apartments and call it the Avenue.
The twists and turns taken by the 1619 N. La Brea Ave. project say a lot about the state of the housing market: single-family homes and condos are out – still victims of falling prices and tough financing – and apartments are in. People have to live somewhere.
"I am optimistic that the most difficult days in the multifamily market are behind us now, and we expect it to stay that way for a very long time," said Robert Goodman, president of Resmark.
That belief seems prevalent.
Public companies such as BRE Properties Inc. are gearing up to build locally, while homegrown developers such as billionaires Alan Casden and Rick Caruso are preparing new developments. Then there's the slate of high-profile apartments opened in the last year, from Legacy Partners' large development at Hollywood Boulevard and Vine Street to Casden's Empire Landing in Burbank.
All in all, some 2,670 units in projects of 10 units or more were delivered in the county by the end of September. That's about 1,000 more than were delivered all of last year, according to multifamily brokerage Hendricks & Partners.
That's only half of it. In addition to new construction, the investment sales side of the business is building up, according to brokers and owners. While many transactions are the result of distress, others are being driven by record-low interest rates.
In fact, LeFrak Organization Inc., a New York family-run apartment investor, has seized the opportunity by forming a venture this year with Beverly Hills-based Kennedy Wilson. The plan is to buy apartments in the Western U.S.
Jamie LeFrak, managing director for the family firm, said that the Federal Reserve's decision to keep interest rates extremely low has distorted the market, making apartment buildings profitable investments even at a time of low lease rates.
"The federal government (has) created a very low cost of financing for income-producing multifamily properties. At these metrics, you don't even have to assume rent growth," he said.
For reprint and licensing requests for this article, CLICK HERE.
Prev Next