Tall Doll Brawl
Disney's Princesses take on Mattel's American Girl
Monday, October 18, 2010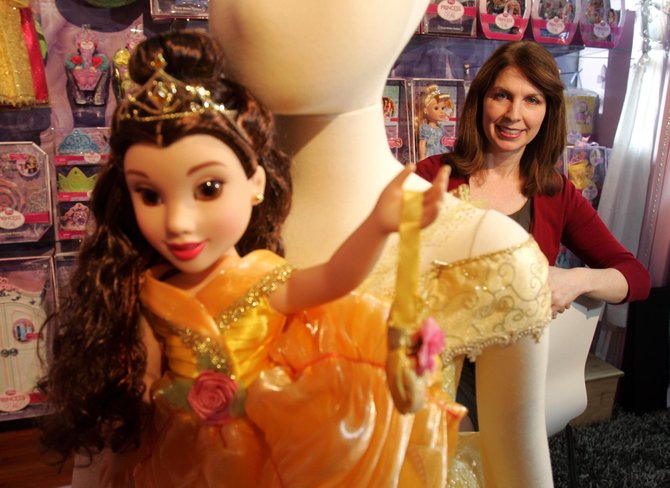 "We looked out there at the large doll market and have been impressed with what brands like American Girl have been able to do," said Chris Heatherly, general manager and vice president of toys for Disney Consumer Products North America.
"It's not just about buying dolls, but the whole experience of buying clothes and furniture for your doll. And that's the type of play that we wanted to see in the Princess brand. And we think that Princess & Me can offer a different experience than American Girl and other large doll brands that are real-world scenarios. Princess owns fantasy."
Doll brawl
While the American Girl line leads the 18-inch-doll category – and had $463 million in sales last year – other toymakers are looking to duplicate its success.
Toys "R" Us debuted a line of private-label dolls called Journey Girls last month, which will remain on sale despite the arrival of Princess & Me. New York doll maker Madame Alexander also introduced a line called Favorite Friends last year.
And Mattel rival MGA Entertainment Inc. of Van Nuys last year launched its line of 18-inch dolls, called Best Friends Club Ink, which sell for $39.99. The line features five dolls that are dressed in fashionable clothes, come with journals and have storylines that "help girls deal with real life challenges," according to the company's website. There's also a book series featuring doll characters.
Isaac Larian, chief executive at MGA, said he wanted to create a line of 18-inch dolls that were more affordable than American Girl.
"Our tagline for this line is, 'Your best friend should not cost you a fortune,'" Larian said.
Larian expects Princess & Me to be a formidable challenge to Best Friends, but he welcomes more entrants into the category.
"The 18-inch doll has been a great play pattern for girls for a long time and American Girl had a monopoly on that," Larian said. "And I think that it's good for the business and the consumer that there's competition, whether it be from Jakks or MGA or anyone else. Competition is good."
Julie Parks, public relations director at American Girl, agrees. In an e-mail statement to the Business Journal, Park said shoppers will benefit from any competition.
"We're extremely proud to have created the 18-inch doll genre and welcome additions to the market if the ultimate goal serves girls in a positive way," Parks said.
For reprint and licensing requests for this article, CLICK HERE.