WHO'S WHO IN LAW - Steve Marenberg
SPECIAL REPORT: Entertainment Lawyers
Monday, October 11, 2010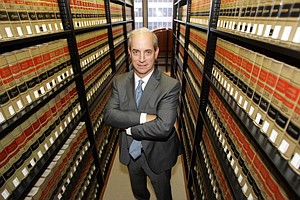 The Business Journal raises the curtain on the legal stars who work in L.A.'s entertainment industry.
STEVEN MARENBERG, 55
FIRM: Irell & Manella LLP
LAW SCHOOL: University of Chicago
CLIENTS: Universal Music Group, Warner Bros., Walt Disney Co., Mark Burnett Productions, Activision Blizzard, THQ.
Show business artists tend to be obsessive about their work, and in Steve Marenberg they have a lawyer that shares their drive.
"I've never been able to leave work at 5 o'clock and not think about it," said Marenberg, head of entertainment litigation at Irell & Manella LLP. "When I open my eyes at 8 o'clock the next morning, I'm still thinking about it."
Fortunately, Marenberg enjoys his 24-7 job, in part because he deals with interesting personalities and because his cases involve complex legal issues.
For example, he is representing Universal Music in a series of lawsuits against websites that allow free downloading and sharing of copyrighted songs. So Marenberg has to understand copyright law, the technology and the user policies of each site.
In another pending case, he represents game studio Activision in a contract dispute with the former executives who created "Modern Warfare 2" in the "Call of Duty" franchise.
His intensity was the result of losing his first court trial a year after law school.
"The experience was painful enough to make me swear it would never happen again," he said. "The next time I went to trial, a few years later, I was a whole different lawyer."
Marenberg started out in corporate law, before developing a specialty in show biz conflicts. That started in 1990, when he represented Motown Records in a corporate governance dispute with MCA, which had bought the label. The case was settled out of court, and Marenberg said he obtained "a good result." Soon other music companies were seeking his services.
Marenberg only has one hobby – tennis – and he's obsessive about that, too.
"If I weren't an attorney, I would be a tennis pro. But a lousy tennis pro," he said. "I'm a much better lawyer than I am a tennis player."
For reprint and licensing requests for this article, CLICK HERE.