WHO'S WHO IN LAW - Ruth Fisher
SPECIAL REPORT: Entertainment Lawyers
Monday, October 11, 2010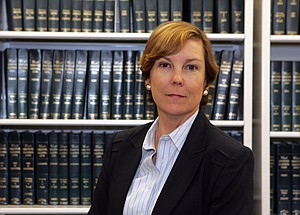 The Business Journal raises the curtain on the legal stars who work in L.A.'s entertainment industry.
RUTH FISHER, 54
FIRM: Gibson Dunn & Crutcher LLP
LAW SCHOOL: UCLA
CLIENTS: Activision Blizzard, Entravision Communications, Gores Group, Platinum Equity, Sony Corp., Warner Music Group.
Ruth Fisher knew that she needed to earn a postsecondary degree if she wanted to achieve her goal of being president of a small college.
So Fisher chose law school because she concluded that earning a law degree would be faster than a doctorate, for example. But she never reached academia. Entering law school sent her down another path.
"When I got there, I loved it," Fisher said. "I thought it was fascinating."
After graduating from UCLA School of Law in 1980, Fisher clerked for a federal judge for two years and then she joined downtown L.A. firm Munger Tolles & Olson LLP.
Early in Fisher's career at Munger Tolles, an attorney at the firm recruited her to work on a deal involving an entertainment company. She's been involved in show biz matters ever since.
Which is odd, because Fisher didn't own a TV for more than a decade. She owns one now, but still doesn't have cable. She's planning to get it this year, but her two sons, one away at college and one at boarding school, wonder why she waited.
"They are both out of house," she said. "So they are a little ticked off."
Fisher moved to the Century City office of Gibson Dunn & Crutcher LLP in 2004 to help grow the firm's entertainment practice.
There, she represented Vivendi in the deal that combined the company's Vivendi Games unit with Activision to form video game giant Activision Blizzard. She said the deal, which closed in 2008, was one of the most challenging transactions to work on because of the complexity of combining a private company with a public one.
"It needed to be done in a considerate way to preserve the value of both companies," Fisher said.
However, she doesn't have fond memories of all the deals she's negotiated.
In the mid-1990s, one of her clients sold a company to a convicted felon. He later sued Fisher's client for fraud. She then had to testify in the legal proceedings over the dispute. She won't discuss details.
"It really was one of the worst moments of my life," she said. "I don't particularly want to relive it."
For reprint and licensing requests for this article, CLICK HERE.