WHO'S WHO IN LAW - Joseph Calabrese
SPECIAL REPORT: Entertainment Lawyers
Monday, October 11, 2010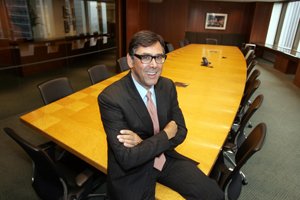 The Business Journal raises the curtain on the legal stars who work in L.A.'s entertainment industry.
JOSEPH CALABRESE, 54
FIRM: O'Melveny & Myers LLP
LAW SCHOOL: Cornell University
CLIENTS: International Olympic Committee, Weinstein Co., Digital Cinema Implementation Partners, Soros Fund, Hollywood Foreign Press Association, Legendary Pictures, Viacom, Metro-Goldwyn-Mayer, San Francisco Giants.
Joseph Calabrese says that he feels some personal satisfaction when he sees a 3-D movie make big box office bucks. That's because he worked on the deal to finance the purchase and installation of digital movie projectors for cinemas across the country.
The deal, completed in March, involved the six major motion picture studios, the three largest U.S. exhibition chains, and called for $660 million in financing from senior lenders and private equity firms. The deal ushered in several high-profile 3-D releases this year including the hits "Toy Story 3" and "Shrek Forever After."
"Sometimes you need to bring people kicking and screaming into the media age," said Calabrese. "The release of 'Avatar' woke people up that 3-D releases are an attractive sales model. Anytime you try to create a new structure in an existing industry you have to change a lot of people's minds about how to deliver intellectual property."
Calabrese, 54, is chairman of O'Melveny & Myers LLP's entertainment, sports and media practice. He decided early on to focus on international law, an interest he developed during his junior year of college, spent abroad in Durham, England. As a step toward his international goals, he took a summer internship at a corporate firm in New York while at Cornell University Law School. Feeling unfulfilled by the experience, he turned his sights to Los Angeles, which turned out to be a good move.
"I stumbled into the entertainment industry, which is international in nature," he said.
Calabrese grew up in Haledon, N.J., where his father, an Italian immigrant, was a wholesale beer distributor. He noticed that whenever there was a problem with the business, his father called a lawyer, and it was a desire to become a problem-solver that drew him to the law.
There were some positives from working in the beer business, however.
"When we had 50 barrels of beer, people were always happy to see us," he noted. "As a lawyer, you don't typically get that kind of reception."
Calabrese lives in Westwood with his wife, Margot, and son, Justin. He enjoys skiing and traveling abroad, especially to Italy.
For reprint and licensing requests for this article, CLICK HERE.