A Sound Invention Proposal
Local high schooler's earplug idea earns her trip to Dallas contest.
Monday, October 11, 2010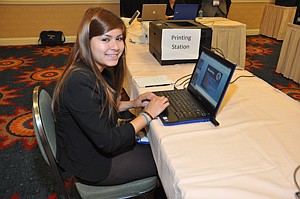 For Carmen Izquierdo, the inspiration was sleep.
The constant noise in her South L.A. neighborhood didn't allow her mother, who works nights as a college custodian, to get much of it.
So the senior at El Sereno's Wilson High School came up with a potential solution. It's called EquiSilent, a wireless earplug that would afford silence and double as an alarm.
"It would allow you to sleep and then wake you up," said Izquierdo, 17. "I imagined it because, trust me, if it existed I would have one."
The idea won an all-expense-paid trip to Dallas, where she and 10 other teens from across the country presented their ideas, developed into business plans, before a panel of judges. They were the finalists in the annual BizFest contest sponsored by the United States Hispanic Chamber of Commerce.
"The purpose is to inspire students who perhaps would never have considered going into business for themselves," said Jennifer Tarazon, a chamber spokeswoman. "A lot of them are underprivileged kids who've never had a chance to participate in something like this."
Chosen from among 120 entrants nationwide, three finalists came from each of four areas: Los Angeles, Detroit, Denver and the Rio Grande Valley in Texas.
The other L.A. finalists were John Trujillo, a senior at Bell High School, who proposed a type of business-related software, and Huntington Park High School senior Guadalupe Pineda, who wants to create a beauty salon for breast cancer patients.
A Texas student was the recipient of the grand prize: a $3,000 college scholarship from Sam's Club. Her winning idea was to start a bicycle tour service in San Antonio.
Izquierdo, for her part, said she is still thinking of trying some day to develop her idea into a company, but first wants to attend law school.
"At the beginning I knew nothing about business," she said. "This has opened my eyes."
For reprint and licensing requests for this article, CLICK HERE.