SEC to Get Personal With Ex-Countrywide Trio
BANKING & FINANCE: Trial will test agency's ability to go after individual executives.
Monday, October 11, 2010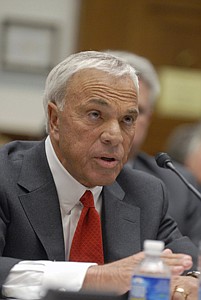 Executives nationwide will be watching closely when Angelo Mozilo, after more than two years out of the public eye, appears in federal court next week for the start of his civil fraud trial.
The disgraced former head of Countrywide Financial Corp., who is accused by the Securities and Exchange Commission of deliberately misleading investors about the lender's growing subprime mortgage losses, is one of the first individuals to face charges related to his role in the housing market's collapse.
The trial, set to begin Oct. 19 in U.S. District Court in Los Angeles, could have a significant effect on federal regulators' efforts to hold executives personally accountable for decisions contributing to the housing and financial crisis, analysts said.
"This is a watershed civil proceeding," said Manny Medrano, a trial lawyer in Los Angeles and former prosecutor with the U.S. Attorney's Office.
In June 2009, the SEC sued Mozilo, former Countrywide President David Sambol and former Chief Financial Officer Eric Sieracki, claiming they reassured shareholders that the company's underwriting was sound while acknowledging internally that the loans were deteriorating. Regulators have also charged Mozilo with insider trading for selling $140 million in stock holdings during that period.
Lawyers for the defendants, who did not return calls requesting comment, have contended in court filings that the former executives did not break any laws.
The SEC plans to call Mozilo and his two former colleagues to the witness stand. Others on preliminary witness lists range from colleagues to experts, including Stanford Kurland, Countrywide's former chief operating officer and founder of Private National Mortgage Acceptance Co. in Calabasas; Richard Green, director of the USC Lusk Center for Real Estate; and Henry Cisneros, the former secretary of the U.S. Department of Housing and Urban Development.
They also have a trove of internal documents and e-mails, including one from 2006 in which Mozilo said the company was "flying blind" in trying to assess the performance of certain loans, according to court filings.
However, Mozilo's lawyers have said that all information he could have reasonably believed should have been disclosed was done so in filings and that the collapse of the company was due to unforeseeable market forces. Countrywide was sold to Bank of America Corp. in 2008.
Attorneys for the defendants have hinted in filings at other possible defense strategies. For example, the lawyer for Sieracki said in a recent motion that his client simply relied on the advice of in-house counsel.
For reprint and licensing requests for this article, CLICK HERE.
Prev Next