Fare Fight?
Taxi firms say labor sitting in drivers' seat.
Monday, October 11, 2010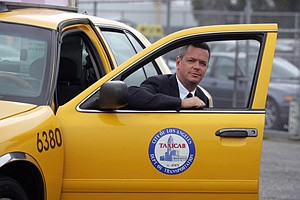 With all of the taxi franchises in Los Angeles set to expire at the end of the year, a group of taxi drivers with support from labor unions has gotten into a battle with cab companies over the future of taxi operations in the city.
The nine taxi franchise holders are pushing for five-year renewals, which they say will give cab owners the financial security to upgrade their vehicles to green cars such as hybrids.
But a group of taxi drivers wants a renewal of only one year to 18 months. During that time, the drivers want a city study of working conditions, which they claim involve long hours for low pay. They also want the city to pass a "bill of rights" that would allow drivers to affiliate with any of the taxi franchise operations in the city.
That is raising concern among taxi companies that drivers may be headed toward a union-organizing effort, especially since a group that represents many drivers, the Los Angeles Taxi Workers Alliance, has enlisted the aid of several powerful labor groups.
The conflict may come to a head next month before the Los Angeles City Council, which must decide how long to renew the franchises and whether to order a study of working conditions in the industry.
The franchises were revamped in 2000, and have been rolled over in an automatic renewal process since then. The franchises are worth an estimated $180 million in annual fare revenue from the 2,303 licensed taxis operating in the city of Los Angeles. About 3,500 drivers make an estimated 7 million trips with their taxis each year. The city's take is about $4.5 million a year in franchise and related fees.
One-third of the drivers own their cabs; two-thirds lease cab time when the owners aren't behind the wheel.
The companies operate as co-ops; each cab owner has a share in the company, which they pay for with an annual fee for permits and access to company dispatchers.
The taxi companies say the drivers' allegations of low wages and poor working conditions are untrue.
"We're hoping the city does the right thing and makes policy decisions based on facts, not fiction," said William Rouse, general manager for L.A. Yellow Cab Co. and United Checker Cab Co., both of which hold L.A. city taxi franchises that allow them to dispatch calls to drivers.
The taxi companies also argue that they need five-year renewals to allow cab owners to buy low-emission vehicles such as hybrids and compressed natural gas-fueled vehicles. The city franchises are expected to require 80 percent of a company's fleet to be "green" in five years. A shorter renewal period would not allow taxi owners enough time to recover the costs of buying them. If too few cab owners buy clean vehicles, the companies could lose their franchises.
For reprint and licensing requests for this article, CLICK HERE.
Prev Next