Cue the Internet
The owner of a renowned sheet music store took her business online after her shop closed.
Monday, October 11, 2010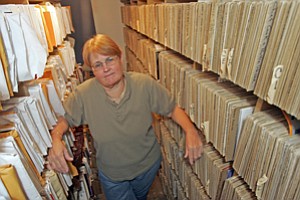 Years ago, Stephanie Rinaldo was tending to her sheet music store when she got an emergency call from a recording studio.
The man on the other end of the line asked if the store, Hollywood Sheet Music, carried "At Last," a jazz standard that had been immortalized by singer Etta James. Rinaldo had it.
"Then he said, 'Well I'm here in the studio with Etta James. She's re-recording the song and she doesn't know the lyrics,'" Rinaldo recalled with a laugh. "I think she was standing at the mic, even. They sent somebody into the store to buy the sheet music that same day."
Hollywood Sheet Music, founded in 1965 and bought by Rinaldo in 1995, has long been a beloved resource for people inside and outside the entertainment industry.
But when websites began cropping up that sold sheet music digitally – some offering illegal downloads for free – Rinaldo was caught unprepared. Sales steadily dwindled over the last decade. Finally, in December 2008, she was forced to shut her doors on Sunset Boulevard and Ogden Drive.
Now, the company is attempting a comeback. Rinaldo launched a website from her Valley Glen home in June 2009, and is in talks to open a physical storefront in Burbank by sharing space with piano seller Hollywood Piano.
"When the Internet age grew, I didn't turn around to redevelop myself quickly enough," said Rinaldo, 55. "Now I'm ready to hit the ground running."
Today, users can visit the site and buy both digital and print copies of music books and individual songs. The site also sells accessories such as composing software and music stands, though that only amounts to a small fraction of sales.
Rinaldo's advantage remains her extensive archives of sheet music for old show tunes and pop songs, many of which are hard to find elsewhere. Her library consists of thousands of titles, including rarities that date back to the early 1900s, which she stores in her home.
The website has been enough of a success to pay Rinaldo's bills and keep the company alive. She said sales are double what they were in 2008.
Offline, she's continued to work with her entertainment industry clients: After Michael Jackson died last year, his longtime producer Quincy Jones called. Jones wanted several books of Jackson's music for sentimental reasons.
She also supplies sheet music to libraries, including the Los Angeles Public Library and UCLA, though orders from the library have dropped from about $75,000 annually in the early '90s to just a few thousand dollars a year today.
Fritzie Culick, owner of sheet music seller Old Town Music in Pasadena, said it's a tough climate in which to be reopening, even for a store of Hollywood Sheet Music's reputation. Last year was one of Old Town Music's worst due to the economic downturn and increased Internet competition.
"People still want to buy this stuff," Culick said. "But my bottom line keeps getting worse and worse."
New plans
Many stores in the L.A. area still carry sheet music, such as Guitar Center or Baxter Northup Music Co. in Sherman Oaks, but they don't do so as a primary business.
Those stores that have sheet music as a core business have had to diversify, said David Jahnke, vice president of sales for music print publisher Hal Leonard Corp. Hal Leonard supplies some of the books sold on Rinaldo's site.
"Every retailer has had to get better at all aspects of their business – not only walk-in trade but also how they cater to their online community and how they expose themselves to their own surrounding community and get their names out there," said Jahnke, who said Rinaldo's success is far from a "slam dunk in any sense of the word."
Rinaldo is aware of the challenges. When she closed the store's doors in 2008, she considered shutting the company down for good.
"I was ready after it closed to basically go out and look for a job," she said.
However, a friend of hers, Janine Phillips, convinced her to give it one more shot. Phillips has a background in building websites, and helped her launch the website in June 2009. But even then Rinaldo was thinking she still wanted a brick-and-mortar location.
"It used to be that a store like mine didn't have to sell pianos or guitars or guitar strings," she said. "But with all the downloading, it came to the point where the stores that were staying alive had studios for lessons or sold instruments and accessories; there's a whole variety of things."
So when Glenn Treibitz, owner of Hollywood Piano in Burbank, suggested that she move into a space inside his store, she saw it as a perfect opportunity for cross-selling.
Treibitz has even offered the space rent free, according to Rinaldo, with the idea that having her there will bring in clients.
Treibitz did not return calls for comment.
Rinaldo is currently in talks with potential partners on the physical storefront. She is determined to open it within six months. In addition to selling sheet music, preliminary plans include providing space for music lessons and performances.
Rinaldo feels the burden of the store's history. Barry Manilow used to drop in regularly, and Faye Dunaway came by when she was auditioning for the lead in the L.A. production of the musical "Sunset Boulevard." (Dunaway got the part, but then was famously fired two weeks before opening night.)
By all accounts, Rinaldo managed to carry on the tradition. Sometimes, when the store was still open, customers would hum a few notes of a song, and she would be able to produce a copy of it. Actors auditioning for parts would ask for recommendations, which Rinaldo and her staff would provide.
"She's a walking encyclopedia," said Ronny Schiff, who produces music books for print publishers. "She'll know all the music from all the different musicals. She'll know all the film music themes. She'll know album cuts from various artists."
Even today, though she's just online and works out of her home, the demand for her services remain strong.
When shows such as "American Idol," "Glee" or "The Tonight Show" need the music to a particular song, they'll call.
"We couldn't survive without Hollywood Sheet Music," said Michael Orland, associate music director for "American Idol." "Sometimes I'd be working with a contestant and I would call Stephanie directly and say, 'I'm working with somebody right now, do you have music to this song or that song?' They'd find everything."
Hollywood Sheet Music LLC
FOUNDED: 1965
HEADQUARTERS: Valley Glen
CORE BUSINESS: Selling sheet music.
EMPLOYEES: None.
GOAL: Opening physical storefront in next six months.
THE NUMBERS: Profitable; sales have
doubled since 2008.
For reprint and licensing requests for this article, CLICK HERE.