Cue the Internet
The owner of a renowned sheet music store took her business online after her shop closed.
Monday, October 11, 2010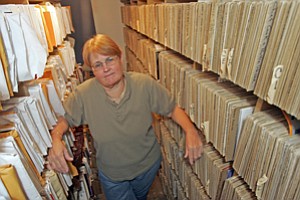 Years ago, Stephanie Rinaldo was tending to her sheet music store when she got an emergency call from a recording studio.
The man on the other end of the line asked if the store, Hollywood Sheet Music, carried "At Last," a jazz standard that had been immortalized by singer Etta James. Rinaldo had it.
"Then he said, 'Well I'm here in the studio with Etta James. She's re-recording the song and she doesn't know the lyrics,'" Rinaldo recalled with a laugh. "I think she was standing at the mic, even. They sent somebody into the store to buy the sheet music that same day."
Hollywood Sheet Music, founded in 1965 and bought by Rinaldo in 1995, has long been a beloved resource for people inside and outside the entertainment industry.
But when websites began cropping up that sold sheet music digitally – some offering illegal downloads for free – Rinaldo was caught unprepared. Sales steadily dwindled over the last decade. Finally, in December 2008, she was forced to shut her doors on Sunset Boulevard and Ogden Drive.
Now, the company is attempting a comeback. Rinaldo launched a website from her Valley Glen home in June 2009, and is in talks to open a physical storefront in Burbank by sharing space with piano seller Hollywood Piano.
"When the Internet age grew, I didn't turn around to redevelop myself quickly enough," said Rinaldo, 55. "Now I'm ready to hit the ground running."
Today, users can visit the site and buy both digital and print copies of music books and individual songs. The site also sells accessories such as composing software and music stands, though that only amounts to a small fraction of sales.
Rinaldo's advantage remains her extensive archives of sheet music for old show tunes and pop songs, many of which are hard to find elsewhere. Her library consists of thousands of titles, including rarities that date back to the early 1900s, which she stores in her home.
The website has been enough of a success to pay Rinaldo's bills and keep the company alive. She said sales are double what they were in 2008.
Offline, she's continued to work with her entertainment industry clients: After Michael Jackson died last year, his longtime producer Quincy Jones called. Jones wanted several books of Jackson's music for sentimental reasons.
She also supplies sheet music to libraries, including the Los Angeles Public Library and UCLA, though orders from the library have dropped from about $75,000 annually in the early '90s to just a few thousand dollars a year today.
Prev Next
For reprint and licensing requests for this article, CLICK HERE.