USC Has New Blueprint for Engineers
Competition looks to build entrepreneurial skill set.
Monday, October 4, 2010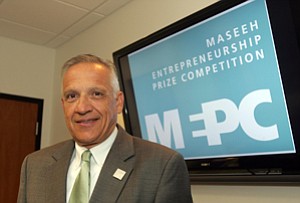 Yannis Yortsos wants to solve the big problems. And Fariborz Maseeh wants to solve them in a way that benefits Southern California and leads to creation of local companies.
So Maseeh, a wealthy Newport Beach engineer, this week will announce a $1 million donation to fund the Maseeh Entrepreneurship Prize Competition at the USC Viterbi School of Engineering, where Yortsos is dean.
The competition is designed to encourage engineering students to create business plans – and eventually companies – by giving $50,000 in seed money to one team each year. While many business schools have similar entrepreneurial competitions, this is one of the first exclusively for engineering students.
Yortsos wants students to tackle the Grand Challenges, which is a list developed by the National Academy of Engineering in Washington, D.C., to highlight engineering projects that would provide the biggest benefit to society. They range from practical problems such as making solar energy financially viable to the incredibly complex, such as reverse engineering the human brain.
"The solutions to the Grand Challenges will be transformative," Yortsos said. "Fariborz is making a statement of faith that engineering technology is behind every innovation."
Maseeh said he selected the Viterbi school for the award because of its strong management. He believes the current curriculum in engineering at many U.S. universities doesn't prepare graduates to succeed as entrepreneurs, and he hopes the program will fill out their education.
"Engineers are taught to solve problems, but not to implement those solutions into businesses," he said. "The idea of this prize is to train students more about business and competition in a professional way."
A class will cover business plans, and an outside adviser or mentor will be assigned to each team to make sure the final plan is realistic. Then a panel of judges will choose each year's winning team, which will receive $50,000 to develop their idea to the point where it can attract angel investors or venture capital.
Yortsos said the competition reflects the changes afoot in the engineering profession and the larger U.S. economy. For example, as auto manufacturing has moved overseas in the last 30 years, so have many related engineering jobs. He sees many of what he calls "routine engineering jobs" eventually going to foreign countries, so U.S.-based engineers need to become inventors or entrepreneurs.
"In many ways, we are training people to create intellectual property," Yortsos said. "They must be competent engineers in the classical sense but have this added ability to create intellectual property. This will help them keep ahead of the competition and create new businesses and economies."
Prev Next
For reprint and licensing requests for this article, CLICK HERE.