Big Deal!
Speedy take on baccarat boosts L.A. card clubs
Monday, October 4, 2010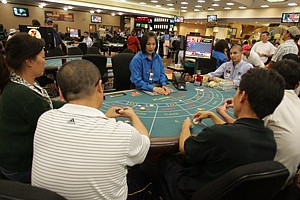 Weekday afternoons at the Commerce Casino used to be down time, quiet enough to hear ice tinkle in the glasses of Chivas Regal, popular with its Asian patrons.
Last week, however, the story was different, with packed tables surrounded by crowds of cheering onlookers. Amid hard times in the gaming industry, there's a hot game in town giving ailing Los Angeles County card clubs a kind of new deal.
It's EZ Baccarat, a version of the classic card game usually played in cordoned-off corners of Las Vegas casinos where high rollers can bet hundreds of thousands of dollars on a single hand.
At the more modest card club in the working-class city south of downtown Los Angeles, most bets are less than $100, but the game has strong attractions: It's fast; players do not pay house commissions on winnings; and, for the lucky, a successful "dragon" bet pays off at 40-to-1.
"It has virtually taken over," said John Griffo, the card club's director of development. "We believe the sky is the limit. We can see this growing in the next three to four years only second to poker."
That talk is not exaggeration. EZ Baccarat started out with just four tables a year ago at Commerce Casino but has since expanded to 27, with 13 more planned by the end of this year.
The popularity of the game has even prompted the casino to give itself a $1 million facelift, including a remodel for parts of the club and the creation of a special section for the game in the middle of the gambling floor.
The game seems poised to become even more popular. That's because Commerce Casino's one-year exclusive contract to offer the game in the county expired Sept. 1. Now, any of the county's seven other clubs can offer it; five already have. In just the past month, at least 26 tables have opened at various card clubs across the county.
The game was first offered several years ago in Asia, a hot spot for traditional baccarat, and is reportedly very popular in the Chinese gambling capital of Macau. It hit U.S. shores in 2008, and appears to have arrived at just the right time for area card clubs, which have tried all sorts of promotions to combat a serious swoon in gambling during the recession.
Commerce Casino has experienced a 9 percent fall in revenue year to date – a figure that Griffo said would have been higher – "significantly" higher – without the new game. As it is, the decline has been worse than at Las Vegas casinos, where last year's revenue decline was roughly 5 percent.
In order to boost their business, local clubs have upgraded menus, ramped up promotions and have even begun offering remote satellite wagering on horse racing. But few things have had the impact of EZ Baccarat.
Fueling the popularity of the game here is the ethnic background of many local players.
"I could see EZ Baccarat becoming important, especially in areas with large Asian populations. It's all about getting people in, and what works depends on the property," said consultant James Nickerson, of WhiteSand Gaming, with offices in Las Vegas and Atlantic City, N.J.
Fast paced
Baccarat is traditionally a high-roller game, with minimum bets in Las Vegas casinos often set at $25,000 or more. By contrast, at the Commerce Casino, there are two sets of tables: one requiring minimum bets of $10 and the other $25. The maximum at most tables is $1,600.
Players place bets by laying their chips in one of three positions called "player," "bank" or "tie." Then the dealer draws two hands of three cards, one for "player" and the other for "banker." The cards have numerical values, and the hand with the highest value wins. Players can bet on ties, or go for the 40-to-1 "dragon" bet, which pays off when the "bank" hand hits a certain numerical value.
This version of the game is simpler and faster than traditional baccarat, because the tweaked rules mean there is little decision-making by players, with results largely based on chance.
Casinos and card clubs like the game not only for its popularity but its quickness, which makes it more profitable. For example, at the Commerce Casino, a fast dealer can speed through 32 hands of poker, the club's mainstay game, in one hour. But up to 55 hands of EZ Baccarat can be played in the same time period.
That speed is especially important to California card clubs, which, unlike American Indian-owned casinos, are prohibited from operating "house bank" games, such as black jack, in which casinos take winnings when players lose.
At the Commerce Casino, patrons bet against each other with the house collecting a $1 fee for every bet between $10 and $100, which accounts for most bets. Fees are higher for larger bets. EZ Baccarat is now bringing in about $2 million a month, one-seventh of the card club's revenues.
"This is the most profitable game we have," Griffo said. "It has helped us through the recession."
The game was developed for the U.S. market by the Talisman Group, a Las Vegas-based consulting firm, in conjunction with DEQ Systems Corp., a Levis, Quebec, gaming company. In North America, there are about 200 EZ Baccarat tables at 67 casinos including ones in Atlantic City and Las Vegas, where it's been offered for two years. At the 2008 Raving's Cutting Edge Table Game Conference in Las Vegas, EZ Baccarat was voted best new table game.
"It's really a popular game right now," said Daniel Nguyen, the California game manager at Normandie Casino in Gardena, which recently added four EZ Baccarat tables. "We're picking up lots of new customers coming in."
Other clubs offering the game are the Hawaiian Gardens Casino in Hawaiian Gardens, Hollywood Park Casino in Inglewood, the Bicycle Club in Bell Gardens and the Hustler Casino in Gardena.
California card rooms have been very quick to adopt the new game, said Moe Mostashari, president of 21st Century Gaming, which has the California distribution rights. The game has also been added at American Indian casinos.
James Rutherford, editor of the Las Vegas-based Casino Journal, said he's not surprised by the game's popularity in Los Angeles given the original game's popularity.
"(Traditional) baccarat has pretty much been carrying the Las Vegas Strip since the economy took a hit," he said. "There are lots of Asian players and wealthy investors coming in from Macau. Taking a game that popular and extending it to a larger audience by making it more affordable makes economic sense."
Excitement on floor
Commerce Casino now plans to double down on the game.
Over the next four months, it will spend about $400,000 promoting EZ Baccarat on billboards, organizing tournaments and giving away promotions such as T-shirts. It also will place ads in strategically located bus shelters and on ethnic-based TV stations with Chinese, Vietnamese and Korean viewers.
"There's a buzz on the floor because of the excitement," Griffo gushed. "Sometimes the players don't even sit down."
Indeed, on a recent Friday afternoon, some of the packed games drew roving crowds of onlookers. Each time someone won a dragon bet, the crowd erupted into cheers.
Ron Ansari, 65, said he's been playing for three months.
"I read about it on the Internet, went looking for it and now it's my favorite game," said the retired computer engineer who lives in Universal City. "I enjoy playing, but don't bet very much."
Another player, a 54-year-old player who referred to himself only as Hare, said he was attracted by the ease of play.
"I've broken even so far," he said of his betting habits. "Everyone says there's a recession, but I don't see a recession here."
For reprint and licensing requests for this article, CLICK HERE.