Street Smart
Venice's funky vibe clicks with tech firms
Monday, November 29, 2010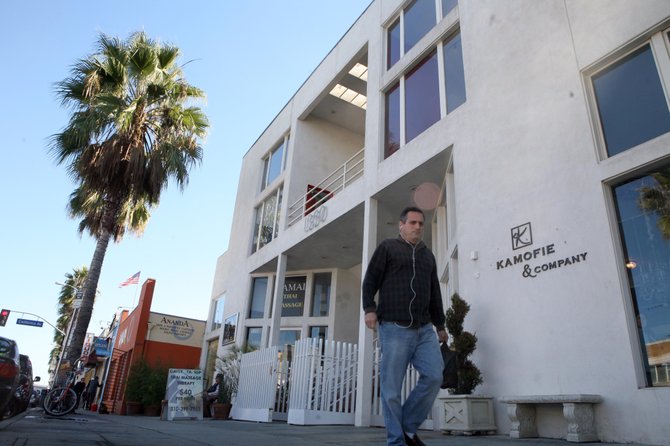 The Abbot Kinney neighborhood in Venice has long been known for its laid-back atmosphere, distinctive shops and antique stores. But a spate of startups has found a home in the area, and now it's becoming a center of tech and media.
At least five startups have launched there in the past few years, drawn by the neighborhood's charms – and low rents. The miniboom has created a synergy of sorts: As the number of companies and their workers increase, several restaurants have opened to cater to them. That in turn draws more businesses.
"It's a relaxed environment with amazing amenities within 100 feet," said Todd Collins, vice president of sales and marketing of software company First Freight. "The restaurants and coffee shops make it a really dynamic, true community vibe down here that's really attractive."
Collins' company, which provides management software to the freight and logistics industry, found a home in a colorful office at 1350 Abbot Kinney. The four-story white building, which tenants call 1350 AK, is also the site of three other tech startups and two business consulting companies that signed leases in the last year.
Santa Monica may be the center of the L.A. tech world, but the people who run the startups at 1350 AK said they'd rather be in Venice than among corporate high-rises and business parks.
"There's a type of person who's going to go to Third Street Promenade and a type of person who's going to go to Abbot Kinney," said Mark DiPaola, co-founder and chief executive of CheckPoints, a location-based iPhone app company that has a modern two-floor office at 1350 AK. "I'm more interested in that funky, eccentric person who will like Abbot Kinney. It fosters more creativity."
But startups in Santa Monica say the area is a popular tech hub for a reason. Its central location makes it easy for employees and customers to access and the close proximity of so many companies fosters a close community of entrepreneurs.
"It's all about location," said Jason Nazar, co-founder and chief executive of Internet startup Docstoc. "When you're looking to hire employees and bring people to the office, Santa Monica's got prestige."
Nevertheless, R Blank, chief technical offer at Almer/Blank, an interactive media company, said Venice's location also helps build customer relations.
"It's easy to get people out here," Blank said of his warehouse office just off Abbot Kinney on Venezia Avenue. "We have a lot of clients who want to come to us because they want to visit Venice."
Cheaper rent has also been a draw for some companies. The average price for office space in the West L.A. market, including Venice, is $3.72 per square foot, compared with $4.21 per square foot in Santa Monica, according to third quarter data compiled by Grubb & Ellis Co.
"Everybody's thought about locating in Santa Monica, but the prices are so high," said Collins, who moved into the building on Abbot Kinney about three years ago. "For startups, Venice is the ideal place."
Restaurant revival
Many of the business owners live in Abbot Kinney and point out that it wasn't always so attractive. Because of high crime rates in Venice's rougher areas, there was some wariness attached to the neighborhood.
"When I first moved to Venice, it had a lot of crime and gang issues that were nationally known," said John Plesnicar, who runs neighborhood blog AbbotKinneyOnline.com and moved to the area in 1989.
As crime concerns eased, entertainment companies began moving to the area, drawn by Venice's reputation as an artists' community. Blur Studio, a visual effects and animation company, set up shop on Electric Avenue in 1995 and many other companies followed. Psyop, a digital advertising company with headquarters in New York, opened its L.A. office near Abbot Kinney in 2008.
"In the 1990s, a lot of media companies moved from Hollywood to Santa Monica," said Colleen O'Mara, chairwoman of the Venice Media District, which promotes the industry's interests in the area. "But now we've seen them move south. They've been pushed out of Santa Monica because of the cost of rent and real estate."
And where businesses go, restaurants follow.
Mediterranean restaurant Gjelina opened on the east end of the street in 2008 and high-concept Tasting Kitchen, which features a new menu every night, arrived in July last year. Chicago-based coffee bar Intelligentsia also opened a location on Abbot Kinney last summer.
Longstanding restaurants have also benefited. Hal's, which opened in 1987, has become a popular takeout option.
"I joke with them that sometimes at lunchtime it looks like Burger King because they get all these to-go orders for people working in their offices," said Carol Tantau, chairwoman of the Abbot Kinney Merchants Committee for the Venice Chamber of Commerce and owner of boutique Just Tantau.
Another element of Abbot Kinney's revival is the arrival of high-end shops such as Jack Spade. The New York menswear designer opened a store in one of the street's 1960s Craftsman bungalows in May.
DiPaola of CheckPoints said the new restaurants and shops have transformed the once-quiet street. He founded his first startup in 1350 Abbot Kinney in 2003 but outgrew the space in 2007, moved out and sold the company. When he returned to the same office to start CheckPoints, he noticed how much the area had changed.
"It's gotten a little more fancy," he said. "Abbot Kinney is starting to get to a critical mass where it can support more restaurants and shops."
First Fridays
Most shop owners attribute the recent popularity of Abbot Kinney to its monthly event, First Fridays, which started in 2008 with a handful of shops. The first Friday of each month, store owners stay open late and give out wine or hors d'oeuvres to customers.
First Fridays got off to a slow start, but recently grew popular – perhaps too popular. As attendance has grown, so have the crowds. Some businesses are complaining.
"We were trying to bring more business to the street," Tantau said. "Now it has a reputation as a party night. We'd like it to go back."
With more visitors to the street, Abbot Kinney has faced a number of other problems, among them parking.
"It's gotten really bad in the past two years. I have customers who drive around for 20 minutes looking for parking," said Blank of Almer/Blank.
Area rents have also begun to rise, especially on Abbot Kinney. Blank said the parking problems and rising rents eventually could even drive him to move his company out of Venice.
But for many other companies, Abbot Kinney is just starting to have the growth they've been waiting for. With so many technology and media companies moving into the area, they've formed their own small startup community.
Matthew Burgess, founder of Formation Solutions, which helps startup businesses incorporate and is also housed at 1350 AK, has started a blog to engage this community of entrepreneurs. Through VeniceEntrepreneur.com he organizes dinners and get-togethers for them.
He said he's excited by the number of startups that have moved to the area in the last two years. He expects that number to grow.
"Santa Monica gets a lot of attention because there's a lot of great activity going on for startups," Burgess said. "But I'm starting to see that kind of energy right here in Venice. It's building momentum. It feels great."
For reprint and licensing requests for this article, CLICK HERE.