Masons Make No Secret of Plan to Sell Temple
REAL ESTATE: Neighbors forced Park Mile property to close in 2006 over use violations.
Originally published November 22, 2010 at midnight, updated November 22, 2010 at 5:40 p.m.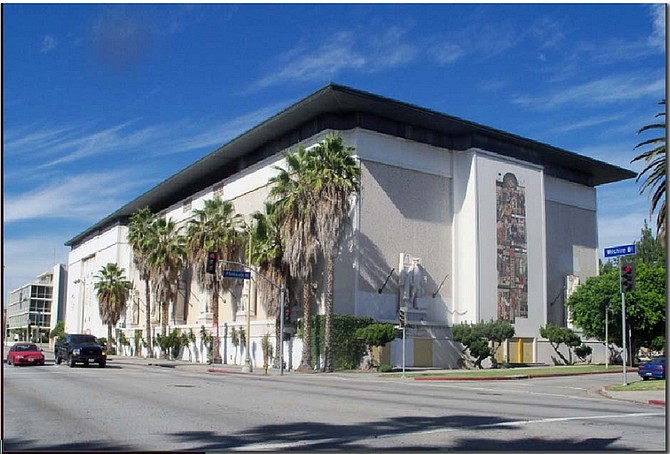 The Scottish Rite Masonic Temple in the Park Mile district – once the focus of a bitter dispute with neighborhood groups – was put on the market last week for $13.5 million.
The iconic structure at 4357 Wilshire Blvd. has been closed since 2006 by a court order sought by the city under pressure from neighbors. They complained that the fraternal order had allowed the building to be used for concerts and other events that were a nuisance.
The 89,768-square-foot building is owned by the Scottish Rite Cathedral Association, which chose to put it on sale after its membership dropped to about 1,500 members, down from about 18,000 when the building opened in 1963, said broker Jay Martinez, with Lee & Associates, which has the listing.
He said the sale will be challenging since the site has limited parking, which will not appeal to groups with large memberships.
"It's really out of the box," Martinez said. "If it could be sold to a church, I'd have 10 offers right now."
Ideally, he said, the buyer would be a leading community member – perhaps even a politician – who could bring planners and neighborhood groups together to reinvent the landmark.
"It will not be a revenue-based buyer," Martinez added.
The four-story building was designed by artist Millard Sheets, who designed scores of Home Savings of America branches in a similar neoclassical style throughout Southern California.
The temple features marble floors and sculptures of prominent Masons on its exterior. It contains a 2,000-seat theater, meeting rooms, offices and a large ballroom.
The Scottish association, which owns the building outright, plans to find another smaller building that would better suit its membership, Martinez said.
Association members could not be reached for comment.
Mike Tingus, a Lee & Associates president, and Kelly Betpolice, a senior vice president, are sharing the listing.
Healthy Medical Office
Investors are continuing to buy medical office space as they seek refuge from the volatile real estate investment market.
MD Investments LLC, the entity of a group of Encino investors on the lookout for an apartment building, recently purchased a Northridge medical office building for $9.9 million, said Joe Penich, a broker associate with Keller Williams Commercial in Calabasas, who represented the buyer.
The 34,904-square-foot structure at 9535 Reseda Blvd. is on a highly visible corner at Plummer Street and is virtually 100 percent occupied by dental practices. Its steady tenancy is projected to maintain an attractive 7.5 percent capitalization rate. MD intends to hold the building long term, Penich said.
"The apartment building market is very active but capitalization rates are dropping," he said. "If a person can buy something in the $10 million range, the options are better for returns (with medical)."
Even so, the building wasn't an easy sell. Northridge Medical LLC, a Scottsdale, Ariz.-based investment entity, acquired the building in 2006 through a 1031 exchange for $9.68 million. The investors listed the building about two years ago for $10.8 million, but ultimately had to drop their asking price, said Lee & Associates' Martinez, who represented the seller.
The price breaks down to $238 per square foot.
"You don't see too many transactions where you bought in '06, '07 and sold it a little higher," he said. "There's a very bullish position among the investor appetite out there for medical office."
Tom Gilmer, a principal with Lee & Associates Anaheim, represented the seller.
Mid-Cities Maneuver
Chemical manufacturer and distributor E.T. Horn Co. has expanded its La Mirada campus by 125,000 square feet in the largest Mid-Cities industrial lease transaction of the year.
The 15-year agreement with landlord Mirada Enterprises adds additional industrial and 15,000 square feet of office space to the company's nearly 200,000 square feet of existing space at 16050 Canary Ave., said Doug Wubbena, a senior vice president with NAI Capital who represented the tenant.
The company decided to expand on site rather than relocate, even though its operations are scattered among a few buildings. "Due to the campus they have now, it was just a matter of practicality and maintaining properties that are within a close proximity and walking distance," Wubbena said.
E.T. Horn manufactures a wide variety of specialty chemicals for the food, building, cosmetic and other industries. President Jeff Martin said the space will help the company serve its regional customers.
E.T. Horn plans to build out the space in the first quarter.
Mirada Enterprises was represented in-house by Dan Powers, who declined to comment. The transaction value was not disclosed.
Staff reporter Max Zimbert can be reached at mzimbert@labusinessjournal.com or at (323) 549-5225, ext. 263.
For reprint and licensing requests for this article, CLICK HERE.