Falcon Flows into the Mainstream
West L.A. company soared past its waterless urinal rivals after trade groups moved to update the plumbing code.
Monday, November 22, 2010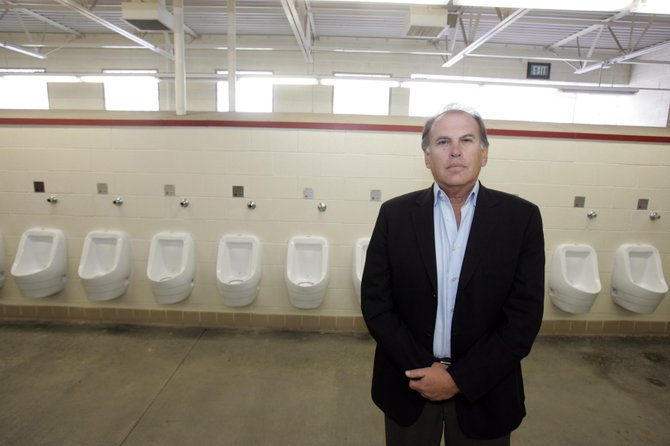 Question: What can you find at Dodger Stadium, the Hollywood Bowl, the Coliseum, the Rose Bowl and the Greek Theatre? And even at the Taj Mahal and the Beijing "Bird's Nest" stadium built for the 2008 Olympics?
Answer: Waterless urinals in the men's restrooms designed and manufactured by West L.A. company Falcon Waterfree Technologies.
The water-saving receptacles have become a common sight in men's bathrooms throughout Los Angeles and other cities across the globe. But it hasn't been an easy road. The company had a tough time convincing building owners to buy its fixtures at the outset, and a tougher time getting codes to catch up with its technology. Urinals that didn't use the standard water-flush process did not conform to plumbing codes, and so their installation was prohibited.
"Nobody had ever heard of a waterless urinal," said James Krug, Falcon chief executive. "It made no sense to people."
So to move waterless urinals to the mainstream, Krug traveled to technology expos around the country to showcase the product, and met with city officials to ask them to update codes in order to allow waterless urinals in their jurisdictions. The efforts paid off.
Ten years after its humble launch, the company has 70 employees in offices around the world. With Falcon urinals installed in stadiums, concert halls and some of the world's best-known tourist destinations, the company has captured 80 percent of the market for the eco-friendly devices.
They look like standard urinals but use no water. The receptacles limit odors because of an oil-like sealant that floats inside the gooseneck trap. Water and urine pass through the sealant but can't come back up.
Falcon urinals cost about $200 for small fixtures and $350 for large ones. Plumbing contractors charge about $150 to install each one, bringing the total to between $350 and $500. But water savings are estimated at about 40,000 gallons – worth as much as $200, depending on location – per year.
The potential for long-term savings helped Falcon sign up the Pasadena Rose Bowl, its first big customer, in 2003. The football stadium's board decided to take a chance on an unproven company and agreed to replace its 400 urinals with Falcon products. The motivating factor was the effort to conserve water.
"The Rose Bowl was able to take a leap of faith with us," Krug said. "Then we were able to capitalize on that success."
For reprint and licensing requests for this article, CLICK HERE.
Prev Next