Stem Cells Take Root in Koreatown
RNL treatments find takers despite safety questions.
Monday, November 15, 2010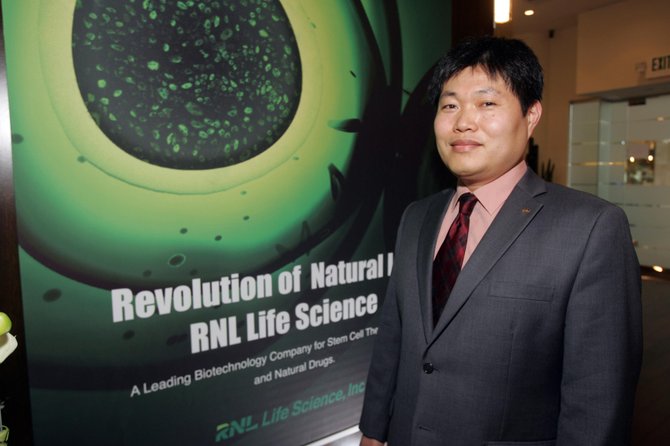 Patients seeking one of the most complicated and experimental therapies in medicine have been descending not on UCLA or Cedars-Sinai but on a small corner storefront in the Koreatown Galleria.
There, upstairs from a grocery and alongside stores selling handbags and Hello Kitty dolls, sufferers of arthritis, Parkinson's, Alzheimer's and other hard-to-treat diseases have been seeking relief.
In this most unlikely place, one of the world's largest stem cell clinics, a South Korean company called RNL Bio Co. Ltd., has established its American headquarters. Looking to attract a foothold in the U.S. market, it is tapping into L.A.'s sizable Korean community – even as two patient deaths in Asia have incited criticism of the company back home.
Stem cells are so-called precursor cells with the ability to turn into other types of cells, and because of that they can regenerate tissues – and are considered one of medicine's most promising sources of new therapies. But most treatments in the United States are experimental, or at best in clinical trials, with only a few approved uses, such as bone marrow transplants.
Still, increasing numbers of desperate patients are traveling to countries with fewer regulations for more experimental treatments – a trend RNL has seized upon.
"FDA approval will take years, and so many people who are suffering from degenerative diseases or the aging process cannot wait," said Jin Han Hong, president of U.S. subsidiary RNL Life Science Inc. "I'm not trying to take advantage of desperate patients, but if the patient wants to go to another country to receive stem cells, which is not available in the United States, then that is just one option."
RNL is one of a growing number of foreign companies, including Germany's XCell-Center and China's Beike Biotechnology, that U.S. patients are visiting for stem cell treatments. However, experts said that RNL is apparently the first with an L.A. office.
Since opening in March, that office has sent about 120 patients for treatment overseas. More than 90 percent of them are Korean. Patients pay between $10,000 and $30,000 to have their adult stem cells – which can be found in fat – extracted through liposuction by a local doctor, sent to the company's Maryland laboratory for processing, shipped to Korea to be multiplied, and then injected back into their bodies in RNL's partner facilities in China, Japan or even Tijuana.
By using a person's own adult stem cells, the process avoids the ethical issues raised by embryonic stem cells, which can require the destruction of human embryos.
Prev Next
For reprint and licensing requests for this article, CLICK HERE.