Fight Path
Westchester businesses fear northern expansion
Monday, November 1, 2010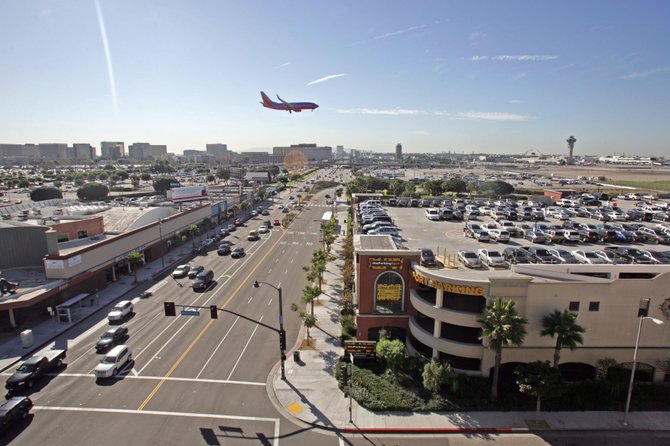 When a plan to modernize Los Angeles International Airport died five years ago, nearby business owners were relieved. They had feared any airport expansion would overwhelm their neighborhoods.
But a new airport modernization plan, released in October, is bringing the controversy back – with graver concerns. Westchester store owners believe the plan will lead to a northward expansion of the airport, and they fear being among 500 businesses that may have to move or close as a result.
"The worst-case scenario is that this could take out the business district," said Christina V. Davis, president of the LAX Coastal Area Chamber of Commerce, which has 550 members within a jet engine's roar from the airport. "That would be a devastating blow."
The new plan – which includes proposals such as developing a ground transportation center, constructing an automated people mover and demolishing three terminals – could cost $5 billion to $10 billion.
Local business leaders said their biggest concern is the proposed reconfiguration of the airport's North Airfield, which calls for moving at least one runway as far as 400 feet to the north for safety reasons. While the runways would stay within airport boundaries, they said runway protection zones mandated by the Federal Aviation Administration would require an unknown number of Westchester buildings bordering the airport to be seized and demolished under eminent domain.
In effect, it would push LAX into Westchester's downtown business district, which could force 500 businesses to move or shut down.
"We'd like to keep the business district intact," said Miki Payne, operations manager for H.B. Drollinger Co., a commercial property management and development firm that has hundreds of business tenants in the airport's vicinity. Among those potentially affected, she said, is a popular In-N-Out Burger restaurant on Sepulveda Boulevard and as many as 200 other small-business tenants on both sides of that street.
The owner of one of them – Tarpy Tailors – said she could relocate but would rather not.
"Moving would be extremely expensive and disruptive," said Sharon Leyton, who's owned the 76-year-old business for two years. "Westchester is a very close-knit community and any disruptions would hurt."
To hear public opinion on the latest plan, Los Angeles World Airports, which operates LAX as well as airfields in Ontario and Van Nuys, has scheduled public meetings Wednesday and Saturday this week.
"We're looking at a number of options," said Herb Glasgow, the airport's planning chief.
Prev Next
For reprint and licensing requests for this article, CLICK HERE.