Cosmetic Changes
SPECIAL SECTION: Healthcare - L.A. businesses rely on science to feed the need for the cutting-edge beauty products.
Monday, November 1, 2010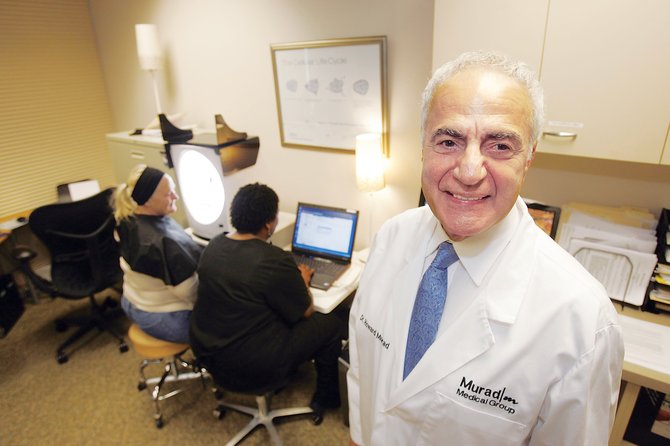 Twenty years ago, Dr. Howard Murad, a local dermatologist, popularized the use of alpha hydroxyl acids as an alternative to Retin-A to treat troubled skin. His El Segundo company, Murad Inc., is best known for its consumer skin care products sold in specialty beauty stores and on the Internet. He also was one of the first to sell his products through doctors' offices. That's a far more limited channel than mass-market retailers, but the cachet it showered on his products allowed him to charge premium prices. (See sidebar page 26.)
Murad success has been followed by Obagi Medical Products, founded in 1988 by Dr. Zein Obagi, a Beverly Hills celebrity dermatologist. The products are only sold at doctors' offices, with some requiring prescriptions.
Unlike Murad, which is privately held, Obagi is public. It trades on the Nasdaq, has a nearly $357 million market cap and reported $104 million in revenue last year.
The biggest recent success story is Culver City dentist Bill Dorfman, who last month sold his 20-year-old teeth-whitening product company, Discus Dental, to Amsterdam, the Netherlands, conglomerate Royal Philips Electronics N.V. for an undisclosed amount.
Discus Dental made its name by developing teeth-whitening systems marketed as being too powerful to be used without a dentist's supervision. The company's product lines work by exposing a patient's teeth to special lights after they have been coated with a patented bleaching gel that contains hydrogen peroxide.
An entrepreneurial ceramicist who built a cutting-edge business in the cosmetic dental sector is Danny Materdomini, who in the 1960s began developing what became the gold standard for porcelain dental veneers and replacement teeth.
His da Vinci Dental Studios in West Hills became a name brand outside the dental profession by lending Materdomini's skills to cosmetic procedure-focused reality show "Extreme Makeover." But what's special about the company is that he continues to innovate with special bonding cements and finishings, products he also pioneered.
"A cheap veneer is like a bad hairpiece – you can see them from across the street," he said.
Tapping market
Medical professionals are enticed to start companies for a reason: There is lots more money to be made these days as a businessman in the cosmetics field than there is as a doctor, despite the handsome earnings of top professionals.
But the field is highly competitive and especially tricky for science-based companies, which face competition from conglomerate brands like Olay and L'Oreal, which aren't shy about touting the science behind their products in multimillion-dollar marketing campaigns.
For reprint and licensing requests for this article, CLICK HERE.