U.S., China Team Up Over Troubled Institutions
BANKING & FINANCE: Agencies to cooperate on banks with branches in both countries.
Monday, May 31, 2010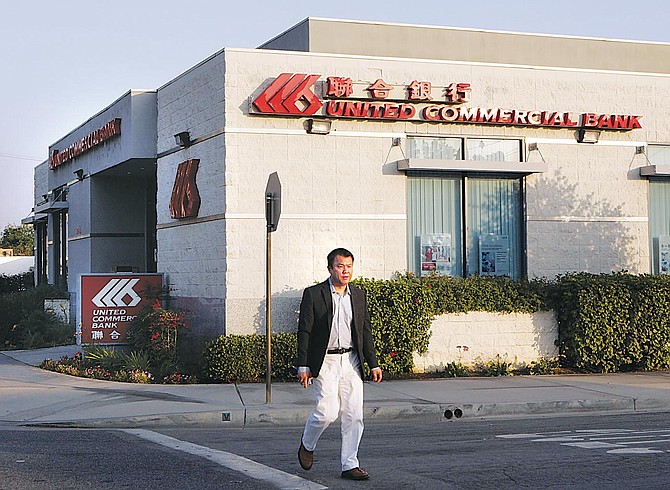 Federal banking regulators announced last week that they have reached an agreement with their Chinese counterparts to improve cooperation between the two countries – a move that could have long-term implications for L.A.'s robust Chinese-American banking community.
Under the agreement, the Federal Deposit Insurance Corp. will cooperate and share information with Chinese regulators regarding the management and resolution of troubled banks with branches in both countries.
The move was prompted by East West Bank's November acquisition of United Commercial Bank, which had several overseas branches. East West, owned by Pasadena's East West Bancorp Inc., became the largest Chinese-American bank in the country with the blockbuster acquisition.
To complete the deal, however, East West, with help from the FDIC, had to receive approval from Chinese regulators to assume control of United Commercial's Chinese branches.
"From the FDIC's perspective, that was new territory and it did present some challenges," said Andrew Gray, an FDIC spokesman.
The effects of the agreement could be particularly acute in the L.A. area, which is home to a large Asian-American population and the country's three publicly traded Chinese-American institutions – East West, Cathay Bank and Preferred Bank.
Chris Stulpin, an analyst with Great Falls, Mont.-based D.A. Davidson & Co. who follows East West and Cathay, said the FDIC's announcement is not Earth shattering. But it is a positive step in relations with Chinese regulators, who are notoriously difficult for U.S.-based institutions to deal with.
Gray said the FDIC is pursuing similar agreements with other countries, but he declined to specify which ones.
Larger Loss
Broadway Financial Corp., the L.A. parent of Broadway Federal Bank, said it expects to increase its loan loss allowance "by a substantial amount" after a recent regulatory examination.
In a filing with the Securities and Exchange Commission, the thrift, which is waiting for a final written report from the Office of Thrift Supervision, said the increase in the allowance will likely result in a net loss for 2009.
Broadway received a letter in April from Nasdaq regulators explaining that the institution had fallen out of compliance with the exchange's rules by failing to file its annual earnings report. The thrift said it would submit the report – and hopefully regain Nasdaq compliance – after receiving the results of the OTS' examination.
Winding Down
First Federal Bank of California, which was founded in Santa Monica in 1929, is all but gone.
Last week, Babette Heimbuch, the institution's last remaining executive, stepped down as chief executive and chairman of FirstFed Financial Corp., the bankrupt holding company for the failed savings and loan.
Regulators shuttered FirstFed in December and sold most of its assets to OneWest Bank in Pasadena, leaving a handful of remaining assets for disposition through bankruptcy.
Heimbuch and a corporate lawyer remained with FirstFed to handle the bankruptcy proceedings, and Heimbuch stepped down after the accounting process was completed last week.
Reached by telephone at her home, Heimbuch said she does not know what she'll do next, but she does not feel fully divorced from the only job she has known for nearly 30 years.
"It hasn't sunk in yet," said Heimbuch, who was pressured to resign prior to the seizure but ultimately stayed on to close out the books.
Advisory Program
City National Bank, which has expanded its wealth management division dramatically in recent years, has launched an advisory program to serve wealthy clients.
As part of the new City National Securities Investment Advisory Program, the bank, owned by City National Corp., has hired five financial advisers.
The advisers, who will be based in offices across Los Angeles County and in Irvine, will provide investment advice primarily to affluent families, professional services firms and non-profits.
City National plans to expand the new program throughout California, and hire advisers in Northern California and San Diego.
C-Suite News
Center Financial Corp., the Koreatown holding company for Center Bank, announced that Chief Financial Officer Lonny Robinson has resigned. Chief Executive J.W. Yoo will handle Robinson's responsibilities until a permanent replacement is found. … Min Kim, the former chief executive of Nara Bancorp Inc. who stepped down in January, has joined downtown L.A.'s First Standard Bank in the same position. … East West has hired Miguel Serricchio as executive vice president and director of treasury management services, and Terry Schuler as executive vice president and chief human resources officer. … MK Capital, a digital media-focused venture capital firm, announced that Yair Landau has joined the firm's Santa Monica office as partner.
Staff reporter Richard Clough can be reached at rclough@labusinessjournal.com or at (323) 549-5225, ext. 251.
For reprint and licensing requests for this article, CLICK HERE.