Staying on a Roll
Skateboarder Rob Dyrdek relies on licensing deals to maintain revenue as age dims his sporting skills.
Monday, May 24, 2010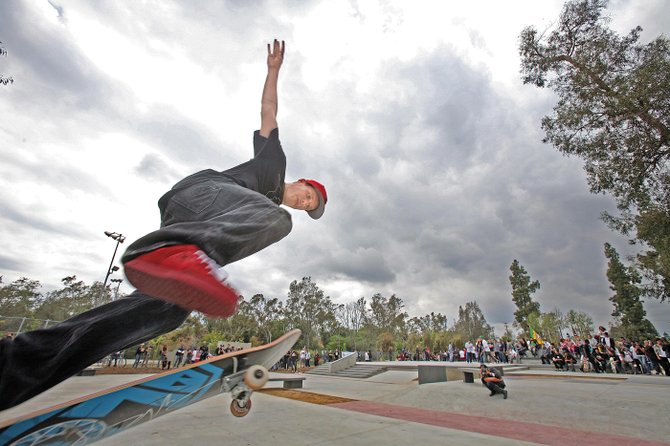 Rob Dyrdek has grown from a teenage skateboard star to an entrepreneur who knows how to learn from his failures.
After several early ventures flopped, Dyrdek went on to establish his name in consumer goods, apparel, video games, toys, cartoons, entertainment and construction.
This summer, he hopes to pull off his most ambitious stunt yet, launching a sports league for skateboard pros.
For many athletes, getting their name on dozens of products – what marketers call "brand extensions" – might not be easy. But it's second nature for a skateboarder, Dyrdek said.
That's because pro skateboarders don't draw regular salaries. They make all their money through product endorsements, and learn at an early age how to work with corporate marketers. Those relationships can sustain a career even as athletic skills fade.
"I'm 35 years old and I'm still a pro skateboarder – not as active or as good as I was, but I still have my image and history," Dyrdek said. "In this sport, we don't retire guys. They sort of run their entire career with the brands they helped develop."
Raised in Kettering, Ohio, Dyrdek became a professional skateboarder at 16 when he joined the promotional team for Alien Workshop, a manufacturer of skateboard decks, the board the skater stands on.
Two years later, Dyrdek moved to Los Angeles and soon started his first company. That venture, Orion Trucks, manufactured wheel assemblies for boards. He recruited other professional boarders as partners in the company, and the product's success was due as much to their marketing than any technical innovation.
Dyrdek's first major marketing partnership came in 1993 when DC Shoes, a sports footwear brand, asked him to design a skateboarding shoe. When the Dyrdek1 model reached stores in 1994, it quickly sold out.
"That shoe deal was the first big influx of money that I used to start companies," he recalled.
Unfortunately, the sudden wealth prompted the 22-year-old to dabble in what he now admits was "a lot of bad entrepreneurial runs." He started a record label that failed. He went into retailing only to discover that running a store requires a certain personality – not his.
"I threw a dart at just about everything," he said. "As a pro skateboarder, I was making enough money to take these rolls of the dice."
The lesson, which Dyrdek repeats today like a mantra, was: "Stay in your lane." He believes that skateboarding gives him enough space to grow companies without veering off into ventures unrelated to the sport.
Today, his Dyrdek Enterprises has 20 employees who work with corporate partners to make deals putting the skateboarder's name on merchandise in a variety of industries.
In the consumer goods field, Dyrdek is about to release his 17th signature shoe with DC. Tag Body Spray sells his "Make Moves" scent, and Rogue Staus apparel licenses his name.
In toys, Mattel used Dyrdek and his childhood skateboarding companies, the Wild Grinders, as models for a line of action figures. Also, a licensing deal with Moonscoop, a French animation house, will produce a cartoon show based on the Wild Grinder toys.
Dyrdek is a character in Electronic Arts' video game "Skate 3," set to reach stores this summer, and he's the host of "Rob Dyrdek Skateboard" for the Nintendo Wii.
For hungry skaters, Dyrdek recently opened East, a restaurant at 6611 Hollywood Blvd. in Hollywood. Syndicate Hospitality handles the food service.
The Dyrdek name
The success of his consumer products depends on keeping the Dyrdek name before his audience of young skaters. That's where reality TV fits into the equation. Season three of "Rob Dyrdek's Fantasy Factory" just finished shooting for MTV. The show alternates between Dyrdek performing stunts on skateboards or surfboards, and segments about his business ventures.
He calls the show "a huge commercial for my brand on this machine called MTV," and writes and supervises editing of every episode.
One recent stumble for Dyrdek was "Street Dreams," a feature film he spent $2 million to produce. It grossed less than $100,000 in theaters in 2009; the Paramount DVD release will come later this year.
Dyrdek has even moved into the non-profit sector with the Rob Dyrdek Skate Plaza Foundation, which builds places where street boarders can practice their sport. The first plaza was built in his hometown in Ohio, followed by one at Lafayette Park in Los Angeles.
The third plaza opened May 18 at the corner of Magnolia Boulevard and Tujunga Avenue in North Hollywood. It was funded by a $250,000 grant from 7-Eleven, which has a store across the street, and $200,000 from the Los Angeles Department of Recreation & Parks.
Future plazas in Santiago, Chile, and Sunland, N.M., are in the planning stages.
Dyrdek's next project is Street League Skateboarding, a series of professional competitions set to debut this summer. He has signed 24 pro boarders to multiyear exclusive contracts to compete in the league. He also developed an instant scoring system to make the sport fun for TV audiences.
Event production giant IMG will stage the competitions.
Don Gibson, president of consulting firm Kavi Sports & Entertainment in Century City, said that basing a business empire on one star carries a significant risk. One Tiger Woods-like mistake can cause a disaster.
"As a celebrity, everything you do comes under a microscope," Gibson said. "One misstep and it all comes apart."
In skateboarding, there are other challenges. Many cities ban skateboarding and private property owners post signs prohibiting it, as it's often associated with vandalism and injury-prone stunts. However, Gibson believes the establishment of a viable league could alter public opinion.
"If you have a formalized league with a physical facility, that changes the whole dynamic," he said. "Long term, it changes how people see the sport."
Dyrdek believes that if the league succeeds, it will open a whole new range of brand extensions for him as the owner of the sport. But it's a lot of work.
"I can't begin to tell you how hard-core launching a league is," he said. "But it's revolutionary, and I can't wait for the revolution to happen."
Dyrdek Enterprises
FOUNDED: 1998
HEADQUARTERS: Downtown Los Angeles
CORE BUSINESSES: Entertainment, apparel and sports gear centered on skateboard culture
EMPLOYEES: 20 who manage deals with Dyrdek's partner companies, such as Mattel and Paramount
GOAL: To establish a professional sports league for skateboarding
NUMBERS: Dyrdek estimates his net worth at $75 million; makes $140,000 per episode for MTV program
For reprint and licensing requests for this article, CLICK HERE.