Roski, Billionaire Partner Square Off in NFL Bid
SPECIAL REPORT: WEALTHIEST ANGELENOS
Monday, May 24, 2010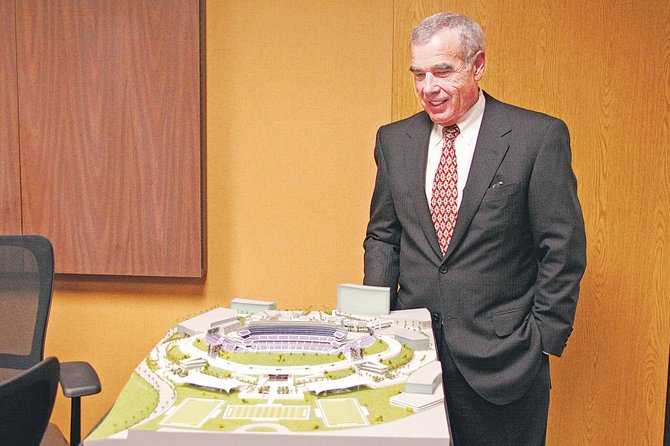 The governor was up on stage, along with Mayor Antonio Villaraigosa and Roski. But absent from the shovel-wielding cadre was no less than the project's main financial backer, Anschutz, who lurked toward the back of the audience. Attendees didn't even know the reclusive billionaire was there until Villaraigosa pointed him out during a speech.
It was illustrative of Anschutz's style – always making moves, but decidedly out of the limelight.
Los Angeles Councilwoman Jan Perry, whose district includes L.A. Live, has met Anschutz a handful of times, and called him a visionary. But she admits she doesn't know him well.
"Every time I see Phil he is so quiet and discreet that it's just sort of surprising he's there," said Perry, who attended the 2007 hotel groundbreaking. "To me, it seems as if he has an air of humility about him."
Shy certainly wouldn't describe Roski, whom the Business Journal estimates has a $2.1 billion net worth. The former U.S. Marine is known for being a conservative businessman who doggedly pursues his interests, sometimes in a public manner. He's also a rugged adventurer, having scaled Mount Kilimanjaro, climbed to Mount Everest base camp and explored the wreck of the Titantic in a Russian submersible.
That personality is reflected in the resolve he's shown in building Majestic Realty Co., the family real estate business started by his father. The company, which specializes in industrial development, has a real estate portfolio of about 60 million square feet.
"He's a very savvy guy," said Craig Furniss, a principal at Long Beach industrial developer Seventh Street Development. "He's a businessman and knows how to get stuff done."
But Anschutz, 69, certainly isn't viewed as a pushover, despite his public reticence. His retiring nature belies the sort of tenacity required to become one of the most powerful businessmen in the world with an estimated net worth of $6 billion, according to Forbes.
The Kansas native controls an empire that includes vast real estate, sports and entertainment holdings, including a large stake in Qwest Communications. Aside from the Kings and Lakers, he was a founder of Major League Soccer and owns the Los Angeles Galaxy and Houston Dynamo. In addition to Staples Center, AEG owns or operates venues worldwide, from Home Depot Center in Carson to London's O2 Arena.
"They aren't even in the same orbit," said one sports facilities expert, who declined to comment on the record because of current business relationships with both parties. "(Ed's) a developer, but he's not an agent of change in sports."
For reprint and licensing requests for this article, CLICK HERE.