Sky's the Limit For Fuel Maker
Synthetic product passes United flight test.
Monday, May 17, 2010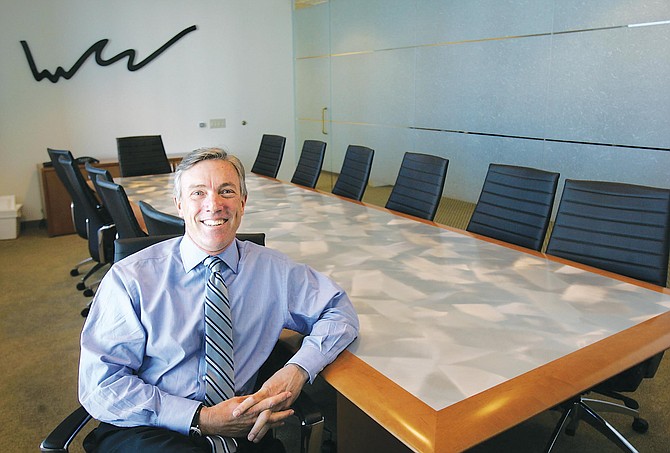 A recent test flight of a United Airlines plane has given a Westwood company the lead position in what's shaping up as a dogfight to sell synthetic jet fuel to the nation's commercial aviation industry.
Rentech Inc. supplied synthetic fuel used by the Airbus 319 that took off from Denver International Airport for the 90-minute flight April 30.
Industry officials said it was the first engineering validation of a commercial aircraft flight in the United States using synthetic fuel produced by a process approved in 2009 for use on passenger flights by the American Society of Testing and Materials, the primary technical standards organization for the airline industry.
Aboard were 19 engineers and others who monitored how the airplane performed in such maneuvers as taxiing, takeoff, climbing, cruising and descending. The plane's tanks were filled with a mixture of 60 percent standard jet fuel and the rest a synthetic fuel made by Rentech.
The process, called Fischer-Tropsch, was first developed in 1920s Germany. It involves a set of chemical reactions that convert materials – typically coal, natural gas or biological wastes – containing carbon monoxide and hydrogen into liquid fuel.
"It performed as well as the standard fuel," said Mike Trevino, a United Airlines spokesman. "I expect that we will be using synthetic fuel once it becomes commercially available; this was the first step in getting it into production in quantities that would make it viable for us to purchase for use in our airplanes."
Before the test flight, United, and 12 other domestic and international passenger and cargo carriers had signed a memorandum of understanding to purchase as much as 250 million gallons of synthetic fuel annually from Rentech if it can be produced massively and sold at a price comparable with standard jet fuel.
The other signatories include some small airlines, but some big ones, too, such as American Airlines, FedEx Express and Jet Blue Airways.
D. Hunt Ramsbottom, Rentech's chief executive, said the company can begin production of the only synthetic aviation fuel that has been flight tested to U.S. standards.
"We knew the fuel was approved but until somebody flies on it and looks at the data, it's not validated," Ramsbottom said.
However, creating marketable quantities is a ways away. The company is in the early stages of planning a $4 billion, 450-acre plant near Natchez, Miss., expected to begin producing a version of the synthetic jet fuel made from coal – called RenJet – sometime in 2014.
"We know we can do it at a competitive price because we run models daily," Ramsbottom said.
When the company begins production in four years, he expects Rentech will be able to produce synthetic fuel that's priced comparably with standard jet fuel, which currently sells for about $2.40 a gallon.
He explained that the fuel will be produced largely from inexpensive coal, along with biomass and petroleum coke, which is a leftover from the refining process.
"The reason we know we can be competitive is we know the price of those inputs and have spent millions engineering the plant," Ramsbottom said.
It won't hurt that the fuel may be eligible for a 50-cent-a-gallon tax subsidy.
Key advantages of the synthetic fuel include lower emissions and greater domestic availability of base materials.
Crowded field
But Rentech will have competition. Synthetic fuel has been produced and tested in small quantities by various companies for years.
Some foreign airports – most notably Or Tambo International Airport (former known as Johannesburg International) in South Africa – already use it routinely to refuel passing aircraft. American airlines that refuel there already use synthetic fuel.
A handful of companies – including World GTL in New York; Choren Industries in Freiberg, Germany; and Syntroleum in Tulsa, Okla. – have active synthetic fuel-producing programs.
The Air Transport Association of America has signed a separate nonbinding memo with a company called AltAir Fuels in Seattle to develop a different process for producing synthetic fuel that may soon be approved by the Testing and Materials Society.
In addition, the Department of Defense is working with the Air Transport Association to develop synthetic jet fuels.
"What all this means is that the U.S. airline industry is committed to exploring different types of alternative commercial fuels produced domestically," said John Heimlich, vice president and chief economist of Washington, D.C.-based Air Transport Association, a major trade organization for U.S. passenger and cargo airlines. "We are process neutral; Rentech is one of several potential suppliers with whom we're having discussions."
Robert W. Mann Jr., president of R.W. Mann & Co., an airline industry analysis firm in Port Washington, N.Y., said that there are still many players in the game, and that price will be a key factor in determining the winners.
"The issue will be at what price per gallon they can produce the product and how that will stack up against the standard price at the time," Mann said. "Producing this fuel isn't cheap."
Lofty ambitions
Ramsbottom hopes that the test flight points toward Rentech's success.
The company is applying for federal Department of Energy loans to pay for much of the planned Mississippi plant as well as a smaller $400 million plant being built in Rialto.
The California facility, expected to open in 2012, will produce synthetic diesel fuel – called RenDiesel – but only for use in ground service equipment operations at Los Angeles International Airport under the terms of a multiyear agreement signed with United and eight other airlines in 2009.
The remainder of the construction, Ramsbottom said, will be funded by tax credits, debt and Rentech partners.
The company reported a net loss of $16 million for the quarter ended March 31, compared with a $25.4 million loss the year before. Revenue was $19.2 million, up 14 percent from the prior year. A statement at the time attributed the financial improvement largely to strong sales at its fertilizer subsidiary, named Rentech Energy Midwest Corp.
The subsidiary, which the company bought in 2006, is an unusual aspect of Rentech's synthetic fuel development path.
"Energy is a capital-intensive business," said Ramsbottom, who arranged the purchase of the fertilizer business. "You've got to have a source of capital to bridge that gap. Fortunately we have a nice bridge and it's called our fertilizer company."
For reprint and licensing requests for this article, CLICK HERE.