Sky's the Limit For Fuel Maker
Synthetic product passes United flight test.
Monday, May 17, 2010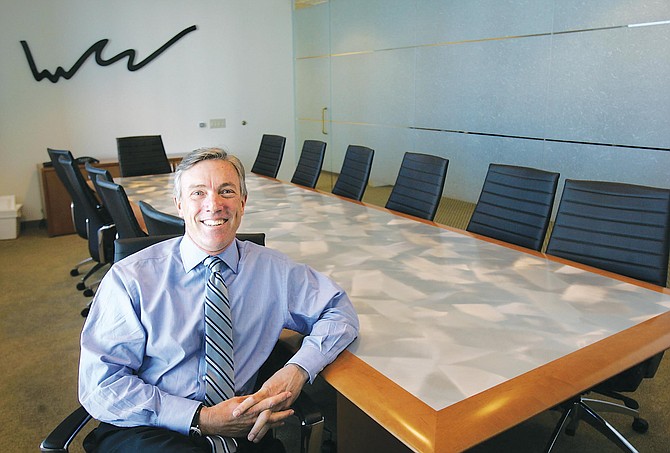 A recent test flight of a United Airlines plane has given a Westwood company the lead position in what's shaping up as a dogfight to sell synthetic jet fuel to the nation's commercial aviation industry.
Rentech Inc. supplied synthetic fuel used by the Airbus 319 that took off from Denver International Airport for the 90-minute flight April 30.
Industry officials said it was the first engineering validation of a commercial aircraft flight in the United States using synthetic fuel produced by a process approved in 2009 for use on passenger flights by the American Society of Testing and Materials, the primary technical standards organization for the airline industry.
Aboard were 19 engineers and others who monitored how the airplane performed in such maneuvers as taxiing, takeoff, climbing, cruising and descending. The plane's tanks were filled with a mixture of 60 percent standard jet fuel and the rest a synthetic fuel made by Rentech.
The process, called Fischer-Tropsch, was first developed in 1920s Germany. It involves a set of chemical reactions that convert materials – typically coal, natural gas or biological wastes – containing carbon monoxide and hydrogen into liquid fuel.
"It performed as well as the standard fuel," said Mike Trevino, a United Airlines spokesman. "I expect that we will be using synthetic fuel once it becomes commercially available; this was the first step in getting it into production in quantities that would make it viable for us to purchase for use in our airplanes."
Before the test flight, United, and 12 other domestic and international passenger and cargo carriers had signed a memorandum of understanding to purchase as much as 250 million gallons of synthetic fuel annually from Rentech if it can be produced massively and sold at a price comparable with standard jet fuel.
The other signatories include some small airlines, but some big ones, too, such as American Airlines, FedEx Express and Jet Blue Airways.
D. Hunt Ramsbottom, Rentech's chief executive, said the company can begin production of the only synthetic aviation fuel that has been flight tested to U.S. standards.
"We knew the fuel was approved but until somebody flies on it and looks at the data, it's not validated," Ramsbottom said.
However, creating marketable quantities is a ways away. The company is in the early stages of planning a $4 billion, 450-acre plant near Natchez, Miss., expected to begin producing a version of the synthetic jet fuel made from coal – called RenJet – sometime in 2014.
Prev Next
For reprint and licensing requests for this article, CLICK HERE.