Roll Opening Credits
Grocery debuts in 'neighborhood' of Hollywood
Monday, May 17, 2010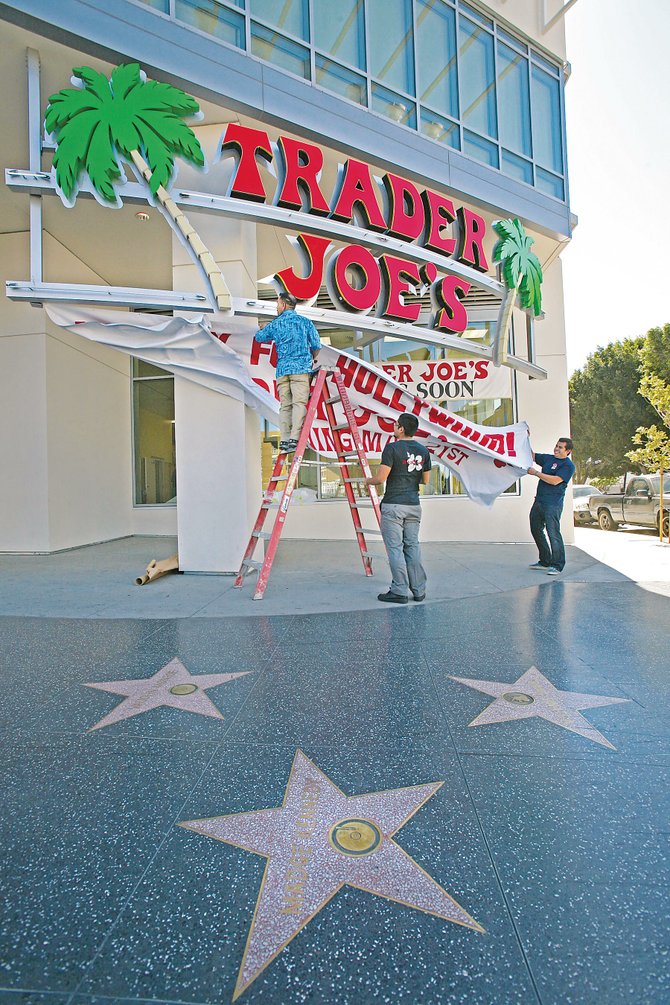 Hollywood is known for glamour and glitz, but now it will also be known for Two Buck Chuck and peanut butter pretzels.
In one of L.A.'s most highly anticipated grocery store openings in recent years, Trader Joe's will open Friday on the ground floor of the W Hollywood Hotel and Residences complex near Hollywood Boulevard and Vine Street. The Business Journal's photographer took a look last week as workers prepared the store for its opening.
The new store is something of a milestone for Hollywood, much like the opening of a Ralphs supermarket nearly three years ago marked a transition point for downtown Los Angeles. Residents have moved into Hollywood recently, and a new grocery means that the commercial and entertainment district has transitioned into a bona fide residential neighborhood as well.
"What's happening in Hollywood will be a case study for creating a successful urban neighborhood for the greater Los Angeles area," said Leron Gubler, chief executive of the Hollywood Chamber of Commerce. "There are 1,000 residential units opening this year nearby and several thousand more over the next decade. This has jump-started the whole neighborhood."
But Hollywood is, well, Hollywood. Cecil B. DeMille shot Hollywood's first full-length feature film, "The Squaw Man," one block from the store site. And the grocery's décor pays tribute to its famed location, with murals in the store commemorating the area's movie history.
Those murals, by the way, are painted by the same people who stock store shelves and run cash registers. That's because Trader Joe's tends to hire artists. They even hand draw the individual price tags.
The store, at Vine and Selma Avenue, will be the chain's standard 13,000-square-foot size and will stock the usual 2,000 items – including the chain's famous $1.99-a-bottle Charles Shaw wine and peanut butter-filled pretzels.
For reprint and licensing requests for this article, CLICK HERE.