Head Of the Class
USC business students reap seed money with supplement sales plan.
Monday, May 17, 2010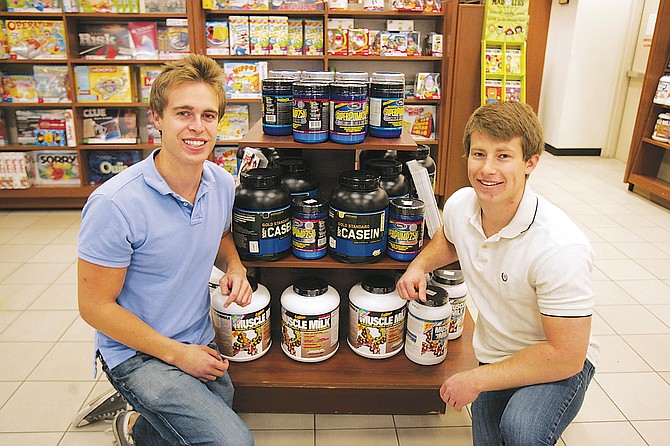 When Andy Hayes and Adam Fried started a sports nutrition distribution company named University Supplements, they had $48 between them. Now, thanks to winning a USC business school competition, they have $10,000.
The juniors at the Marshall School of Business won the top undergraduate prize in the New Venture Seed Competition sponsored by USC's Lloyd Greif Center for Entrepreneurial Studies.
A panel of L.A. entrepreneurs voted for Hayes and Fried based on the pair's pitch of their business concept and answers to questions about building a company.
Hayes and Fried started University Supplements last year. They saw an opportunity after realizing that many students were buying protein powder and vitamins off the Internet – and would then have to wait for the mail orders to arrive.
"We figured that there's got to be a better way for students to buy these sports nutrition products at a cheaper price," Fried said.
So they started purchasing products in bulk from manufacturers and selling them to friends. They quickly made a deal with the USC Bookstore to sell the products there.
When they learned about the Venture Seed competition, now in its sixth year, they wanted the money, but were also attracted to other aspects: The competition included several weeks of workshops and training sessions on how to craft a business plan.
More than 50 teams entered the contest, competing for first and second prizes in three categories; undergraduate, graduate, and faculty and staff. Second-place winners got $2,500. The prizes are seed money for the ventures.
Winners were honored at an April 29 banquet on campus. The winner of the graduate competition was Paul Del Piero, who's studying business and law, for his proposal to create ConservatorshipHelp.com, a website that would help create legal documents for conservatorships and adult guardianships. Ace Ventures Inc. won the faculty and staff prize.
The goal of the competition is to give entrepreneurs some contacts and networking opportunities – in addition to the money – that they'll need to get their business off the ground.
"We wanted to get people into the game," said Steven Mednick, director of the competition. "The value is in the networking."
For reprint and licensing requests for this article, CLICK HERE.