MySpace Hopes Ads Boost Its Profiles
Ad.ly platform puts price on popular users' posts.
Monday, June 28, 2010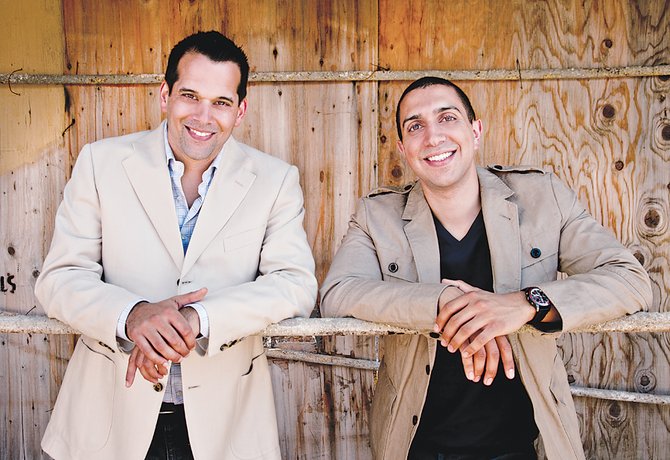 Can a recent deal with a West Hollywood startup give beleaguered MySpace the boost it needs?
MySpace executives are betting that a partnership with online advertising broker Ad.ly will help the Beverly Hills-based social networking site retain members by giving them a service they've wanted.
"Our users were asking for it," said Sean Percival, director of content socialization for MySpace. "They didn't really have a great way to monetize their profile."
Until now, Ad.ly was designed only for Twitter, allowing high-profile Twitter users – celebrities, large companies or people with prominent Twitter pages called "influencers" – to earn money from their Twitter accounts by promoting companies through tweets. The agency connects these high-profile Twitter users with companies looking for advertising, who in turn pay the celebrities, or their employees, to tweet as part of a marketing campaign.
For example, Ad.ly arranged for "Real Housewives of Orange County" star Bethenny Frankel to tweet about HauteLook, a website that hosts sales on designer merchandise.
The June 3 deal with MySpace makes the same process available to influencers on MySpace. Instead of posting advertisements as tweets, users will post them to their live MySpace streams, a feature for the site that works similar to a Facebook status update.
There is a possible snag because Twitter has moved to restrict outside advertisers, although the effect on Ad.ly's model is unclear.
Social media industry experts have touted Ad.ly's success since it launched Twitter ads in September, and expect the expansion to MySpace to be no exception.
"I think that what they've hit upon here is something that's working for all parties involved," said Steve Broback, founder of Parnassus Group, a Redmond, Wash., agency that helps companies leverage themselves through social media. "It's going to become common and prevalent."
With the partnership, Ad.ly's network includes more than 70,000 influential Twitter and MySpace users combined. This gives Ad.ly advertisers an audience of more than 65 million people, said Sean Rad, Ad.ly founder.
Ad.ly, which has 20 employees and a new chief executive, Arnie Gullov-Singh, is not the only company that has capitalized on the appetite for Twitter's vast network of tweeters and followers to make money. Pasadena-based TweetUp asks tweeters to pay for their tweets to be prominently displayed on search engines. Clients get more readership and followers, and eventually could build to influencer level.
Ad.ly's deal with MySpace is a standout, however.
"They have been able to turn social media into an ad buy that makes sense," said Raquel Krouse, senior vice president of Prophesee, the social media division of New York marketing company Initiative Media Worldwide Inc. "That's been the big promise of social media for the last few years and we're finally seeing it come into fruition with Ad.ly."
Terms of service
Placing advertising on the profiles of MySpace influencers is expected to be a boon to the website's lagging advertising revenue and slipping membership.
MySpace was the first giant of the social networking phenomenon, but has been overtaken by Facebook. Although newcomer Twitter has yet to surpass MySpace in traffic, website traffic tracker Compete.com shows that Twitter is quickly catching up. Traffic to MySpace has decreased more than 12 percent in the last year, while Twitter's traffic has increased by 36 percent in the same period.
In the most recent significant change at the company, MySpace Co-President Jason Hirschhorn announced his resignation June 17 after only four months in the role, leaving Co-President Mike Jones to head the company alone.
MySpace created Percival's position in January. He was tasked with raising the profile of driving more traffic to the site. The Ad.ly deal is one of his first initiatives.
The partnership should help keep the site relevant, Rad said, because it lets celebrities see the monetary benefit of creating a MySpace page.
"It helps with user retention because it justifies the time they're putting to MySpace to cultivate a following and produce content," he said.
Nevertheless, industry analysts are asking whether Ad.ly will be enough to draw new members to MySpace. Broback at Parnassus said Ad.ly could be a significant source of revenue for MySpace, but it might not help draw new people to post pages on the site – the real problem.
"Their overall traffic is not noticeably growing," he said. "They need to be perceived as cool again, and soon."
But the success of Ad.ly's deal with MySpace hinges on interest from advertisers – some of whom might not be interested.
HauteLook, which has contracted with Ad.ly to place ads on Twitter a handful of times in addition to the deal with Frankel, is unlikely to try the MySpace platform.
"We're much more excited and interested in what's going on with Twitter than what's going on with MySpace," said Greg Bettinelli, HauteLook's senior vice president of marketing. "It's not to say that MySpace isn't relevant to other advertisers, but our target market is using Facebook and Twitter at higher rates than other social networks."
The choice between MySpace and Twitter could become moot if what some industry bloggers are saying is true: that Twitter's new terms of service are a step toward prohibiting all outside advertisers, such as Ad.ly, from brokering ads on the site.
The San Francisco-based Twitter announced in a blog post May 24 the launch of its own advertising platform, Promoted Tweets. These sponsored tweets will appear in between normal tweets in lists of recent posts from users, where the site posts recent tweets from influencers. With the launch of its own advertising model, Twitter also prohibited third parties such as Ad.ly from tweeting ad messages. Influencer tweets brokered by Ad.ly are identified as sent "via Ad.ly Network."
Tech blogs SoCalTech and TechCrunch initially reported that Twitter's restriction would mean the end of Ad.ly. But Rad responds that Ad.ly does not violate Twitter's new terms of service because the ads come directly from celebrity tweeters.
"There's nothing that prohibits an influencer from putting an ad within their stream," he said. "There are limits to which Twitter can control pieces of advertising."
Twitter did not respond to a request for comment.
Although the MySpace deal came at the same time as Twitter's new terms of service, Rad said it was in the works long before he knew that Twitter would start restricting ads.
As Twitter begins to experiment with its own advertising features, it could decide to prohibit all outside advertisers. But Broback said it would not be in Twitter's best interest to prevent brokers such as Ad.ly from having influencers place ads on the site.
"Twitter has to walk the tightrope of how much of the ecosystem they want to enable and how much of the ecosystem they want to take ownership of," he said. "But it would be a challenge for Twitter to dictate too heavily what someone can and can't have in their streams."
For reprint and licensing requests for this article, CLICK HERE.