D.I.Y. RISK
More businesses self-insure for workers' comp
Monday, June 28, 2010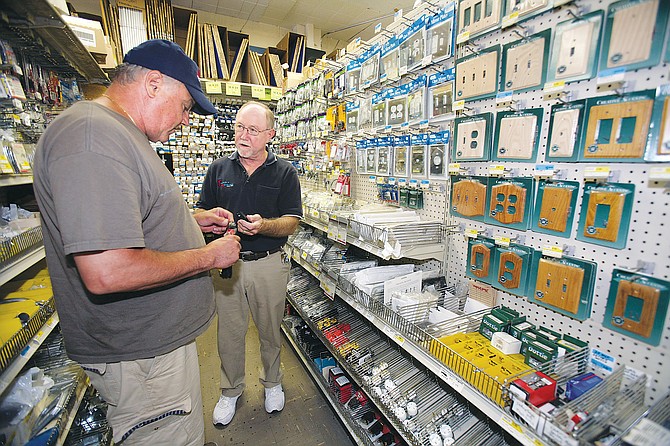 More and more California employers are diving into pools. They're not swimming, though. They're getting workers' compensation insurance.
Taking advantage of a provision of the 2003 workers' compensation reforms, they're seeking lower rates and better service by self-insuring in industry groups.
Take Chip Kurzeka, owner of Franklin's Hardware in Woodland Hills. Not only has his premium dropped 10 percent in the four years since he jumped into a pool with other home improvement businesses, but sometimes he gets a refund. That happens when the pool finishes the year with more money than required by state law.
"We've been very pleased with this program," Kurzeka said.
These self-insurance pools give employers more control over how claims are handled and can keep a lid on costs. But it can be risky. If claims costs increase for those in the self-insured group, state law requires the members to put in more money to ensure the pool remains solvent.
In traditional workers' compensation insurance, employers purchase coverage from insurance companies, sometimes using a broker to find the best deal. But in a self-insured pool, each employer member puts its own money into the cooperative and a third-party administrator oversees the handling of claims.
Over the last six years, businesses have grouped to form nearly three dozen of these pools in industries from trucking to auto dealerships to credit unions and private secondary schools.
However, six pools have voluntarily disbanded because the employer members didn't want to make additional contributions to meet the state requirement of 135 percent of the anticipated cost of claims. And in a seventh pool, made up of building contractors, claims hit the point where the state had to bring in a conservator to run the pool until it could be disbanded and all the members could find other workers' compensation coverage.
But that risk has not deterred employers from joining self-insurance groups. Since 2005, the number of employers participating in these groups has tripled, topping 2,500 last year, according to figures from the state Office of Self Insurance Groups, a unit of the state Department of Industrial Relations. Much of that growth took place despite a steep drop in overall workers' compensation premiums that resulted from the 2003-04 reforms. In the last year, premiums have bottomed out and, in some high-risk industries like construction, have started to rise again.
As a result, participation in pools appears to be growing. The home-improvement self-insurance pool is one of the fastest growing. In the last 12 months, its membership has swelled from 55 to about 120.
"Before joining our pool, many employers that had historically low levels of claims had started to see their premiums go up and were casting about for money-saving options," said James Scanlon, chief executive and co-owner of Scanlon Guerra Burke, a Woodland Hills insurance broker that's handling brokerage services for the businesses in the home-improvement insurance pool.
Service improvement
Ron Ursich, owner of Carson Industrial Hardware, said that his premiums have stabilized since he joined the home-improvement insurance pool late last year. What's more, Ursich was impressed with the immediate attention the pool administrator gave to a potential workers' comp claim.
"I can call someone up and get hold of them immediately, which was not the case with any of our previous carriers," said Ursich, whose Carson store has nine employees.
Many employers join pools as they seek refuge from large insurance carriers, such as the mammoth State Compensation Insurance Fund, which has 20 percent of the market. Employers are also seeking better service when they join pools.
"I was with the State Compensation Insurance Fund and the claims management there was terrible," said Kurzeka of Franklin's Hardware, which was founded in 1952 and has 19 full-time employees.
Franklin's Hardware was one of the first companies to join the home-improvement insurance pool when it was launched in 2005.
"The claims management has been exceptional," Kurzeka said. He pointed to one recent claim in which an injured employee returned to work within two weeks; he said the claim ended up a "minimal" payout to the employee.
State Compensation Insurance Fund officials acknowledge that the organization had some difficulties in handling claims about five years ago. At the time, many insurance companies pulled out of workers' comp as the cost of claims skyrocketed. The state fund was forced to insure employers dropped by those insurance companies and ended up insuring more than half of all employers in the state.
"When we were growing our market share so rapidly, we were hiring claims adjusters off the street," spokeswoman Jennifer Vargen said. Since then, the state fund has returned to a more traditional market share level of 20 percent and now employs only experienced claims adjusters.
Vargen said the state fund has also stepped up its customer service training, adding, "Our claims service is very important to us."
Nonetheless, she acknowledged, employer frustration is still evident.
"It's still a very complicated system governed by so many state laws," she said. "Sometimes employers are frustrated at the system and when that happens, it's easy to become frustrated with the carrier administering the system."
Another longtime fixture on the local hardware scene, Koontz Hardware of West Hollywood, also appreciates improved claims service in the pool. Founded in 1938, Koontz now has about 54 employees.
Owner Russ Wilson said he had also grown frustrated with the inefficient claims handling at major insurance carriers, citing two questionable claims against his store that his previous carrier had chosen to settle instead of fight. The carrier then jacked up his premium nearly six-fold.
As a result, Wilson decided to join the cooperative shortly after it formed in 2005.
"The key for me was getting more control over the claims and getting more attention paid to alleviating injury risks," he said.
For reprint and licensing requests for this article, CLICK HERE.