Curtain Call
Mall owner sees upgraded theater as key attraction for remodeled Baldwin Hills Crenshaw Plaza.
Monday, June 28, 2010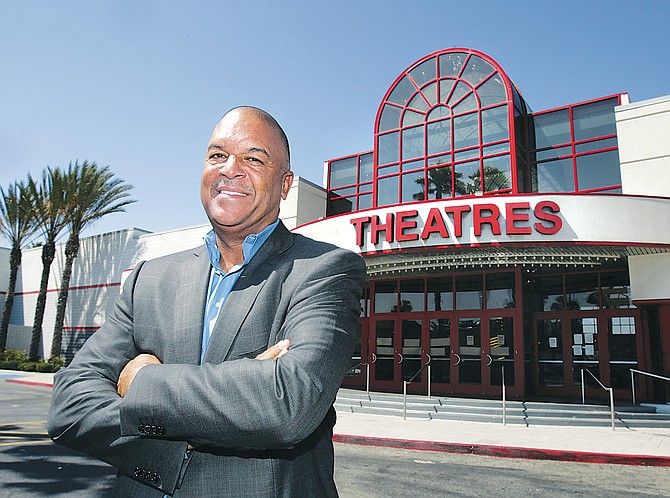 At first glance, the closing of the AMC multiplex in the Baldwin Hills Crenshaw Plaza might have looked like the chain was pulling out of a minority neighborhood to seek affluent consumers elsewhere.
But the theater will be reopening later this year after a $10 million upgrade, part of the mall's $30 million refurbishing, and that tells another story: Not only are upscale shopping centers such as Santa Monica Place undergoing renovations, but malls in minority communities are getting makeovers, too.
The Baldwin Hills mall remodel is one of several planned for L.A.'s minority communities. Two malls in the eastern San Fernando Valley, amid majority Latino populations, are slated for renovations.
Ken Lombard, president of Baldwin Hills mall owner Capri Urban Investors, said that AMC wanted to remain at the location, but the two sides couldn't make a deal on how to split the $10 million cost of the remodel. So AMC walked, and Capri will pay for the upgrade alone.
"We have a made a commitment to take the mall from C level to A level," Lombard said. "It was a mutual decision for AMC to leave, but it was tied directly to the overall strategy for the mall, not their operations."
AMC executives did not return calls for comment.
The centerpiece of the Baldwin Hills remodel is the 12-screen multiplex, which closed June 13. The remodel will include 3-D screens, stadium seating and a redecorated lobby. The plan is to reopen before the 2010 holiday movie season, and the rest of the mall's upgrade should be complete in 2011.
Jeff Green, president of shopping center consultancy Jeff Green Partners in Phoenix, worked on the early stages of the Baldwin Hills Crenshaw Plaza remodel. He said the project illustrates the value of a stable consumer base. During the housing boom, developers built shopping centers near new home tracts, many of which now stand mostly vacant.
"Retailers realize they should never have gone to San Bernardino and Riverside counties, where the population never came," Green said. "It's now going to be a trend for retail development and redevelopment to happen closer to the housetops."
No competition
Malls routinely upgrade, of course. Westfield Culver City Mall had a facelift in 2009, and Macerich Co.'s Santa Monica Place is finishing a remodel.
But Greg Stoffel, principal at mall consulting firm Stoffel & Associates in Irvine, said the Baldwin Hills Crenshaw Plaza has a bigger opportunity for growth than most. It's in a neighborhood that's 79 percent African-American with median household income of $60,000, slightly higher than the state average. Above all, there is no local competition for an anchored mall with a state-of-the-art movie theater.
"In the areas surrounding Baldwin Hills, there are a variety of independent movie theaters but no major exhibitor like Edwards, Mann or Pacific," Stoffel said. "It's a three- to five-mile hole on the map. It makes sense to invest in that property to hold that competitive advantage."
Green said that when a neighborhood is underserved by retailers, consumer dollars leak into nearby areas. In the case of Baldwin Hills, movie fans might travel to Fox Hills, the Howard Hughes Center near Los Angeles International Airport or L.A. Live to see a movie.
"There's huge potential in that market for a state-of-the-art, first-run theater," Green added.
In addition to selling movie tickets, the theater upgrade promises to bring more traffic to the mall, which is anchored by Sears, Wal-Mart and Macy's stores.
Capri President Lombard said the vacancy rate is 5 percent. Mall vacancies countywide are at almost 7 percent, a 16-year high, according to estimates from Encino-based real estate consulting firm Marcus & Millichap.
In addition to the new multiplex, the upgrade will include construction of a food court terrace, a live entertainment stage, new flooring and lighting, and exterior painting and landscaping. Construction will occur at night to allow all tenants to remain open for business.
Todd Nathanson, a retail space broker at Illi Commercial Real Estate in Encino, said retail lease rates in Baldwin Hills are about $2 per square foot per month. Space rents for less than that at older malls, but at new or refurbished malls, the lease rates are in the high-$2-to-low-$3-per-square-foot range.
"With vacancy rates higher than a few years ago, the savvy mall owners are looking to make their property more attractive than their neighbor's property," he said.
Nathanson added that malls in ethnic neighborhoods in Sylmar and Sun Valley plan to upgrade by making investments comparable with Capri's, in the $30 million range.
'Deeply saddened'
The multiplex at the Baldwin Hills Crenshaw Plaza, known as the AMC Magic Johnson Theatre, was built in 1993 by Magic Johnson Enterprises, a company formed in 1987 by former Lakers star Earvin "Magic" Johnson to develop entertainment and retail stores in urban minority neighborhoods. Magic Johnson Enterprises then turned over management of the theaters to Loews, which was purchased by Kansas City, Mo.-based AMC in 2005.
At one time there were six AMC Magic Johnson theaters in the United States, but AMC closed one in Atlanta in October; the Crenshaw closing will leave four open.
When the cinema reopens after the remodel, it will no longer bear the Magic Johnson name.
Johnson issued a statement saying he was "deeply saddened" to learn of the closing. "This was my first theater, so a piece of me will definitely close with it."
Lombard said he is looking for a company to run the theater when it reopens, and AMC already has shown interest in returning.
The mall owner wants "a new contract with an operator that truly understands Los Angeles, the urban marketplace, and has an absolute commitment to delivering the best movie experience you'll find anywhere," Lombard said in a statement. "Transforming the mall is about giving shoppers more choices and better amenities, and having a new state-of-the-art multiplex is an important step in that direction."
Green, the shopping mall consultant had no doubt Lombard will find another theater chain eager to move into the revamped multiplex.
"Where are there areas that are undertheatered in the U.S.?" he asked. "There aren't many. They will get offers from operators because the untapped potential is in the city, not the suburbs."
For reprint and licensing requests for this article, CLICK HERE.