Pitching Ace
Infomercial producer Greg Renker says frequent moves when he was a kid forced him to make friends fast and be a good salesman.
Monday, June 21, 2010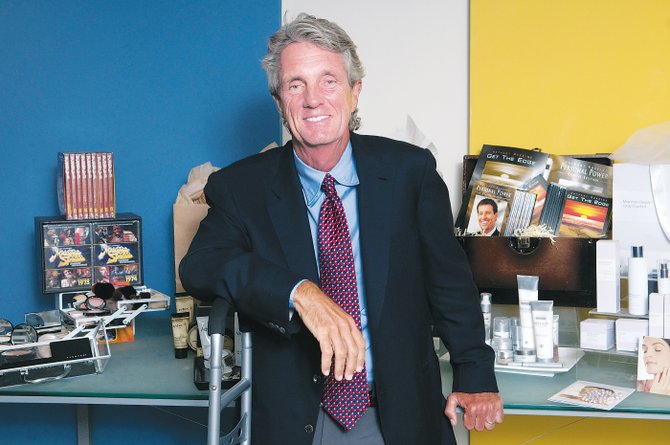 You may recognize Greg Renker's name from Guthy-Renker, an infomercial production house that sells more than $1.5 billion in merchandise each year. Renker was working as marketing director at a resort that his family owned in Indian Wells when he met Bill Guthy, a small-business owner who owned a condo at the resort. That was 1981. Six years later, the pair formed Guthy-Renker. Their first big success was a series of motivational tapes by Tony Robbins. Guthy-Renker later launched a string of successful infomercial campaigns for consumer products including Proactiv Acne Solution, Victoria Principal's Reclaim skin care line, Winsor Pilates DVDs, Dean Martin and Carol Burnett DVDs, and Sheer Cover Mineral Makeup by Leeza Gibbons. Celebrities who have sold Guthy-Renker products include Cindy Crawford, Heidi Klum and Jennifer Love Hewitt. Renker lives in Indian Wells but commutes to Santa Monica on the company plane. He met with the Business Journal at Guthy-Renker offices and discussed the challenges of dealing with celebrities, the letters he received about how Proactiv skin care changed lives, and how a transposed phone number once sent his home shoppers to a phone sex service.
Question: What's your reaction when people label infomercials as a sleazy way to sell?
Answer: When we started, we did a lot of homework on our products and we sold truthfully. The category had a lot of sleaze and renegades.
Did you try to clean it up?
We were the first ones to testify before Congress that infomercials could be done right, they could be truthful and comply with the law. We've never had any problem with regulators because we substantiate our claims. But it's difficult to compete in this world because we have a lot of competitors who don't follow that standard.
Then what do you do to compete?
Focus on truth, focus on quality, and third – and the one with the biggest sizzle – is focus on celebrities.
What do you look for in a spokesperson?
Likability. If we can combine likability with familiarity, we have a home run. To judge those qualities, we ask customers by the thousands and we intuitively check around inside the company to see what people think.
Has the system ever gone wrong?
We have made mistakes. We've overpaid, we've picked the wrong person. We selected Lindsay Lohan for Proactiv at a time when her career looked wonderful, and then it went the other way. But we understand what kind of celebrities to use and generally we are pleased with the outcome.
What's the downside of working with celebrities?
You would be amazed how many times we've been "leveraged." By that I mean, a celebrity will call you on the phone and say, "I'm not coming to the set tomorrow unless I get a new car tonight." We have had multiple leveraging experiences.
What do you look for in a product?
We sell vanity and greed. Those qualities drive an impulse. We sell anything that makes you rich, thin or beautiful. Most products on TV fall in those categories because people make the decision instantly.
What attracted you to infomercials?
Infomercials are successful because they present a problem, present the solution, surround it with authority figures, add emotion from the testimonials and build value in an offer. We push emotional buttons while using logic to sell. It's a dream-come-true business if you love selling.
What was your first job?
I sold my way through college. Advertising, including outdoor. After graduation, I was in charge of marketing at a resort in Indian Wells owned by my family.
Did infomercials exist at the time?
No. I started watching the early infomercials in the early 1980s. Before that, they were banned by FCC regulations. The home shopping explosion started in 1983 when Reagan deregulated television.
Why did you watch them?
I was fascinated, not thinking of it as a business, just entertainment. These guys were salesmen, pure and simple.
How did you start witih Proactiv acne cream?
Let me be specific. At first, we did it because we thought we could make money and it was perfect for television. What we didn't realize is we were changing lives, tens of thousands of them. Parents and teenagers sent letters to us. It got us back to the foundation of the books we had read and the principles for our company.
How did that discovery change your career?
Proactiv taught us the beauty of the beauty business. We learned the fun of it. You can produce more glamorous commercials. Celebrities are more applicable in that environment.
Do you and your Bill Guthy both have to feel passionate before you'll sell a product?
Ideally, but there's a challenge in maintaining that principle at all times when the opportunity for moneymaking is in front of you, so obvious and immediate. Because you also have responsibilities to your other stakeholders. There's no crime in selling tchotchkes, but it's just not where we're coming from.
What if an infomercial doesn't work?
Unlike a movie, where if you don't hit your box office numbers the first weekend, you've failed, in infomercials you can fix it with editing. You pull out testimonies or put in a new opening. You'd be shocked at how much you can change the result by changing the program.
What was your childhood like?
There were nine children; all still alive. My father was a resort hotel developer, so we moved every year until I was 13 years old because he went to start up a different resort.
Are any of your siblings resort owners today?
No, but several brothers are in hotel marketing. Others are educators and one is a literary agent and promoter.
Did he teach you about business?
Actually, there is a link between what he did in the 1930s and '40s and Guthy-Renker today. He was a tennis pro in Hollywood. In the 1940s, all the celebrities played tennis because everybody had a private court. There is something in my DNA that came from him in dealing with celebrities, and how to be partners and friends with them.
How did you feeling about moving all the time?
It was completely natural. We had each other and we always moved to great places: Palm Beach, Fla.; Tucson, Ariz.; Pinehurst, N.C.
Where was your favorite place to live while growing up?
Palm Beach, Fla. Even back then it was international. The wealthiest people in the world all came there.
Did you work at the resorts?
I waited tables. It was good experience, because it was all social exchanges with people.
Was it hard in school?
Yes, it was difficult to establish friendships, but it taught us how to create relationships from scratch. And we always spent our summers at a resort in Northern Michigan that my father owned.
Tell me about your father.
I would call him a sophisticated charmer. In the old days, your responsibility as a resort owner was similar to a restaurant owner in New York. You were out in front talking to patrons because people came to stay for weeks at a time. My parents were out to dinner six nights a week with celebrities who followed them from resort to resort.
What was the most difficult challenge of your career?
The Gulf War in 1991, combined with a recession at the same time. We were a new company without a lot of cash and we had just bought TV time upfront. But no one was watching the TV shows we bought – they were all watching the war.
What was the effect on the business?
We ran out of money in 1991. It was close to a disaster.
How did you pull out of the tailspin?
Heavy-duty micromanagement; immediate reductions in spending. And luck – we've always seemed to have a product so successful it pulled us out of a hole.
What product pulled you out then?
Victoria Principal skin care. We had never been in skin care before and had no idea what we were doing. But it had to work. That was the last roll of the dice for us.
What was the craziest experience of your career?
Once we bought a half-hour of airtime in Chicago. We transposed one of the numbers in the phone line, so callers went to a phone sex service.
How has the infomercial business changed during your career?
The TV buyer is getting older and older. People are watching less TV and spending more time online. The Dean Martin roast and "Carol Burnett Show" DVDs sell well because of the nostalgia factor. But marketing Proactiv Acne Solution on TV is getting harder, so we are shifting to digital ads.
Do you read much about selling?
I started reading books about the art of selling at age 17.
What titles?
"The Success System That Never Fails" by William Clement Stone. The classic "How to Win Friends and Influence People" by Dale Carnegie. I read Napoleon Hill's "Think and Grow Rich" when I was 17.
What are your favorite recent books?
"Influence" by Robert Cialdini. It's written from a skeptical perspective, from the idea that salesmen are manipulative. It's not a how-to sales book, it's about how to not be manipulated.
Do think salesmen are manipulators?
I would rather understand the psychology of what causes people to act than to be ignorant of those motivations. The great leaders, ranging from our current president to great chief executives, are all salesmen.
Who are your heroes?
Tennis champ Roger Federer. Steve Jobs is the most often mentioned business hero in our company. Even my kids worship the guy. Finally, Warren Buffett. I've been at the annual conference and I've taken my kids to hear his homespun wisdom.
What can other entrepreneurs learn from your career?
The power of storytelling. If you came up with a great product, we would ask, "Who created it?" We want a creator who made it in his garage. America loves that story. They want to support it. They don't want to support big corporate America. So attaching an individual with a passionate mission to a product makes people want to buy it.
How would you describe yourself?
I'm a salesman. The art and science of persuasion has always fascinated me.
Greg Renker
Title: Co-Chief Executive
Company: Guthy-Renker Corp.
Born: Phoenix; 1957
Education: Bachelor's in comparative literature, San Diego State University
Career Turning Point: Moved from resort marketing to infomercials by forming Guthy-Renker in 1987.
Most Influential People: Bill Guthy; "He's a better businessman than I am. To this day, I think of him as a mentor and coach."
Personal: Lives in India Wells. Married with three teenager sons.
Activities: Tennis, golf, and boating and water skiing in Michigan during the summer; spending time at his weekend home in Santa Barbara.
For reprint and licensing requests for this article, CLICK HERE.