Game Changer
'Apprentice' champion turned fantasy sports website into major player by adjusting the game plan.
Monday, June 21, 2010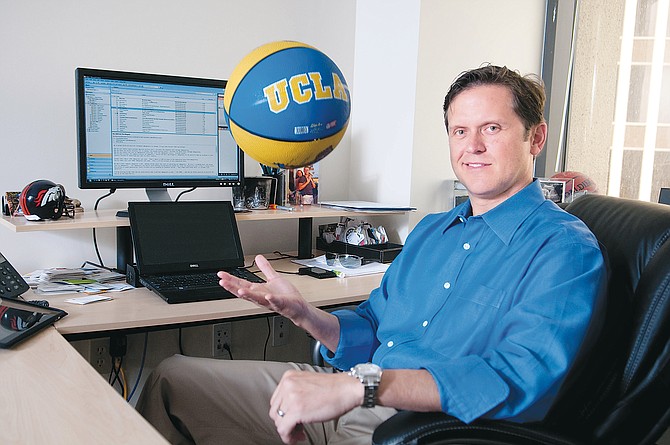 Today, RotoHog hardly bears a resemblance to the fantasy sports website Kelly Perdew took the reins of in June 2008.
The Westchester company has recently made a name for itself as a creator of fantasy games for other businesses, including Sporting News, NASCAR and Us Weekly. But it was initially launched in 2006 as a stand-alone game site that could compete directly with fantasy sports giants like ESPN and Yahoo Sports.
The 43-year-old Perdew was brought on as the company's new chief executive two years ago with one main objective: to make it profitable. His resume included running companies such as amateur sports website Eteamz.com, but he's perhaps best known as the winner of season two of the NBC reality television show "The Apprentice." He beat other contestants for the chance to work for Donald Trump under a 14-month contract.
Almost immediately after arriving at RotoHog, he put into motion a complete transformation of the company's strategy.
"I don't think a lot of people could have pulled it off," said Kent Smetters, who co-founded the company with his partner David Wu. "Kelly evolved the model into a different kind of company."
Rotohog.com went live in early 2007 offering fantasy leagues for the National Football League, Major League Baseball and other sports with a twist. To make the leagues more competitive and protect against bad trades among contestants, each player was valued in a unique stock exchange.
However, despite raising about $9 million, the site struggled for nearly two years. The problem? Perdew saw that bigger competitors such as ESPN had a captive audience by virtue of their news content, whereas at the end of the football or baseball season, RotoHog's users left the site.
"They had spent a significant amount of money to drive eyeballs to the website," Perdew said, "but there was no path to profitability."
However, Perdew knew that ESPN and other competitors such as Fox Sports were running their games on older computer platforms that would likely need significant upgrades in a few years. He saw an opportunity for the company to reposition itself from a fantasy sports website to a games provider for other brands, moving from a consumer model to a business-to-business model.
"So I said, OK, we should become a platform that could basically replace their entire back end," he recalled.
Not only that, Perdew moved for the company to expand its games beyond sports to broaden its appeal to other industries that want to use online games to interact with their customers.
For reprint and licensing requests for this article, CLICK HERE.
Prev Next