Ontario Looks To Land Airport
L.A. Council to mull plan to sell facility.
Monday, June 7, 2010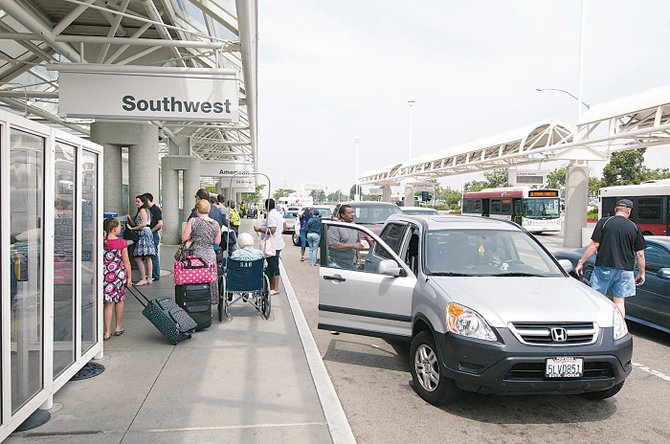 A group of officials in Ontario is mounting a campaign to wrest control of LA/Ontario International airport away from the city of Los Angeles.
Spearheaded by Alan Wapner, a councilman in the San Bernardino County city 50 miles east of downtown Los Angeles, the group recently persuaded the Los Angeles City Council to order a feasibility study on the matter to be completed by Sept. 1.
"The airport is the largest economic generator in our area and we shouldn't leave it in the hands of someone outside the region," said Wapner. The facility is owned and operated by the city's Los Angeles World Airports agency, which also runs Los Angeles International Airport, and the Palmdale and Van Nuys airports.
"We should have control."
The move comes as the Ontario airport – which many have long regarded as LAWA's poor stepchild – struggles with a dramatic loss of passengers and revenue while LAX embarks on a series of major renovations expected to cost at least $10 billion over the next 10 years.
At issue: whether Los Angeles is willing to give up such a large portion of its turf – 1,700 acres to be exact – even for some up-front money at a time when the city has a huge budget deficit and is laying off workers.
Bill Rosendahl, vice chairman of the L.A. City Council's Commerce Committee and one of two councilmen who proposed the feasibility study, said he only did it "as a courtesy" after being asked by Wapner.
He really doesn't believe the airport should be spun off, given how LAWA is supposed to serve the larger region in a comprehensive, unified fashion.
"We have a megalopolis from Santa Barbara to San Diego as the No. 1 destination in the world. That doesn't necessarily mean just LAX; it could mean Ontario as well," he said.
Yet the notion of granting Ontario its independence has gained traction in several quarters. At least one other Los Angeles City councilman, Greig Smith, said he favors the idea. Some officials of Los Angeles County cities close to Ontario said they think it's worth considering. And the Los Angeles Area Chamber of Commerce is intrigued: Chief Executive Gary Toebben said Los Angeles may be better off selling its stake.
"It's a beautiful airport facility with a great deal of land," said Toebben. "It would seem that it's a rather significant asset which doesn't generate any cash flow. Yet the city has equity in it. Perhaps it's time to look at what that's worth and whether it could be put to better use."
Financial woes
Ontario operates under LAWA's budget without drawing on the city's general fund, and until recently was financially holding its own.
With travel and tourism booming a few years ago, the facility was operating at near capacity with increasing traffic predicted. What's more, the airport was even seen as part of a potential regional solution to handling future growth at LAX.
Four years ago, LA/Ontario – which had already begun expanding to handle a projected increase in air traffic – reached its all-time peak of 7.2 million passengers a year.
Then the bottom fell out. The recession hit, knocking the wind out of the travel industry and severely deflating passenger counts. The Inland Empire, with its construction-driven economy and new subprime loan-dependent subdivisions, was hit particularly hard.
In 2008, only 6.2 million passengers passed through the airport; a 14 percent decline. Last year, the number was 4.8 million, the lowest since the 1980s. This year, officials said, the airport expects its passenger count to continue dropping at a rate of about 5 percent a month.
The bottom line: an estimated $10 million drop in revenue to about $75 million for 2010. To balance the airport's budget, LAWA transferred about 40 Ontario staffers to Los Angeles, put off planned landscape maintenance, reduced the cost of service contracts by closing terminal restaurants earlier, and limited the availability of parking lots and shuttle buses.
"At this point, if we continue the downward spiral," Wapner said, "there's a great likelihood that there won't be an Ontario airport at some future time."
High fees
However, Wapner believes that the core reason for the decline is not so much the economy but the high cost of doing business at the airport. Airlines pay landing and terminal rental fees amounting to about $14.50 a passenger. By contrast, the cost per passenger at LAX is $9.95.
"All those rates are controlled by L.A.," said Wapner, specifically citing an annual 15 percent administrative fee imposed by LAWA and the necessity of paying airport employees wages averaging 20 percent higher than comparable jobs in the Inland Empire.
Indeed, JetBlue Airways, which pulled out of Ontario in 2008, cited high airport fees as a factor in that decision.
"It wasn't competitive for us," said Jenny Dervin, a spokeswoman for the airline based in Forest Hills, N.Y. When the price of jet fuel increased to the point where it cost $16,000 for each cross-country flight, she added, the airline had to make some cuts.
"We had to make hard choices about how to serve the L.A. basin, and the fees were a contributing factor," she said.
According to the motion passed by the Los Angeles City Council in May, the city's administrative officer, chief legislative analyst and a LAWA representative are to report back to its Budget and Finance, and Commerce committees by Sept. 1 on the "feasibility and benefits and detriments" of returning control of the airport to Ontario.
Such a transfer could take a variety of forms ranging from some sort of operational agreement to an outright sale. A sale could be particularly complicated.
Originally built in 1923 by one of the first flying clubs in Southern California, the airport was purchased by Ontario in 1941. Twenty-six years later the city entered into a joint powers agreement with Los Angeles, which finally purchased the site in 1985. Since then, a new terminal complex has been added and several runways extended or improved. Much of the work was done with federal money.
"We would have to untangle all that," concedes Smith, who nevertheless believes the sale could be a "huge financial benefit" to Los Angeles.
However, neither airport nor city officials would hazard a guess regarding the airport's worth. In fact, a LAWA spokesman said any talk of a sale is "premature" and instead resources should be directed at finding ways to improve the operation.
"The alternative is to find ways of reducing overhead at Ontario to directly benefit the airlines that serve it," said Mike Molina, LAWA's deputy executive director of external affairs.
Conflicting solutions
Rosendahl said that Ontario boosters may think that the airport has been shorted by Los Angeles, but the multibillion-dollar renovation at LAX may in fact shift some passenger traffic to the Inland Empire.
The steep price of planned improvements at LAX, he said, will eventually be passed on to airlines in the form of higher usage fees. As a result, he predicted, the cost of doing business at LAX will be greater than at Ontario by 2013.
"At that point, the airlines will be incentivized to offer more nonstop, direct, frequent and discounted flights out of Ontario," he said. "The problem will solve itself."
Not everyone agrees.
Mike Boyd, president of Boyd Group International, an aviation consulting firm based in Evergreen, Colo., said the airport's problems are beyond either LAWA's or Ontario's control.
"They think declaring their independence is a magic bullet, but it's not. Ontario thinks that lowering the fees will get those discount flights in there, but that's not going to happen." Boyd said. "Airlines don't go anywhere just because of lower costs; the real issue is whether the passenger base will be able to support it."
Still, Councilman Smith said he believes that Ontario might better serve its airlines and passengers if it is run independently by local officials.
"It becomes a span-of-control issue," he said, noting LAWA operates airports ranging from Palmdale some 60 miles north of the city to Ontario. "You've got tremendous operational issues. How much of a system can you run?"
Sam Pedroza, mayor of the Los Angeles County city of Claremont, less than 10 miles from Ontario, said he believes in local control.
"Under Los Angeles," he said, "the airport seems to be on the back burner in terms of receiving attention."
Don Sachs, executive director of the Industry Manufacturer's Council, which represents 2,300 businesses in the City of Industry, said that he really doesn't care who runs the airport. He is more concerned that it functions as the airport of choice for East San Gabriel Valley executives and employees.
If it closed, he said, "people would have to go twice as far."
For reprint and licensing requests for this article, CLICK HERE.