Performance Link Takes Bite Out of Execs' Pay
SPECIAL REPORT: Executive Compensation
Monday, June 7, 2010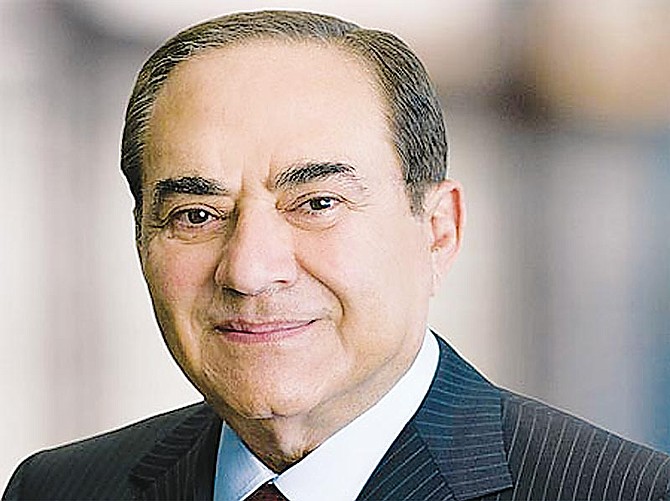 One look at East West Bancorp Inc.'s annual proxy statement says a lot about the size of executive paychecks in 2009.
Dominic Ng, chief executive of the Pasadena bank holding company, received $2.52 million in total company compensation last year, a sharp drop from the $4.29 million he made in 2008.
But even that doesn't tell the story.
A surprising footnote in the filing states that Ng didn't actually earn $4.29 million two years ago, because he never received $1.15 million in stock. That's because the bank sustained some hits in the financial crisis, negating his performance-related stock award.
Welcome to the wild world of executive compensation.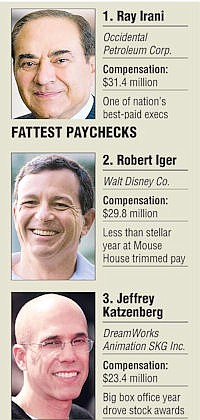 The pay of many local executives was down last year – though sometimes it's hard to say by how much because of accounting rules and compensation packages that included options and conditional stock grants.
But this much is clear: Boards are trying harder than ever to link executive compensation to a company's performance amid unrelenting pressure from shareholders. Traditionally, that has meant as stock prices go, so goes pay. Today, a company's net income and other financial metrics are playing a bigger role.
So how does it all add up?
The chief executives at Los Angeles County's 50 largest companies got hit hard for the second consecutive year as the economy slowly pulled out of the recession. Cumulative pay dropped by $80 million – or 20 percent – to $322 million.
Even the top exec on the list, Occidental Petroleum Corp. Chairman and Chief Executive Ray R. Irani, saw a pay decline of 48 percent to $31.4 million. That put him ahead of Walt Disney Co. Chief Executive Robert A. Iger, whose pay was down 3 percent to $29.8 million.
Coming in at No. 3 was DreamWorks Animation SKG Inc. Chief Executive Jeffrey Katzenberg at $23.4 million. He bucked the trend, with his compensation more than doubling due to option awards and the studio's strong performance at the box office.
All in all, nearly half of the executives took home less in total compensation.
"We are clearly seeing many more companies putting themselves through stronger rigor to determine metrics for more appropriate payout levels," said David Insler, senior vice president in the Westwood office of Sibson Consulting, which advises companies on executive pay and other matters.
'Performance shares'
Using publicly available data taken from companies' Securities and Exchange Commission filings, the Business Journal analyzed the 2009 pay for the heads of the county's 50 largest public companies, determined by market capitalization. The executives were ranked by total company compensation, which included salary, bonuses, stock and option grants, and any additional perks.
Prev Next
For reprint and licensing requests for this article, CLICK HERE.