Full Plate
When Richard Pink isn't working as a real estate exec at ING Clarion, he moonlights as owner-president of his family's iconic L.A. hot dog stand, Pink's.
Monday, June 7, 2010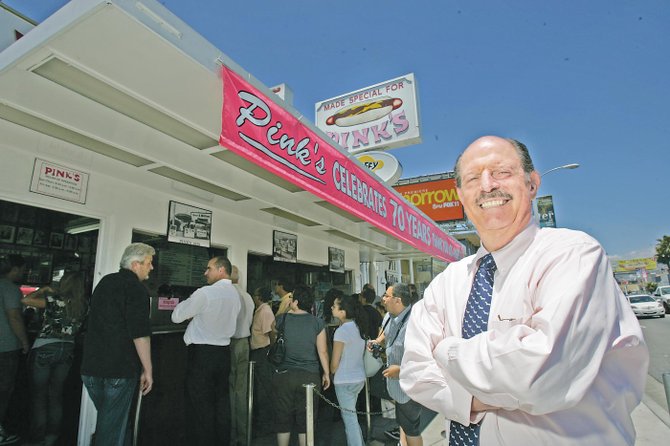 L.A.'s most famous hot dog entrepreneur has two careers as different as, well, black and pink. Richard Pink spends most of his time working as managing director of ING Clarion, a national real estate firm with more than $40 billion under management in office buildings, shopping centers, industrial centers and property investments. He oversees the company's Southern California operations and advises a major German investment bank on acquisitions in the United States. Pink, 66, is better known, however, for what he does while wearing his other hat as president and chief proprietor of Pink's Hot Dogs Inc., an L.A. icon at Melrose and La Brea avenues. The place is famous worldwide for weirdly named hotdogs such as Three Dog Night and the Mulholland Drive Dog, around-the-block lines and celebrity customers. Founded in 1939 by Pink's parents – Paul and Betty – as a modest hot dog stand without an electric outlet to call its own, the place has been at its present location for nearly 70 years. After the couple began slowing down in 1984, Richard Pink's wife, Gloria, took over day-to-day operations of the family business while he assumed the top leadership role. The stand has been featured in TV shows, movies and articles throughout the world. Most Angelenos, even if they haven't actually eaten there, are familiar with its characteristic gaggle of diners-in-waiting snaking around the building in lines up to two hours long. In recent years, the hot dog stand has even begun licensing its products to vendors as far-flung as Planet Hollywood in Las Vegas. The Business Journal caught up with Pink at a table on the restaurant's back patio spread with several of his menu favorites, including a Chili Dog, Bacon-Chili-Cheese Dog, Guacamole Dog and Coleslaw Dog.
Question: Have you always loved hot dogs?
Answer: Well, Pink's had already been around for five years by the time I entered the world, so I'm sure they put a hot dog in my mouth fairly early. I went to elementary school just a block from here, and during lunch recess, all my friends would come up and say, "Hey, let's go over to your place for a hot dog." So we'd sneak out of Melrose Avenue School and hide in the back of a big flower truck eating hot dogs. In those days, they were 25 cents. I was known as the guy whose parents had a hot dog stand, so I guess I was the hot dog kid.
Did you get involved in the business right away?
When I graduated from Fairfax High School, my parents suggested that I work behind the counter, which I did every day from age 17 until about 20. Then they said, "Well, you've worked at the hot dog stand long enough. Why don't you see if you can do something more professional?" My goal in high school was to be a professional baseball player. I was a pretty good third baseman, but in my senior year I dove for a ground ball – I was being a bit of a hot dog myself – and landed right on my throwing arm, which ended my baseball future. So I got a real estate license at age 19 and started selling houses.
You've got an M.B.A. and a law degree. What prompted you to go to law school?
I felt that, whatever I did in life, legal training would be helpful. Part of it was what I was experiencing in real estate. Generally, a good real estate person will negotiate price and terms, then an attorney will do the last 40 pages of the purchase agreement. I realized that I couldn't participate actively in that because I didn't really understand it. I went to law school so that instead of letting the attorneys negotiate the contracts, I could be directly involved. Later I went back into real estate and spent 10 years in a variety of positions gathering experience in developing, leasing, financing and property management before going to work for Clarion.
Tell us a little about the history of Pink's.
My mother was a Russian immigrant; my father a second-generation Romanian. They were out of work in 1939, so they bought a hot dog cart to make a living. When they first moved to this site, there were no utilities, so they used a 200-yard extension cord stretching all the way down the street to a hardware store that allowed them to plug into its outlet. Initially they rented the property for $15 a month, but two years later the landlord raised the rent to $25. My parents saw the trend and said, "My God, he could put us out of business." So they went to Bank of America, begged for a loan and bought the property for $4,000. They always thought of themselves as just having a hot dog cart. Even when Pink's became well known and people were lining up, they always went to bed thinking of themselves as poor.
Did you want to make changes to the family business?
Around the age of 16 I started asking them to expand the menu and they said, "No, just keep it simple – we don't need any changes." It was always my dream to have a much broader variety of tastes, textures and toppings because I thought people would get bored. I wasn't able to really start doing that until my wife and I took over in 1984.
Why did they resist?
They were very conservative, always saved money, rarely traveled. They just wanted to make sure that the kids had food and there was a roof over their heads.
How did Pink's become the icon it is today?
There were two tipping points. One was the 59th anniversary in 1998 when we started selling chili dogs for charity. Between Nov. 5 and Nov. 9 we sold hot dogs for 59 cents for 59 minutes. All the TV stations picked it up because they thought it was unique to have a business that had been around for 59 years. We got so much publicity that we did it again for the 60th, 63rd, 65th and, more recently, 70th anniversaries. The second tipping point was cable TV and the 24-hour news channels. When that came in, producers needed content and to be able to talk about a business that had been around for so many years, particularly a hot dog stand, well, that was appealing. Over the years we've had cable TV producers come in, not only from L.A. and across the U.S., but from around the world, to do features on Pink's.
How did this whole celebrity thing get started?
The wall of celebrity photos began with out-of-work movie actors who'd come here and put their head shots on the wall in the hopes of getting discovered. We used to find pictures just tacked to the wall by actors; then we started getting real actors.
Such as?
Michael J. Fox used to come here before he made it. The record for the most hot dogs eaten at Pink's is held by Orson Welles, who did 18 chili dogs in one sitting. Bruce Willis proposed to Demi Moore here, that's a true story. We came here after midnight once and saw Adam Sandler waiting in line with his dog, Meatball. And Bill Cosby comes in every time he's in L.A.
Some of them inspired menu items.
That's true. One time Martha Stewart – who was driving down La Brea with a team of people from her TV show – saw our line and stopped. She looked at our menu, noticed the Guadalajara Dog – which had sour cream with onions, tomatoes and relish – and said, "I'm going to add sauerkraut and bacon." We said, put us on your show and we'll call it the Martha Stewart Dog; she did, and that's what it's called today.
Any others?
Another time Ozzie Osborne was getting his star on the Walk of Fame and Johnnie Grant, Hollywood's honorary mayor, said, "Oh, he has a dog named after him at Pink's." Well, Johnnie was wrong; Ozzie didn't have a dog named after him. My wife called me at work and said, "What are we going to do? We need that hot dog at Pink's in 40 minutes because everyone's going to be here." So I thought, well, Ozzie Osborne is a pretty hot character so we'll make a spicy Polish dog with nacho sauce and American cheese because he's a big cheese and we'll say it's as hot as Ozzie Osborne. Forty minutes later it was on the menu, and it's been a big seller ever since.
Do you like rubbing elbows with the Hollywood glitterati?
It's an absolute blast because they're lots of fun. I wouldn't say we become friends, though. Our real friends are people we grew up with, went to high school and college with, people we've known for 30 or 40 years. Hanging out with glitterati just isn't our thing. We love them and they are very entertaining, but it's not who we seem to connect with. It gives us satisfaction that what we've created is appreciated. If a David Geffen or Nicolas Cage or Richard Dreyfuss comes to Pink's, the pleasure is that they actually like our place. We like their movies and they like our hot dogs – it's a nice balance.
How do you balance your two jobs?
I do it by working long hours. I'm usually in the real estate office by 7 a.m. and rarely go to bed before midnight, when I'm either working for Clarion or talking to my wife about Pink's. The larger decisions about the hot dog stand are family decisions; we talk about them regularly over dinner. During the day, if something comes up, she'll call me at the office and ask what I think. She's at Pink's every day; I come in maybe an hour or two at night. The rest of the time I'm either responding to e-mails about real estate deals, or meeting with brokers, sellers or potential joint venture development partners.
Do the two jobs ever mix?
It's actually a total integration. When I go out to meet a potential seller I say, "Have you ever been to Pink's?" He says, "Yeah," and I say, "I own it." He says, "Oh, my daughter is having a birthday party. Can I bring her to Pink's?" I say, "Absolutely, and I'll host you." That breaks the ice.
How do you spend your weekends?
Pretty much thinking about the business. Our hobby is travel. I represent a client in Germany, which allows me to go often to Europe. I take my wife. I always say that I'm on business and she's on vacation. We also read and go to movies. On the weekends there may be catering events that we attend, either charity or paid. On our time off maybe we'll go to a show, but there isn't a day when we don't stop by Pink's to see how it's going.
What kind of books do you read?
I like self-improvement, business books and good mysteries. The last series I read was "The Girl Who Played With Fire" and "The Girl Who Kicked the Hornets' Nest" by Stieg Larsson. Not only are they good mysteries, but they're filled with information. I so admire authors who not only come up with good story lines, but also fill the books with information that you can't get anywhere else. I listen to tapes while I'm driving to work. Just put on a good novel and it takes me there.
How come you never had children?
It was a choice. My wife and I liked our independence. We're both worriers and we knew that having children would present a lot to be concerned about. We didn't want to take on that risk. There are times now when we see really happy families going to Little League or their children's concerts and we say, gee, that would be great. But we realize there's another 70 percent of it, which is the worry and all that. We realized that the reality of it, for us, is that we probably would have worried more than had pleasure.
Do you ever worry about your legacy and the future of Pink's with no children in the picture?
My sister has children and grandchildren, so there's a legacy there. Quite honestly, we haven't totally figured out what's best for the family in the long run. Right now, because of the name, we're starting a licensing program, but we're very cautious about how we will grow. Really, the future is probably to continue as Pink's because it's part of the legacy of Los Angeles and people would just hate seeing something this old go away. I would prefer that it remain in the family, though I suppose it's possible someone could give us an offer that we couldn't refuse.
Tell us about the expansion.
Eventually we got into the catering business, which led to the licensing program. Right now we're at Universal CityWalk; Planet Hollywood; Knott's Berry Farm; Hollywood Park Casino; the Greek Theater; the Coliseum for USC home games; the Los Angeles, Orange County and Ventura County fairs; and the Southern California County Fair in Perris. We expect to have our hot dogs at LAX Bradley Terminal by mid-June.
Is there a risk of diluting the brand and the experience by opening more Pink's?
Definitely. We want it to have lots of similarities in that the signage is the same, but it's got to be a location that draws thousands of people run by operators as concerned with customer satisfaction as they are with profits. One of the reasons we've never franchised – and we get asked all the time – is that franchise operators are typically mom and pops who, in order to achieve that last nickel or dime, could compromise on the quality of the food, the portions and so forth.
Why are people willing to wait in line two hours for your hot dogs?
It's the ambience, the service and the fact that they've read about us so we've become a celebrity name. We have 175 pictures of celebrities on our wall. That gives you some credibility because if those people are eating here, it must be good. Mostly, though, it's that people grew up going to baseball and football games where the simplest food to serve was a hot dog. I think people also like to eat with their hands. Everybody sort of grew up in America eating hot dogs; it's become an American staple.
How often do you eat your own hot dogs?
I'd say, probably once every other day. My wife says I'm the best taste tester we have at Pink's because I always want to make sure they're cooking the chili just right and don't change the mustard. But I also watch my weight and try to keep trim. I work out every morning at home.
Do you have any thoughts of retiring?
Not at all. My father, God bless him, passed away in his office at Pink's at the age of 87. My mother always said that the biggest mistake she ever made was retiring, so she told me never to retire. I figure that's really good advice; it keeps you active, mentally alert and feeling like you're making a contribution. I think being creative is what really gets my juices flowing. I don't know whether it's art or science, but I feel that Pink's is a work in progress.
Richard Pink
TITLE: President
COMPANY: Pink's Hot Dogs Inc.
BORN: Los Angeles; 1944
EDUCATION: Bachelor's of Science, UCLA; J.D., Loyola Law School; M.B.A., USC
CAREER TURNING POINTS: Assuming leadership of Pink's in 1984
MOST INFLUENTIAL PEOPLE: His mom and dad
PERSONAL: Lives in West Los Angeles with his wife, Gloria, in a three-bedroom house they've owned since 1980
ACTIVITIES: Traveling, reading, following Dodgers and Lakers
For reprint and licensing requests for this article, CLICK HERE.