Hooking Up
Local operators of dating sites seek to reverse recessionary losses with niche, overseas markets.
Monday, July 26, 2010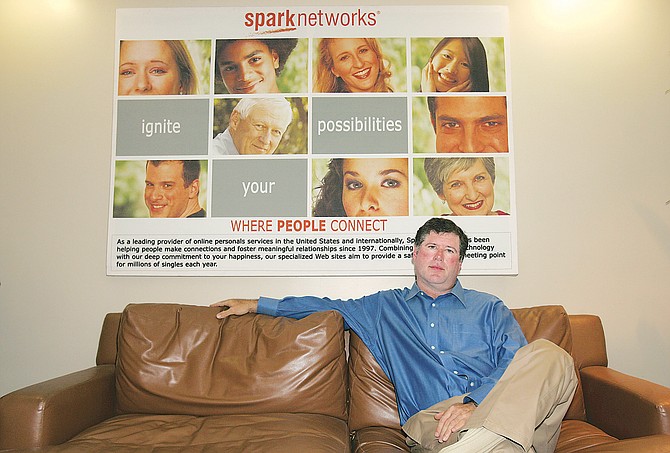 When online dating companies first made the scene in the late '90s, it was love at first sight for America's singles. But when the downturn hit in 2008, the lovelorn logged off.
Online dating companies Spark Networks in Beverly Hills and eHarmony in Pasadena, two of the largest companies in the industry, are trying to lure them back.
Spark, which operates 31 dating sites including JDate, for Jewish singles, and ChristianMingle, launched a low-price social network-based dating service at the beginning of this year. EHarmony plans to add more international versions of its sites by the end of the year.
Spark Chief Executive Adam Berger acknowledged the hard times.
"It was not a smooth period," Berger said. "It was absolutely bumpy."
During the recession, people were less willing to pay subscription fees for dating sites. And many were unwilling or unable to pay for dates.
Spark's most significant setback occurred over 2008 and 2009 with a drastic decline in visitors to its online dating site AmericanSingles, which was open to all religions and races. Subscribers fell from 37,000 to 7,800.
AmericanSingles couldn't compete with bigger general-interest dating sites, such as eHarmony and Dallas-based Match.com.
"It really didn't keep pace with the mass-market sites," Berger said. "At the time, our product wasn't competitive. That's where we suffered the most."
Meanwhile, the number of subscribers to Spark's Jewish single sites, such as JDate, also fell. (The company's other niche sites, which include ChristianMingle and BlackSingles, scored some growth during the downturn.)
The company's total subscriber count fell from 213,000 at the end of 2007 to 166,000 at the end of '09.
Spark reported a 2009 net loss of $6.4 million, down from net income of $4.8 million in 2008.
To turn things around, Berger shut down AmericanSingles early this year, replacing it with Spark.com. The new website continues to target a broad audience of serious daters, but it combines traditional online dating tools with social networking elements, such as a "Secret Admirer" game.
Spark.com is also lower priced than the company's other sites. A six-month subscription costs $12 per month, compared with $25 for JDate. Spark has not released data on its subscription numbers for the new site.
"I'm comfortable with what I've seen through the first quarter," Berger said. "We've put a product out there that's interesting to people."
However, revenue fell 12 percent to $10.5 million in the first quarter, even though total company subscriptions increased in the period. Spark enjoyed net income of $929,000, triple the profit of $311,000 in the same period of 2009. But last year's first quarter earnings were hurt by a big impairment charge.
Although Spark has a ways to go before pulling itself out of its recession slump, George Van Horn, a senior analyst at IbisWorld who covers online dating websites, said he expects industrywide growth to help the company. He sees the online dating market posting 3.5 percent growth annually during the next five years.
"I think we'll continue to have people come back to the industry," he said.
'Mature markets'
EHarmony was not immune to the recession, either. The private company, which claims more than 20 million users in its 10-year life span, would not release financial information, but online-traffic tracker Compete showed that traffic to the site dropped by 12 percent during the past year. The Wall Street Journal reported that the decrease could have reached 30 percent by mid-2009.
Paul Breton, an eHarmony spokesman, said traffic counts are not the best way to measure the company's success. He pointed to subscription numbers and customer satisfaction as better indicators, but he would not provide data on how subscription rates have fared in the last two years.
EHarmony, which differentiates itself from other dating sites with its claim to a science-driven matchmaking process, plans to ramp up its international presence by the end of the year, adding sites for non-English-speaking countries beyond existing sites in Australia and the United Kingdom.
"Our services in the U.S. and Canada continue to grow, but at a slightly slower rate," Breton said.
The company has been conducting research in China for the last two years, but Breton would not confirm whether the country is part of the company's upcoming expansion.
Van Horn pointed to eHarmony's international expansion strategy as one that holds the most promise for the company.
"In a digital world, the U.S. is a relatively mature market," he said. "Overseas is potentially a larger engine for their future growth."
EHarmony also recently announced that it will move from its Pasadena office to a bigger space at the Yahoo Center in Santa Monica. The new location is 65,000 square feet, compared with the company's current 45,000-square-foot headquarters. After the move, eHarmony expects to add 50 employees to its current staff of 250.
Breton said the move was motivated by a desire to bring the company closer to Santa Monica's tech community, and because many eHarmony staffers, including the company's top executives, live on the Westside.
Free sites
One reason traffic to eHarmony, which charges $30 per month for a six-month subscription, might have decreased is because of competition from a crop of free online dating services that recently entered the market.
Sites such as PlentyofFish in Vancouver, British Columbia, and OKCupid in New York, which offer dating services through a social networking format, launched when many customers paying for dating sites were looking to cut costs. As such, they gave customers an alternative, Van Horn said.
"There was certainly significant competition during the recession," he said. "The free sites always have the potential to attract users."
PlentyofFish had more than 5 million visitors to its site in May, compared with the 3 million users who visited eHarmony, according to Compete.
Despite the success of these free sites, which are supported by advertising sales, Jeff Tinsley, chief executive of social networking site MyLife in Santa Monica, which charges a subscription fee much like Spark and eHarmony, champions the subscription model for its social networking site, which includes a dating component. Depending on advertising can make for a volatile existence.
"A service that provides ongoing value, you can charge a subscription for it and it's more predictable," he said. "If you're not charging for something, then you're not maximizing your revenue."
But online dating sites face a special challenge compared to other subscription-based websites. Once daters match up, they are lost as customers.
Berger, however, said that as long as relationships have their ups and downs, he expects to find new pools of singles looking for love.
"I'm aware of the remarriage rate and divorce rate," he said. "Just because someone finds romance today, doesn't mean they won't be visiting us again in the future."
For reprint and licensing requests for this article, CLICK HERE.