Hooking Up
Local operators of dating sites seek to reverse recessionary losses with niche, overseas markets.
Monday, July 26, 2010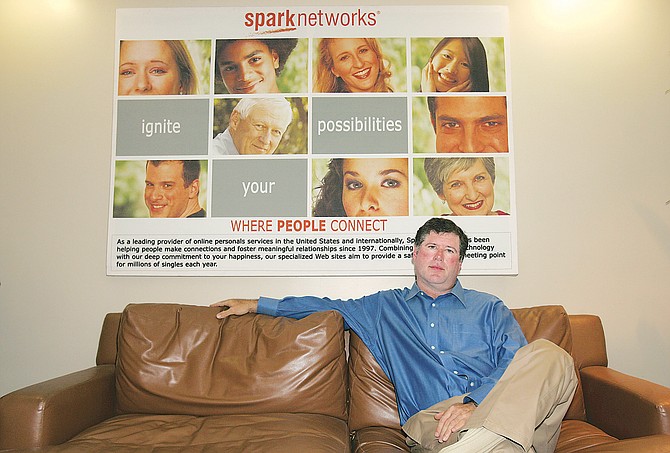 When online dating companies first made the scene in the late '90s, it was love at first sight for America's singles. But when the downturn hit in 2008, the lovelorn logged off.
Online dating companies Spark Networks in Beverly Hills and eHarmony in Pasadena, two of the largest companies in the industry, are trying to lure them back.
Spark, which operates 31 dating sites including JDate, for Jewish singles, and ChristianMingle, launched a low-price social network-based dating service at the beginning of this year. EHarmony plans to add more international versions of its sites by the end of the year.
Spark Chief Executive Adam Berger acknowledged the hard times.
"It was not a smooth period," Berger said. "It was absolutely bumpy."
During the recession, people were less willing to pay subscription fees for dating sites. And many were unwilling or unable to pay for dates.
Spark's most significant setback occurred over 2008 and 2009 with a drastic decline in visitors to its online dating site AmericanSingles, which was open to all religions and races. Subscribers fell from 37,000 to 7,800.
AmericanSingles couldn't compete with bigger general-interest dating sites, such as eHarmony and Dallas-based Match.com.
"It really didn't keep pace with the mass-market sites," Berger said. "At the time, our product wasn't competitive. That's where we suffered the most."
Meanwhile, the number of subscribers to Spark's Jewish single sites, such as JDate, also fell. (The company's other niche sites, which include ChristianMingle and BlackSingles, scored some growth during the downturn.)
The company's total subscriber count fell from 213,000 at the end of 2007 to 166,000 at the end of '09.
Spark reported a 2009 net loss of $6.4 million, down from net income of $4.8 million in 2008.
To turn things around, Berger shut down AmericanSingles early this year, replacing it with Spark.com. The new website continues to target a broad audience of serious daters, but it combines traditional online dating tools with social networking elements, such as a "Secret Admirer" game.
Spark.com is also lower priced than the company's other sites. A six-month subscription costs $12 per month, compared with $25 for JDate. Spark has not released data on its subscription numbers for the new site.
"I'm comfortable with what I've seen through the first quarter," Berger said. "We've put a product out there that's interesting to people."
However, revenue fell 12 percent to $10.5 million in the first quarter, even though total company subscriptions increased in the period. Spark enjoyed net income of $929,000, triple the profit of $311,000 in the same period of 2009. But last year's first quarter earnings were hurt by a big impairment charge.
Prev Next
For reprint and licensing requests for this article, CLICK HERE.