Slipped Discs
Fading popularity of DVD forces vendor and producer to take other business models out for a spin.
Monday, July 19, 2010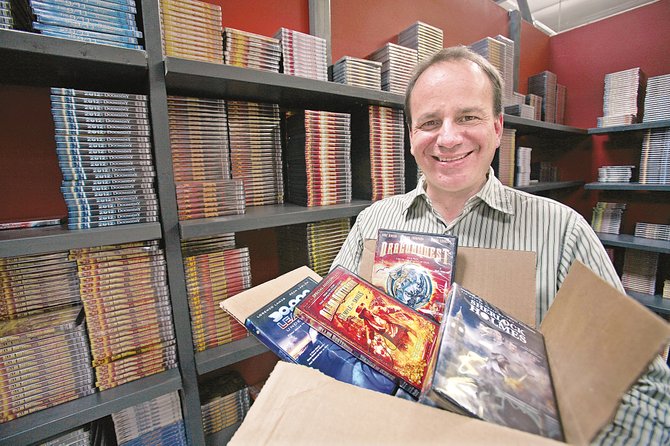 The death of the DVD is coming faster than expected.
It came as a surprise to Ryan Kugler, president of Distribution Video & Audio, or DVA in Burbank. He built his company by purchasing DVDs that movie studios couldn't sell at full price, and then reselling those so-called remainders to retail stores, which put them in last-chance bargain bins.
But in the last two years, Kugler's retail DVD business shrank 5 percent, a decline he thinks will accelerate. So he's started to sell leftover video games and movie-related merchandise – T-shirts, toys and other trinkets.
"The DVD changed the entertainment world when it debuted in 1997, and it has changed it again since 2008, when it started going south," he said. "But now we are succeeding at selling other products related to movies."
DVA isn't the only company that has noticed the acceleration of the DVD's disappearance. So has the low-budget film production house Asylum in Burbank, which puts out 12 to 15 movies each year. Most of its movies were made-for-DVD release – but now that market is drying up.
"We saw the writing on the wall and made a conscious effort to diversify the markets for our films," said Paul Bales, partner at Asylum. "We've made a push for TV distribution. That is a direct result of what is happening in the DVD market."
Hollywood Disc, a duplication service, has seen its DVD business slow among large-volume customers such as movie studios. However, manager Harout Hovsepyan said the format remains popular among nonentertainment customers, mostly small businesses that want sales presentations, training programs and data files.
"The DVD regular format has slowed," Hovsepyan said. "A lot of duplicators have run out of business with the economy."
Shuttered stores
In the retail sector, Kugler points to the bankruptcy of Hollywood Video and the closing of more than 800 Blockbuster stores as the most visible signs of the dramatic change.
When Hollywood Video shuttered most of its locations earlier this year, DVA purchased the inventory of entire stores – as many as 30,000 discs at a pop. The company then resold them to its new customers, online DVD vendors, most of whom sell the discs on eBay or through Amazon's used-product program.
To make up for the lost revenue from his former remaindered DVD business, Kugler has expanded his product line to include video games that retailers returned to publishers, plus movie-related merchandise such as books, toys and T-shirts. He sells to the same network of 350 discount and convenience stores he established in his DVD business.
For reprint and licensing requests for this article, CLICK HERE.
Prev Next