Slipped Discs
Fading popularity of DVD forces vendor and producer to take other business models out for a spin.
Monday, July 19, 2010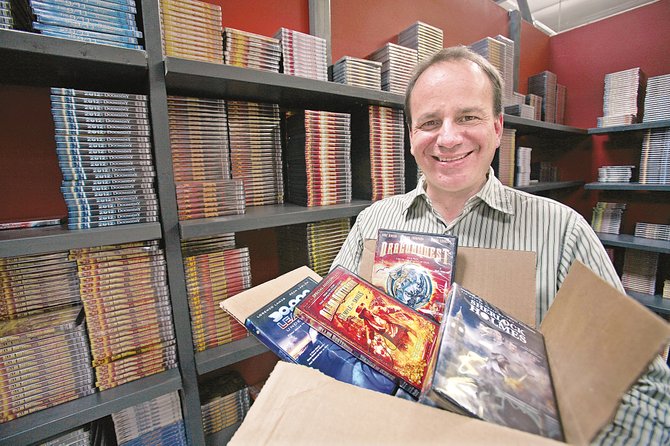 The death of the DVD is coming faster than expected.
It came as a surprise to Ryan Kugler, president of Distribution Video & Audio, or DVA in Burbank. He built his company by purchasing DVDs that movie studios couldn't sell at full price, and then reselling those so-called remainders to retail stores, which put them in last-chance bargain bins.
But in the last two years, Kugler's retail DVD business shrank 5 percent, a decline he thinks will accelerate. So he's started to sell leftover video games and movie-related merchandise – T-shirts, toys and other trinkets.
"The DVD changed the entertainment world when it debuted in 1997, and it has changed it again since 2008, when it started going south," he said. "But now we are succeeding at selling other products related to movies."
DVA isn't the only company that has noticed the acceleration of the DVD's disappearance. So has the low-budget film production house Asylum in Burbank, which puts out 12 to 15 movies each year. Most of its movies were made-for-DVD release – but now that market is drying up.
"We saw the writing on the wall and made a conscious effort to diversify the markets for our films," said Paul Bales, partner at Asylum. "We've made a push for TV distribution. That is a direct result of what is happening in the DVD market."
Hollywood Disc, a duplication service, has seen its DVD business slow among large-volume customers such as movie studios. However, manager Harout Hovsepyan said the format remains popular among nonentertainment customers, mostly small businesses that want sales presentations, training programs and data files.
"The DVD regular format has slowed," Hovsepyan said. "A lot of duplicators have run out of business with the economy."
Shuttered stores
In the retail sector, Kugler points to the bankruptcy of Hollywood Video and the closing of more than 800 Blockbuster stores as the most visible signs of the dramatic change.
When Hollywood Video shuttered most of its locations earlier this year, DVA purchased the inventory of entire stores – as many as 30,000 discs at a pop. The company then resold them to its new customers, online DVD vendors, most of whom sell the discs on eBay or through Amazon's used-product program.
To make up for the lost revenue from his former remaindered DVD business, Kugler has expanded his product line to include video games that retailers returned to publishers, plus movie-related merchandise such as books, toys and T-shirts. He sells to the same network of 350 discount and convenience stores he established in his DVD business.
Next, he plans to expand into the licensing business. DVA is in negotiations with a studio to license characters from movies and put their images on T-shirts, which the company will sell to its current list of online and retail customers.
Additionally, Kugler has become a distribution and wholesale consultant. He charges $250 to help movie producers figure out how to get their films to consumers.
"For independent producers, the DVD always brought in about 60 percent of the revenue," Kugler said. "It doesn't do that anymore. They are looking for new revenue streams, especially in pay-per-view television."
For example, at Asylum, a deal with cable TV channel SyFy has helped make up for the loss of DVD business. Another deal with Time Warner Digital for video on demand, or VOD, has provided a significant boost to revenue.
Bales said that in the future VOD through cable carriers could "be a significant revenue generator that conceivably could replace dollar for dollar the previous DVD revenue."
Asylum also has a distribution deal with Netflix that allows consumers to mail-order a DVD or download the movie.
The biggest challenge for Asylum is how to let audiences know a movie is coming out.
In the days of video stores, the company invested heavily in packaging designed to inspire an impulse buy. With the shift to VOD and movie downloads, the "pretty box business model," as Bales called it, no longer works.
Instead, Asylum depends on e-mail blasts to a specific demographic group, namely 18- to 49-year-old males, the target audience for its films. The e-mails direct readers to the Netflix site.
The company scored its first major victory marketing through Netflix in 2009 with the release of "Mega Shark vs. Giant Octopus." The trailer for the science-fiction movie became a viral phenomenon and was viewed several million times during its first week. The film eventually became one of Asylum's best-selling releases.
Despite the success on Netflix, it was only a modest success in retail stores. "That suggests the people who get movies from stores are different from those who get movies online," Bales said.
While the new distribution model hasn't led Asylum to alter the content of films, the company has changed its approach to picking the titles of movies. That's because VOD menus and Web sites list titles alphabetically. Asylum has found that movies that start with a number or the first few letters in the alphabet sell more than films that appear lower on the list.
Blu-ray blues
Marty Shindler, co-owner of entertainment technology consultancy Shindler Perspective in Encino, said a confluence of events caused the quicker-than-expected decline of the DVD format. The recession reduced consumer's entertainment budgets. Meanwhile, Netflix, Redbox kiosks and Internet downloads are all cheaper than DVD rentals or purchases. Even as the recession eases and people start spending more on entertainment, they will likely continue with these low-cost alternatives.
Another factor was consumer indifference to the new Blu-ray format, which offers better picture quality but at a higher price than a regular DVD.
"A lot of people in the market expected that any decrease in DVD revenue would be compensated by a corresponding rise in Blu-ray revenue," Shindler said. "But once you've spent $1,000 on a big high-definition TV, to spend $200 to $300 on a Blu-ray machine is a lot of extra money. So people would go home and plug in their DVD player into their high-definition TV and it looked great."
While Kugler at DVA said he is doing good business with big-studio movies in Blu-ray, Bales at Asylum said the high-price format hasn't worked for his low-budget fare. According to Home Media Magazine, Blu-rays account for 11 percent of the movie disc market; DVDs represent the other 89 percent.
Hovsepyan at Hollywood Disc said the Blu-ray duplication business is slow because customers don't like the higher price and manufacturers can't afford the expensive equipment the discs require.
Shindler said that while digital downloads will continue to eat away at the DVD market, digital technology makes it cheaper to tape, edit and distribute movies. That change won't affect studio movies with $100 million budgets, but it should make it easier for the many small and independent producers around Los Angeles to make a profit on their films.
At Asylum, which has only 11 employees, the switch means that everyone must work harder, especially in the sales and distribution departments.
"The market is challenging, maybe even discouraging," Bales said. "At the end of the day, we're probably making the same revenue but in more venues and requiring a lot more work."
For reprint and licensing requests for this article, CLICK HERE.