AIDS Group Rips Rival for Taking Walk
Feud over fundraisers heads to court.
Monday, July 19, 2010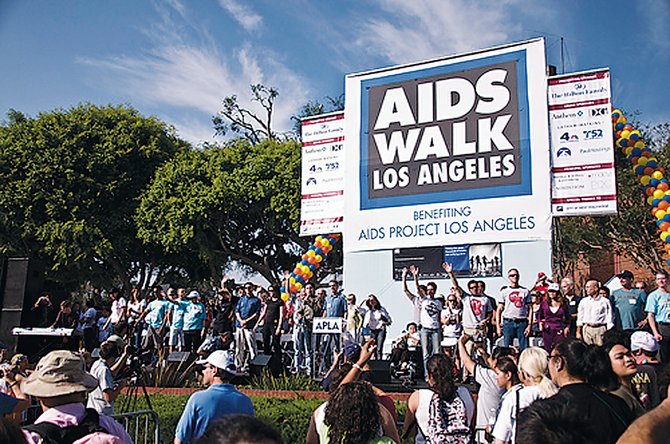 Since its establishment in 1985 as the world's first such event, AIDS Walk Los Angeles has built itself into the premiere fundraiser of its type in town.
Madonna and Elton John have waved to TV cameras over the years alongside other participants to raise money for the event's non-profit organizer, AIDS Project Los Angeles.
So organizers were alarmed recently to see fliers for a first annual California AIDS Walk scheduled just three weeks before their own Oct. 17 event. Even more unsettling: The new walk is being staged by Michael Weinstein's AIDS Healthcare Foundation of Los Angeles, which allegedly undercut a similar AIDS walk in Florida.
"They didn't talk to us in advance and they clearly didn't try to not compete with our event," said Craig Thompson, executive director of AIDS Project Los Angeles. As for the timing of the new benefit walk, he believes "there was some strategy here to put the event when it was."
Thompson and his team felt threatened enough to hit back with a lawsuit that has raised eyebrows in the city's non-profit community. It demands that the new walk in Griffith Park change its name, move dates and use a less similar logo.
AHF's leaders, who head the largest AIDS health care provider in the country, say that there's room for two walks in Los Angeles. They also say that their event, which features music performances and food trucks, is clearly different.
"I think it's healthy competition," said AHF President Weinstein, a prominent figure in the nation's AIDS community. "I think it's innovation. I think we're trying to do something new."
The dispute comes amid a tough year for AIDS organizations. The state has slashed funding by $85 million, or more than half. But it's not just AIDS groups that have suffered. The clash appears to highlight escalating competition among non-profits in general at a time when funding has become scarce all around.
Local non-profits, including the Union Rescue Mission in San Pedro and the Greater Los Angeles Chapter of the American Red Cross, have reported decreases in donations topping 20 percent so far this year. A proposal by President Obama to cut the tax credit for charitable giving could further discourage giving starting in January.
Maura Harrington, chief operating officer of the Center for Nonprofit Management, a downtown L.A. firm that provides consulting services, said that non-profits often jockey for funding behind the scenes.
Prev Next
For reprint and licensing requests for this article, CLICK HERE.