Radio DJ's New Spin
Tom Leykis turns to low-cost podcasts and ads sold on eBay.
Monday, July 12, 2010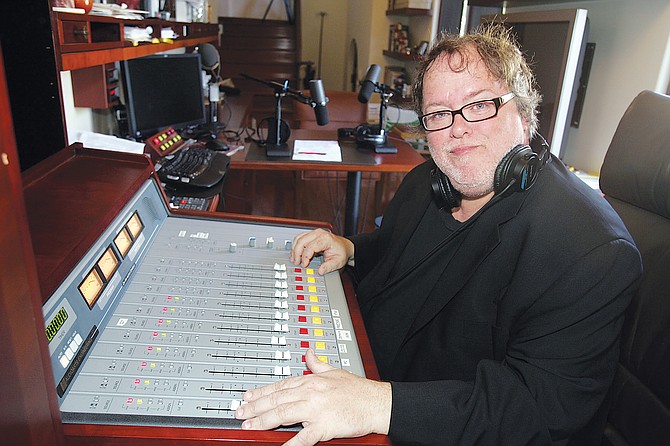 When well-known L.A. radio shock jock Tom Leykis went off the air last year, it set the stage for a career switch. The uninhibited deejay has become a podcast entrepreneur.
Leykis was a colorful personality on the former KLSX-FM (97.1), where his daily show included misogynistic advice to lovelorn males about how they could bed women without spending a lot of money or effort. Then, in February 2009, the station switched formats to Top 40 music, and the "Tom Leykis Show" disappeared.
So Leykis, drawing a full salary until his contract runs out in March 2012 but blocked from doing talk radio broadcasts until then, has started a company called the New Normal that produces podcasts and Internet streams.
The radio vet said he can produce top-quality audio on the cheap and sell ads on eBay instead of using a sales staff – a business model he believes will rewire the radio industry.
"It's called the New Normal for a reason," he told the Business Journal. "You can't run a business with the same cost structure and pay the salaries that you once did. But we have no transmitter, no cubicles, no sales hierarchy – just an Internet server."
Leykis is now an off-air producer who plans to create high-quality talk and music programming for "cents on the dollar" compared with what it costs traditional radio stations, while also selling advertising for these programs for a fraction of what radio stations charge. His goal is to prove the validity of this business model before his contract runs out. That's when he can launch a show with his own voice, and capitalize on the distribution system he hopes to have established.
"I can't do the show that people remember until the end of my contract," he said. "So I'm using the Internet to develop content ultimately intended for radio syndication."
For now, the New Normal is made up of two shows: the "Gary & Dino Show," a podcast featuring Gary Zabransky and Dino DeMilio, former cast members of Leykis' radio show; and "New Normal Music," a stream of alternative rock music by new artists. The company also distributes Leykis' wine connoisseur show, "The Tasting Room With Tom Leykis," for broadcast on nine radio stations. That show was exempted from the KLSX contract. All the programs are available at NewNormalNetwork.com.
To minimize costs, Leykis and his four employees work from their homes, and use the Internet to communicate and stream the audio. Leykis works from a studio at his house in the Hollywood Hills or from his ranch in the Santa Ynez Valley.
The unknown bands that play songs on New Normal Music get exposure and minimal music rights payments. Leykis estimates his music rights costs for the first year at $3,000, a fraction of what typical radio stations pay.
Instead of maintaining an advertising sales staff, the New Normal auctions ad packages on eBay. Advertisers can also contact the company directly and pay with a credit card.
But the Leykis name already has attracted interest from larger ad buyers. John Ostlund, owner of KYNO-AM in Fresno, recently brokered a deal with L.A.-based Cru Winery for a yearlong ad run on New Normal productions. Financial details of the deal were not disclosed.
Ostlund, who also owns an ad agency and knows Leykis from the wine show, thinks that the disc jockey will be able to parlay his name recognition into significant ad sales.
"In the radio industry, if you can do something no one else is doing, you'll find a niche," Ostlund said.
Leykis points to his low ad prices. In June, New Normal offered a package of 10 commercial slots, 60 seconds each, for "Tasting Room," which airs on nine radio stations in California. The winning bid was $44.88, compared with the industry average of $90 to $120 per commercial.
"Because I can produce shows for less than radio, I can charge less for advertising," Leykis said. "I can make a profit if I sell my spots for 99 cents."
Personality or no?
Projecting an over-the-top personality comes naturally to Leykis, who started as a fill-in disc jockey at a Long Island, N.Y., station in 1979. He came to Los Angeles in 1988 and worked at KFI-AM (640), where he served as a liberal counterbalance to conservative commentator Rush Limbaugh.
He then went to Boston for a brief stint before returning to Los Angeles to start the "Tom Leykis Show" in 1994 on the former KLSX, now KAMP, which is owned by CBS Radio Inc. The program, which ran for 15 years, featured Leykis' trademark sex-themed shtick along with his musings about his four failed marriages.
Of course, it's anybody's guess as to whether Leykis will be successful.
Mary Beth Garber, president of the Southern California Broadcasters Association in West Los Angeles, pointed out that anyone can podcast on the cheap, so the only real competitive advantage of the New Normal would be the Leykis personality – a factor that won't come into play for almost two years.
As for the business model, Garber noted that research has shown that many listeners try Internet audio as a curiosity but grow bored because it lacks personality. A recent study of Pandora, a popular Internet music-streaming site, found that nearly 20 percent of users said they miss talk from real humans and local information.
"He probably can build enough of a base to make a profit for himself, but it's not replacing local radio anytime soon," Garber said. "It's because of that local, emotional connection."
The model, however, is not unprecedented: Adam Carolla launched a podcast last year that became so successful that CBS Radio – the same network that fired Carolla – signed on as co-producer.
Leykis believes his model will not only position himself for the future – it will change the economics of the broadcast business.
"Most broadcast companies are underwater in debt right now," he said. "Meanwhile, we have created a radio station on the Internet without an antenna. If someone can do that, would you pay $200 million for an FM frequency in Los Angeles? Can you imagine the impact if a $200 million station suddenly becomes a white elephant?"
For reprint and licensing requests for this article, CLICK HERE.